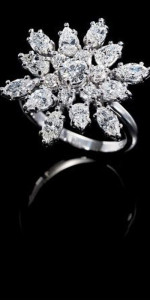 Nearly four months after dismissing rumours of a buyout, Harry Winston Diamond Corp. has agreed to a $1-billion deal to sell its jewellery and watch divisions to the Swatch Group.
With it, the watch giant acquires 535 employees worldwide and the production company in Geneva. The selling price breaks down to $750 million for the retail business and $250 million in debt. Once the deal closes, Harry Winston Diamond will be renamed Dominion Diamond Corp.
"At the time we purchased the Harry Winston brand, resource investment opportunities for diamonds were rare and expensive, following the euphoria of the Canadian diamond discoveries, and the involvement of the large international mining companies," said Harry Winston board chair and chief executive officer (CEO) Robert A. Gannicott.
"The Harry Winston brand was competitively priced compared with its peers and we could bring diamond expertise and strategic connections to enhance value. Today, there is a range of diamond resource opportunities while the value of heritage luxury brands has increased dramatically. This transaction represents a sound return on our original investment. It will leave us well equipped to realize upstream opportunities in an environment where cash has become a strategic resource while preserving and expanding our relationship with the downstream diamond business."
The deal does not include Harry Winston's mining division, which acquired BHP Billiton's 80 per cent interest in the Ekati Diamond Mine last November for $500 million.
"Harry Winston does brilliantly complement the prestige segment of the group," said Nayla Hayek, chair of the Swatch Group Ltd. "We are proud and happy to welcome Harry Winston to the Swatch Group family—diamonds are still a girl's best friend."
The deal is subject to regulatory approvals and other customary closing conditions.