Lab-grown diamonds, coloured gems explored at Canadian gem conference
by Samantha Ashenhurst | November 23, 2022 11:35 am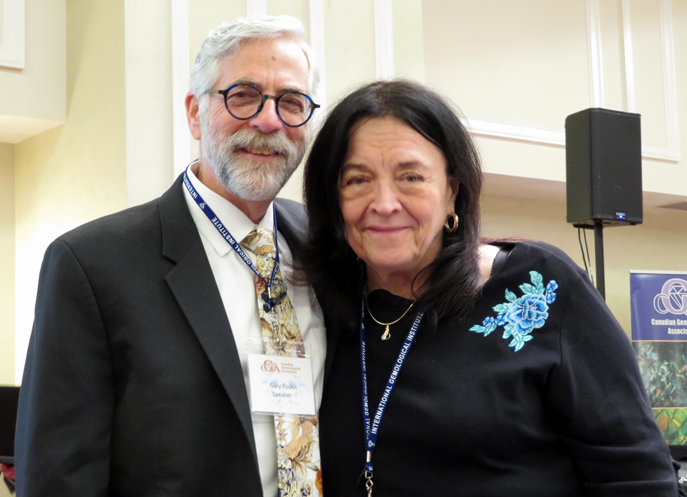 Laboratory-grown diamonds, coloured gemstone treatments, and nephrite jade are just a sampling of the topics explored at the Canadian Gemmological Association[2]'s (CGA's) 31st Annual Gem Conference in Vancouver.
Hosted Oct. 21 to 23, the event featured speakers from around the world, including a keynote address from Mark Cullinan, CEO of Cullinan Diamonds.
"This in-person conference was extra special, as it has taken place after a hiatus of over two years due to the life-changing pandemic," says the association's president, Donna Hawrelko, who chaired the conference. "We are thankful to our noted speakers, our colleagues, and our friends who could join us this year."
In addition to the keynote address, attendees enjoyed presentations from several other esteemed speakers, including:
Stuart Robertson, GG (GIA), vice-president and research director of GemWorld International;
Jon C. Phillips, GG (GIA), CG, divisional manager for Corona Jewellery Company;
Gary A. Roskin, GG (GIA), FGA, editor-in-chief of the Roskin News Report and former executive director of the International Colored Gemstone Association (ICA); and
Duncan Parker[3], FGA, FCGmA, Jewellery Business columnist and vice-president of Dupuis Fine Jewellery Auctioneers in Toronto.
The event also honoured CGA graduates, as well as the recently announced recipients[4] of the association's fourth annual Emerging Artist Design Competition, including:
Samy Douma (Ècole de Joaillerie de Montréal), who took top honours and a prize of $1000 for his necklace titled, 'Al Muharib;'
Iris Lo, who received the second-place prize of $500 for her statement earrings, 'Tang Sui;'
Monique Huynh, who placed third and was awarded $250 for her necklace, 'Land of The Lite Fairies;' and
Lei (Yuna) Zhang, who received an honourable mention for her necklace, 'Bamboo Reports Peace.'
"I want to congratulate our winners this year on a job well done," Hawrelko says. "Design creation is all about bringing your inspiration to life, and the participants have done an outstanding job with that."
Endnotes:
[Image]: https://www.jewellerybusiness.com/wp-content/uploads/2022/11/SA_CGA2.jpg
Canadian Gemmological Association: https://canadiangemmological.com/
Duncan Parker: https://www.jewellerybusiness.com/tag/duncan-parker/
recently announced recipients: https://www.jewellerybusiness.com/news/canadian-craftsmanship-honoured-by-cga-2/
Source URL: https://www.jewellerybusiness.com/associations/lab-grown-diamonds-coloured-gems-explored-at-canadian-gem-conference/
---