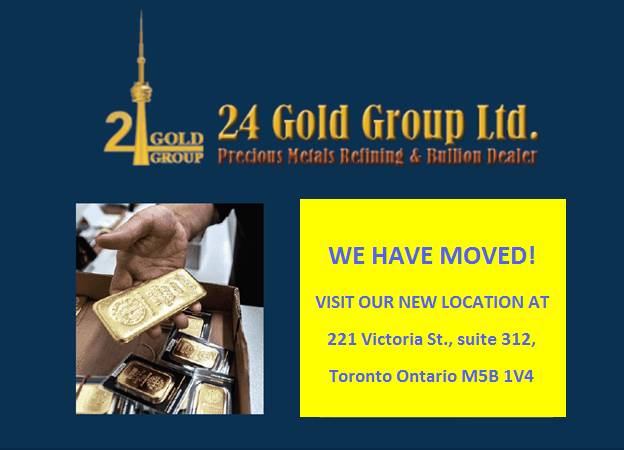 Toronto-based 24 Gold Group, a precious metal refining and bullion dealer, has relocated to 221 Victoria St., suite 312.
Established in 1987, the company offers gold, silver, platinum, palladium, jewellery, and dental refining, as well as smelting. 24 Gold can quickly turn precious metals into cash, offering its customers a fair, transparent process that carries no risk.
24 Gold expresses its esteem for its industrial customers and personnel through outstanding service. The company's independence has enabled it to develop a philosophy founded on firm values. Among them, audacity—a quality that is engrained in the precious metals industry is demonstrated through the corporation's management style.
24 Gold's level of expertise represents a magnificent legacy for future generations who will, in turn, perpetuate this standard with the utmost respect for the company's traditions and history.
For more information, call 1-855-214-2442 (toll free) or 416-214-2442; fax 416-214-2443; or e-mail info@24gold.ca.
Check out the live metal price at www.24gold.ca/metal-price.
All information listed in this section was submitted by 24 Gold Group.
Kenilworth Media Inc. cannot assume responsibility for errors of relevance,
fact or omission. The publisher does not endorse any products featured in this article.