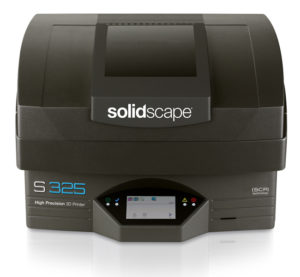 Solidscape® Inc., released the new S325 hi-precision wax printer which delivers extraordinary precision at the right price.
The printer allows jewellers to design innovative custom jewellery without limits and to manufacture with less work than with other technologies.
The Solidscape S325 offers the same print speed and quality as the mainstream S350, at a lower cost. Like other recent Solidscape wax printers, it is easy to operate, and it starts with a push of a button. There is no need for adding support structures to the designs and they are ready for casting as they come off the printer.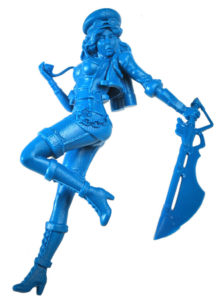 Printer highlights:
Highest precision and best casting results in the industry. No pitting or expansion and no ash residue;
Fully automated operation with a push of a button—no setup required;
Large build volume: 152.4 x 152.4 x 101.6 mm (6 x 6 x 4 in.);
After dissolving the support structure models are ready for casting—no curing or manual finishing needed; and
Low maintenance required—a few minutes per week.
Solidscape printers are distributed in Canada by Markham-based Schindler Technologies, which also provides jewellery computer-aided design (CAD) software, training, service, and support. Please contact John Schindler via email at john@schindler.ca, by phone 905-927-1166/800-688-6835, or visit www.schindler.ca.
All information listed in this section was submitted by Schindler Technologies.
Kenilworth Media Inc. cannot assume responsibility for errors of relevance,
fact or omission. The publisher does not endorse any products featured in this article.