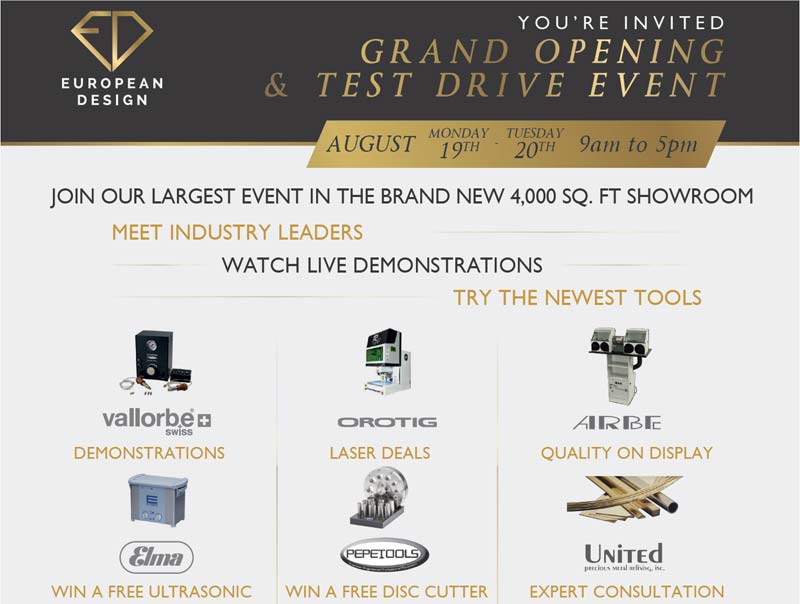 European Design will unveil its new 4000-sf location during a grand opening event on August 19 and 20. Some of the world's biggest names in the tool industry will be in attendance, as the celebration will also serve as the company's 3rd annual test drive event.
European Design's brand new showroom, located on the main floor of 55 Queen St. East in Toronto, will be transformed into a tech and tool playground. Canadian jewellers are invited to come by to view demonstrations, check out the latest tools, meet the owners and representatives, and test drive the tools and equipment. 
European Design is proud to be the Canadian distributor of the six prestigious companies that will be joining this year's event: Vallorbe (Switzerland), Orotig Lasers (Italy), Arbe (U.S.), Elma (Germany), PepeTools (U.S.), and United Precious Metals (U.S.).
The two-day celebration will feature special pricing, as well as draws for free prizes. Attendants will be greeted by Michaela from Elma and entered for a chance to win a grand prize: an ultrasonic cleaner and digital ring-sizer from Elma. PepeTools' co-owner, David, will also be entering names for a chance to win a premium disc-cutting kit.
Doors will be open at 9 a.m. until 5 p.m. for this much-anticipated event.
All information listed in this section was submitted by European Design Jewellery.
Kenilworth Media Inc. cannot assume responsibility for errors of relevance,
fact or omission. The publisher does not endorse any products featured in this article.