A match made in heaven: Co-ordinating and customizing matching wedding bands
April 27, 2018
By Llyn Strelau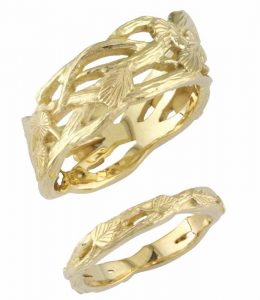 Finger rings have been a symbol of commitment and status for hundreds of years. The ancient Egyptians exchanged betrothal rings made from twisted reeds or leather. Gemstone and diamond-set rings are relatively recent, but plain bands of gold, silver, bronze, and iron have a long history. Choosing to exchange rings as a promise of fidelity or to seal a marriage remains an important part of most Western cultures.
While these rings of commitment are now most often worn on the fourth (ring) finger, over history they have been worn on other fingers, including the thumb. In much of Europe, the band remains on the right ring finger. North Americans more often wear the ring on the left hand. This tradition perhaps goes back as far as the ancient Egyptians or early Romans, who believed a vein in this fourth finger was directly connected to the heart—the vena amoris in Latin.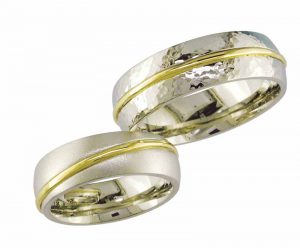 Especially in North America, the modern bridal tradition is for the woman to be given an engagement ring signifying both the beginning of the relationship and acknowledgement the union will culminate in marriage. However, many couples (including same-sex partners) choose to forgo the engagement ring and only exchange rings to mark their union. For simplicity, I refer to these as 'wedding' rings, whether or not the couple actually has a formal ceremony or ritual to consecrate their union.
While for some couples, only one of the pair will actually wear a wedding ring, for many the design of the rings is a very important part of planning their lives together. I have worked with and designed hundreds of wedding rings in my career, and it is fascinating to look back at some of the variety there has been.
Of course, the personalities of the individuals will ultimately govern the design of the rings. In some cases, the bands will simply be plain metal (gold, silver, platinum, or even titanium or cobalt). They may be a basic pipe style or have a variety of half-round or bevelled cross sections. Plain bands are chosen either because of lifestyle (very active people or those who work with their hands) or simple preference.
From the designer's standpoint, it is much more fun when the couple is interested in incorporating personal symbolism in their bands. After all, these rings are some of the most significant pieces of jewellery many people will ever own—or in some cases, the only jewellery.
Engagement ring equilibrium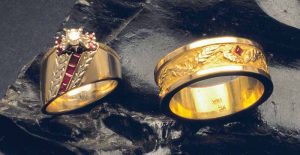 I take several approaches when designing wedding bands for my clients. In case they already have an engagement ring (or if we are designing that ring initially), I try to ensure the wedding band will fit comfortably and be compatible with the engagement ring. Too many jewellers sell and couples purchase engagement rings without considering the eventuality of the wedding band.
Many engagement rings—especially those that are commercially available—are simply not designed to work with a wedding band unless the band is specially fitted to match. This can be satisfactory, but should the client wish to wear only the simpler wedding band on its own (perhaps for travel or work reasons), these fitted bands often look like they have lost their best friend and don't stand alone successfully. It is important to discuss this with the client when designing an engagement ring to avoid future problems.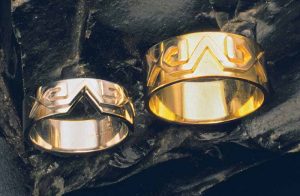 Some couples will opt for a basic ring for one of them and a more elaborate design for their partner. This can be simple preference or again, the need to complement an engagement ring with a more elaborate wedding band. Given wedding rings are symbols of unity, I often try to incorporate a common thread in the design where possible to mark the connection of their union. Of course, some couples are very similar in taste and style and wish to have completely matching rings. Others are more of the 'opposites attract' model, and it can be a bit more of a challenge to tie two disparate esthetics together while still expressing their individuality.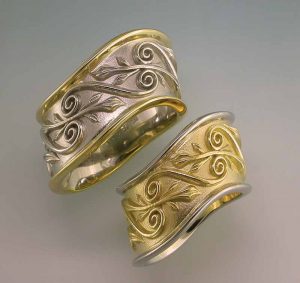 If I design a wedding band to fit with the client's engagement ring, I will try to design her partner's ring to match or at least contain some reference to the first band. One couple wished to use the man's grandmother's antique diamond ring as the engagement ring. I used the stylized leaf/scroll motif on the shoulders of the old ring and carved the design in a white gold centre band (accented with small bead-set diamonds), then added yellow gold rims for contrast. His band, which had to fit a much larger finger size, was wider to maintain the scale and had a yellow gold centre section with contrasting white gold rims.
Another pair of clients, who also chose to use a family heirloom ring as their engagement ring, presented a small challenge. The engagement ring did not have a straight edge, which would have permitted a flat band to snug up against it, and required an indented triangular recess. This worked well with the stylized Greek key motif on the shoulders of the original antique ring. We reflected this in a raised appliqué motif on a white gold band to match the white gold engagement ring. His band has the same motif (without the recessed section), but in yellow gold to suit his preference.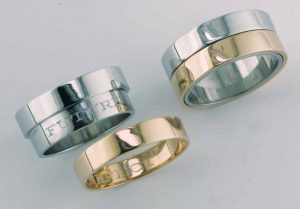 A vintage diamond and ruby engagement ring was rather delicate, and the client wished to have a more substantial wedding band that better suited her hand. I designed a wide band that was wider on the pinkie finger side (this accommodates the 'offset' in many clients' hands—a drop in the web between the little and ring fingers when compared to the web between ring and middle fingers). We overlaid white gold wheat motifs flanking a row of square rubies for her ring, and the man's ring continued the wheat design with a single square ruby.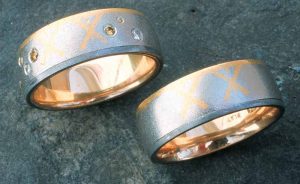 A couple I worked with who had a simple diamond solitaire loved the art deco period of design. After some research, I found an image of a golden screen in the Empire State Building in New York. I abstracted the motifs in this screen and translated them to the much-smaller proportions of the matching wedding bands.
When an architect and his fiancé asked me to design their wedding set, the result was very 'architectural.' Her engagement ring had a trapezoidal top view and a slot on one side, and a small bezel-set diamond feature. Her wedding band was a simple triangular shape, stepped down in height from the engagement ring and completing an overall rectangular form. His band was rectangular, but had a small recessed triangular section to mimic her rings.
Complement and contrast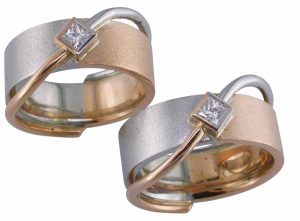 For those clients who choose "one ring to rule them all" and only have bands to seal their union, the design process offers more creative scope. To be sure both members of one couple could remember their wedding date, I designed very simple bevelled knife-edge bands and hand-engraved that significant date in Roman numerals, repeated around the circumference.
Keeping a common thread while maintaining personal identity, another couple chose plain half-round white gold bands. His had a ball peen hammer texture and a round yellow gold wire overlay straight down the middle, and hers featured subtle bead-blast texture and the yellow wire on the diagonal.
Another couple liked wide bands in a combination of yellow and white gold. She enjoyed an organic design with a continuous raised vine all around it. Carved leaves and rose gold flowers completed the design with raised contrasting white gold rims. Her husband wished to have a less flowery design, so I simply extracted the basic line of her vine and recreated it with a round, white gold wire inlaid in a groove in the base yellow gold surface.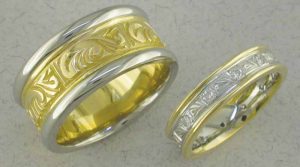 I used the reversal of gold colours to distinguish a set of wide organic scroll motif offset bands. Hers had a central yellow gold section with raised leaf, vine, and scrolls flanked by white gold rims. His band was simply the inverse of hers. Designing using computer-aided design (CAD) made it easier to match the motif even with the difference in finger size.
Another local couple owns and operates an apiary business. Their wedding bands were inspired by the symmetry of the honeycomb. These rings also incorporate the offset concept to comfortably fit a wider band on a finger that would otherwise not be able to accommodate it. Using CAD, I created the carved hexagon shapes and cast the centre in yellow gold with added white gold rims. Her ring had a scattering of honey-toned, natural fancy colour diamonds in some of the cells.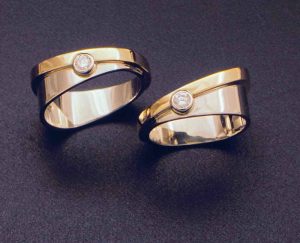 Another wedding set offering the comfort of an offset style features platinum möbius strip designs. This twisted ribbon with only one continuous edge is a suitable expression of the bonds of matrimony. We accented these rings with bezel-set round diamonds in yellow gold. The larger stone in her ring nestled in the curve, with a smaller stone inset into the flat surface of his band to maintain similarity with individuality.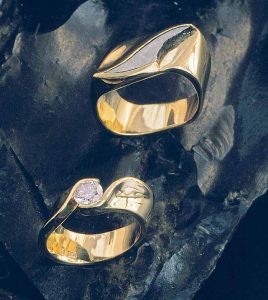 In a further example of complementary contrast, I designed bands for a couple with minimalist style. Her ring had a princess-cut diamond bezel set on the diagonal. The stone bridges a flat band that has a wider tapered white gold half overlaying a narrower tapered yellow gold extension. To add further contrast, the bezel of the diamond is half yellow gold (on the white side) and half white gold (on the yellow side). His band simply reversed the colour positions, with overlapped yellow and white gold sans diamond.
I used the technique of casting yellow gold into a pierced platinum base ring for bands for two men. They had ties to New Zealand and gave me a reproduction of a Maori motif depicting two stylized male figures side by side, holding a paddle above their heads. This graphic design worked well to give a subtle reinforcement of the symbolism of their union and life together. One of the couple chose to have a scattering of natural fancy colour diamonds flush set into the band, while the other was left plain.
Another set ventured further from the matching of wedding rings while still trying to maintain some common thread. Hers has a solitaire round diamond channel set between two offset S-curved raised rims. His band also has the S curves, but they are reduced and used to hold a slice of Gibeon meteorite. We left the original, natural surface crust (created when the meteor hurtled through our atmosphere on its way to earth) to give a rugged, masculine touch.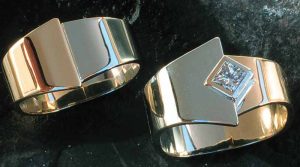 For another couple, wide matching platinum bands—also in the smooth, curved offset form—were each pavé set with a sinuous line of tiny diamonds. Hers were white stones and his were black diamonds—another way to match while still giving individuality.
Creating a perfect fit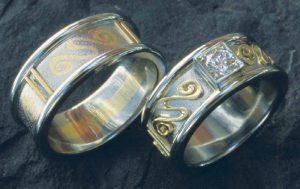 Somewhat more complex were bands for a couple who not only had very different finger sizes (he was size 12 and she was size 5), but also shared an interest in nature. They still wanted personalization, so her narrow ring had intertwined branches with realistic birch leaves, while his wider band had greater scope for the twined branches, with sprigs of pine needles interspersed.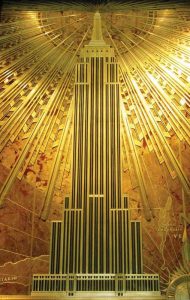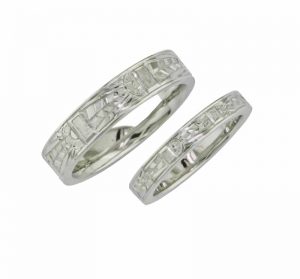 [15]While uncommon, once in a while both people in a couple actually have the same size fingers. To really seal the marriage union in one such case, we were able to make one very wide plain band in white gold, which was then split into two on the diagonal to give the closest representation of their bond. Adding individuality, narrow yellow gold bands were overlaid on each white gold band—one on the straight edge, and the other on the angled side. A pair of matching round brilliant-cut diamonds were bezel set and attached, bridging the yellow and white gold components of each ring.
On another occasion, wide bands with an angled offset were each set with a suite of natural, fancy colour marquise-cut diamonds, creating a leaf-like design. To differentiate them, the single contrasting yellow rim was attached to the angled side of one ring and the straight side of the other.
Another couple with almost the same finger size wanted bands that were each in two parts. First, we made platinum bands with a lower level (one engraved 'FUTURE,' the other 'PERFECT'—words of significance to them). Next were two yellow gold bands (engraved on the inside with the same words), which would ultimately slip over the platinum bands, hiding the now 'secret' engraving.  The challenge was they each wanted to wear the platinum rings with the gold bands for the year preceding their wedding and then exchange the gold bands on the wedding day to symbolize the union. We were able to adjust the outside diameters of the lower sections and the inside diameters of the yellow bands so they would fit either base ring.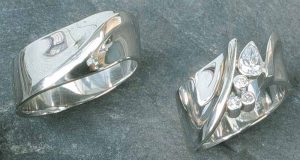 Designing and creating the perfect rings to seal the union of two people is one of the most satisfying of projects. Whether the couple has matching tastes, wildly disparate esthetics, or simple, classic ideals, these rings have great significance and are perhaps the most widely worn of all the jewellery we make and sell.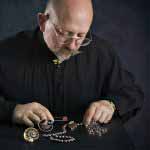 [17]Llyn L. Strelau is the owner of Jewels by Design in Calgary. Established in 1984, his by-appointment atelier specializes in custom jewellery design for local and international clientele. Strelau has received numerous design awards, including the American Gem Trade Association's (AGTA's) Spectrum Awards and De Beers' Beyond Tradition—A Celebration of Canadian Craft. His work has also been published in Masters: Gemstones, Major Works by Leading Jewelers. Strelau can be reached via e-mail at designer@jewelsbydesign.com.
Endnotes:
[Image]: https://www.jewellerybusiness.com/wp-content/uploads/2018/04/3-birch-and-pine-branch-bands.jpg
[Image]: https://www.jewellerybusiness.com/wp-content/uploads/2018/04/6-common-thread-bands.jpg
[Image]: https://www.jewellerybusiness.com/wp-content/uploads/2018/04/23-Ruby-diamond-bands.jpg
[Image]: https://www.jewellerybusiness.com/wp-content/uploads/2018/04/12-Greek-key-matching-bands.jpg
[Image]: https://www.jewellerybusiness.com/wp-content/uploads/2018/04/16-Offset-scroll-two-tone-bands.jpg
[Image]: https://www.jewellerybusiness.com/wp-content/uploads/2018/04/11-Future-perfect-bands.jpg
[Image]: https://www.jewellerybusiness.com/wp-content/uploads/2018/04/19-primitive-stick-art-bands.jpg
[Image]: https://www.jewellerybusiness.com/wp-content/uploads/2018/04/18-Platinum-and-rose-gold-diamond-set-bands.jpg
[Image]: https://www.jewellerybusiness.com/wp-content/uploads/2018/04/8-Deco-scroll-matching-bands.jpg
[Image]: https://www.jewellerybusiness.com/wp-content/uploads/2018/04/7-cut-from-the-same-band.jpg
[Image]: https://www.jewellerybusiness.com/wp-content/uploads/2018/04/20-s-curve-with-diamond-meterorite-bands.jpg
[Image]: https://www.jewellerybusiness.com/wp-content/uploads/2018/04/17-overlap-two-tone-bands.jpg
[Image]: https://www.jewellerybusiness.com/wp-content/uploads/2018/04/2-art-nouveau-scrolls-and-inlay-bands.jpg
[Image]: https://www.jewellerybusiness.com/wp-content/uploads/2018/04/9-empire-state-building-mural.jpg
[Image]: https://www.jewellerybusiness.com/wp-content/uploads/2018/04/10-empire-state-inspired-wedding-bands-.jpg
[Image]: https://www.jewellerybusiness.com/wp-content/uploads/2018/04/24-s-curves-off-set-bands.jpg
[Image]: https://www.jewellerybusiness.com/wp-content/uploads/2018/04/JBD-Llyn-Strelau-Portrait-5-x-5-150x150.jpg
Source URL: https://www.jewellerybusiness.com/features/a-match-made-in-heaven-co-ordinating-and-customizing-matching-wedding-bands/
---