A new season: Creating success with bridal jewellery in an evolving retail environment
May 2, 2018
By Brad Huisken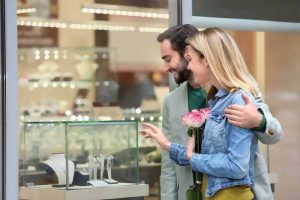 Bridal season is a significant contributor to the bottom line of most jewellery retailers. On one hand, there is great joy as customers prepare to embark on one of life's most inspiring and meaningful transformations. It is a great honour to be selected to produce the miracles that accompany a memorable and delightful occasion. Conversely, there is monumental stress as dreams and expectations threaten to collide infamously with the realities of practical abilities. Turns out magic wands are tougher to come by in the retail business than in the imagination!
From the perspective of everyone participating in the event, the combined contributions of all of the vendors create the magic. It is vital, then, for all the parts to function as an effortless, homogenous whole. Given wedding jewellery is an enduring symbol of the emotion and vows exchanged, that jewellery becomes a once-in-a-lifetime celebration itself. (If you doubt this, ask any couple who has lost a ring, or dropped a stone from it!)
It is incumbent on the jewellery retailer, then, to precisely fulfill the wishes of the couple while discreetly honouring such details as price, design, and production to the specifications of both marital partners, as well as co-operating with the bridal party's other selected product/service providers.
The connected consumer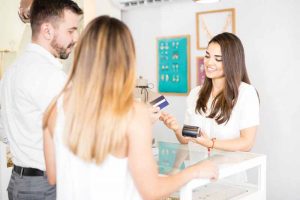 Historically, choices for settings (metals/designs) and gemstones (colour, cut, clarity, and carat weight) were limited, availability was unpredictable, and craftsmanship was reliant on the skill of the artisan or manufacturer. These factors controlled the outcome of the product. Customers would enter an establishment, survey the goods available, select a product from the display cases, perhaps order minor modifications, have the item sized properly, and be on their way. Merchants set up their shops, opened their doors, enticed customers into their establishments, sold their goods, possibly provided service, and closed up shop at the end of the day. If they did this well, they stayed in business. If they did not, their businesses died. Actually co-ordinating services to provide the couple with the best possible occasion was rare, if not impossible!
Enter computers and a generation of folks who mostly grew up with the power of the Internet. They show growing awareness of product availability, environmental changes, social responsibility, worldwide societal differences, and living conditions dissimilar to their own. These individuals can meld evolving tastes with widespread knowledge. Suddenly, customers with new priorities emerge into the retail marketplace! For many established merchants, the speed, degree, and direction of these changes have created challenges to their very relevance. Marketers who adapt to the evolution of communication styles benefit greatly from their proficiency with the new realities of commerce. (See Ed Strapagiel's analysis at strapagiel.com/retail-sales-analysis-Canada.html.) Few have patience with delays or detours in completing transactions.
Internet-savvy customers are vastly more socially aware than any other group. Correspondingly, they value contributions to and from the community—whether this is through the merchants with whom they deal or each other. They crave connection: personal, community, national, and global. Social media and Internet research possibilities facilitate a great ease of interaction and knowledge acquisition unknown to any previous generations. Communication among a variety of segments within their locale is both easier and more necessary.
Socially adept consumers are focused on health and well-being, both personally and worldwide. They seek unique experiences in the marketplace, customized to meet their needs as well as the needs of others. They rely on interaction with their peers to guide them toward quality merchants and to alert them to scammers waiting to take advantage of them.
Selling to a new generation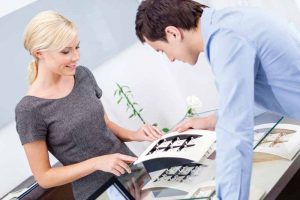 The ability to utilize technology in the retail market has boosted sales expediency for more than 20 years. The refinement of Internet functionality and the development of social media sites provide increased opportunities for retailers to showcase their appeal with products, pricing, and availability. (See Strapagiel's analysis, cited above.) When merchants offer standout brands and opportunities for shoppers to personalize their chosen designs, the product result is as special as the couple making the selections. Offering suggestions for grooms' bands, bridal party gifts and mementos, and commemorative bride/groom exchanges enhance the sale.
Another popular option is to partner with nearby wedding vendors (such as bakeries and photographers) who are likewise committed to complete customer satisfaction. The benefits build for the bridal couple, of course, as well as each of the partnering companies. Taking advantage of such opportunities to deepen relationships with customers and demonstrate a distinctive presence in the marketplace is precisely the culture that is essential to retail survival. Retailers can become indispensable personal assistants in whom great trust is placed.
Sharing is caring
Encouraging shoppers to evaluate, rate, and share with their peers all manner of comments about their experiences expands merchants' credibility. Retailers who maximize customization options are winners. Paired with great customer service, generous reward programs, consumer-generated coupons or promotions to share with others, and goods and services from other providers, it's possible to enhance reputations for caring, excellence, community co-operation, and fabulous events.
The millennial generation responds positively to the ability to offer generous options to friends and family (e.g. tagging close companions with freebies or preferred offers). In return, they tend to be generous in their recommendations. They feel they have scored a deal when they encounter cross-promotions and partnered offers from compatible merchants. They freely utilize and rely upon ratings and comments from their friends to assess the ability of a given merchant to provide them with the products and services most likely to enhance their lives: high-quality goods with great customization options, free shipping, recognizable branding, and competitive pricing. Insistence on and appreciation of high quality is a hallmark of the modern shopper.
Unhealthy materials from disreputable sources or shoddy workmanship have no relevance for discerning buyers, and many are quite outspoken when their needs in this regard are neglected. Social media sites provide ample opportunities for shoppers to share comments with their peer groups about every facet of their experiences.
Technology not only alerts these customers to merchant flexibility and product adaptability, but also facilitates rapid gratification for the shopper and her or his associates. Recommendations for simpatico stores, excellent products, and equitable pricing travel as rapidly as keyboarding skills will allow. Callouts about inhospitable merchants, inferior goods, or less advantageous monetary offers also travel in a flash.
The good news is younger persons in the marketplace are committed to assisting their elders in becoming more technologically sophisticated and assertive with their wants and needs as consumers. This is great news if retail professionals have breached the gap between 20th-century markets and current realities. As 'youngers' assist elders in obtaining positive results from modern technology, everyone benefits.
The power of personalization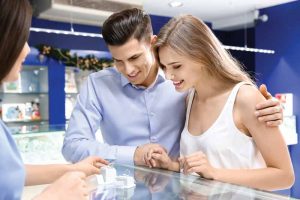 In the jewellery retail business, enabling customers to select items through their preferred method of shopping, then allowing them to reinforce, modify, compare, share, and add to their selection—either in the physical store or online—provides the ultimate service. (Rebecca Melynk's 2016 article on retail market trends is viewable online at www.reminetwork.com/articles/Canadian-Retail-Market-Trends.) Additional bonuses come with purchase records for insurance purposes.
Keeping records of customer preferences and purchase history presents versatility for ongoing relationships and future offerings. Overcoming comfort zones to elevate and expand business capabilities produces massive results with ease for everyone. Conversely, stubborn insistence retail business is a tried-and-true entity creates a shrinkage problem that does not have to do with shoplifting!
Each tracked interaction provides the opportunity for following service interactions, which in turn create the basis for deeper relationships each customer finds enticing and memorable. Additionally, customer records are a valuable asset in determining future marketing decisions. Information gleaned from today's records provide the historical data for projecting trends and selecting the store's optimal communication channels. (For more, see Peter Wharton's article, "The White Whale of Retail," published in September 2017 and available at www.ibm.com/blogs/watson-customer-engagement/2017/09/12/white-whale-retail-keeping-changing-digital-commerce-tides.)
Putting it all together
The ultimate goals of the retail jewellery trade are:
providing customers with the highest-quality product that satisfies their esthetic preferences while meeting their financial priorities;
sustaining profitability in the realms of competition, cost, and availability of goods; and
developing a reputation within the community for excellence and integrity that surpasses competitors.
The challenges to the industry may appear to be daunting, but they certainly are not insurmountable if you have the necessary skills. It's crucial to have the ability to resolve technological issues effectively and economically, as well as to obtain, create, and/or fabricate goods that meet or exceed the discerning tastes of sophisticated customers with a unique viewpoint of quality and value combined. Also essential are sufficient skills to comprehend and relate to the ever-changing demographics of customers, many of whom have never lived in a world without the Internet and the instant gratification it often provides. The exciting news is retail, as it has been known, is evolving into a futuristic village offering outstanding advantages for all participants with an ease and speed previously unknown to civilization.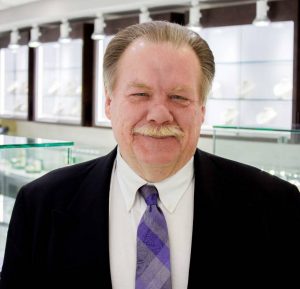 [5]Brad Huisken is president of Colorado-based IAS Training. A trainer and consultant, he has authored I'm a Salesman! Not a PhD: Realistic Strategies To Increase Your Sales, Munchies for Salespeople: Selling Tips That You Can Sink Your Teeth Into, and Munchies for Salespeople II: More Selling Tips That You Can Sink Your Teeth Into. Huisken is a regular contributor to several trade publications. He has also developed various training programs and documents, such as the PMSA Relationship Selling Program and PSMC Professional Sales Management Course. He can be contacted via info@iastraining.com, www.iastraining.com, or (800) 248-7703.
Endnotes:
[Image]: https://www.jewellerybusiness.com/wp-content/uploads/2018/05/bigstock-Young-happy-couple-near-showca-219072040.jpg
[Image]: https://www.jewellerybusiness.com/wp-content/uploads/2018/05/bigstock-Couple-Buying-Jewelry-With-A-C-155770616.jpg
[Image]: https://www.jewellerybusiness.com/wp-content/uploads/2018/05/bigstock-Male-making-choice-of-engageme-62111162.jpg
[Image]: https://www.jewellerybusiness.com/wp-content/uploads/2018/05/bigstock-Young-couple-choosing-ring-in-228736198.jpg
[Image]: https://www.jewellerybusiness.com/wp-content/uploads/2018/05/Brad2016-3.jpg
Source URL: https://www.jewellerybusiness.com/features/a-new-season-creating-success-with-bridal-jewellery-in-an-evolving-retail-environment/
---