All in the family: Adding pizzazz to family jewellery
by jacquie_dealmeida | December 1, 2015 9:00 am
By Llyn L. Strelau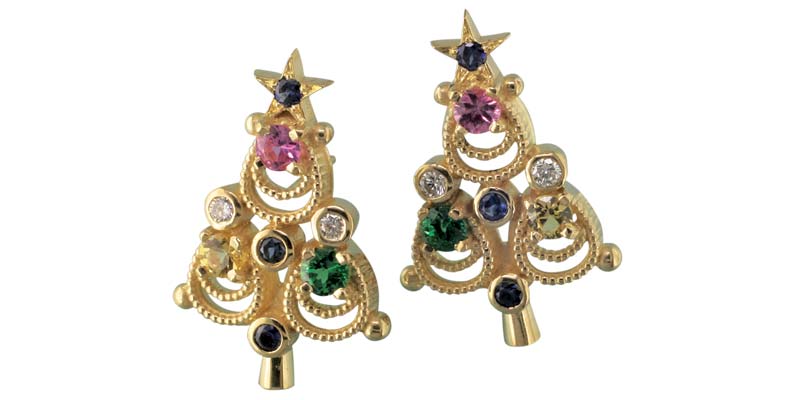 Jewellery is all about symbolism and significance. After engagement and wedding rings, one of the most popular kinds of jewellery is that which celebrates family. This can be as old-school as the simulated birthstone rings those of a certain age will remember from the once-popular Consumer's Distributing to pieces as exalted as Fabergé eggs! The challenge for a custom jeweller today is to design something that both represents the family or event and shows creativity.
The colours of love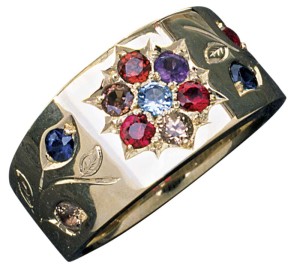 The common thread among these types of commissions is celebration of the family and milestones, such as parenthood, achievements, anniversaries, remembrance, pets, and commemoration of a loved one.
Mother's jewellery (or father's for that matter) often incorporates gemstones signifying the birth months of family members. Rings, pendants, cufflinks, and pins are all options. If you are lucky, the birthstones look well together. (If you are not, you could have a gaudy combination of purple, green, red, and yellow in one piece that surely tells the story, but is not exactly attractive!) To avoid the old standard of gemstones all in a row, my approach is to find more creative designs in which to include the birthstones.
One option is to create a set of stacking rings, each embellished with one of the birthstone colours. The gems need not be the same shape, but of similar size. Or you could pavé-set one or more bands with several small stones. This can provide better economy when the client has the more expensive April, May, July, or September birth dates. This approach also makes it easy to add future rings as the family grows.
One can choose a large gem to represent the wearer, with either graduated sizes for the rest of the family according to age or a medium-size stone for the other parent and smaller ones for the children. For one client, I designed a pendant featuring three cherries inspired by the family orchard business. The colours weren't realistic, but at least the blue zircon, aquamarine, and blue sapphire were birthstones of complementary colours. In another pendant, emerald represented the mother's birthday, with peridot and opal for the children's August and October birthdays, respectively. (I picked opal in this case, as it worked better with the other stones than pink tourmaline.) The father was born in April, so I pavé-set the 'ribbon' with many tiny diamonds, symbolically wrapping the family in affection.
When confronted with a project for a large family, it is difficult to avoid the mish-mash of colours. One ring for a grandmother started with her birthstone in the centre surrounded by her children's. The four grandkids' stones were set flanking the central flower with hand-engraved leaves and stems. Sometimes symbolism trumps esthetics! Perhaps more attractive is a bracelet made of three strands of flexible 18-karat yellow gold cable joined and clasped at the back, the birthstones bezel-set and attached on the top. The parents' gems were the largest and sit on the centre strand. They had two children; one of these offspring provided three grandchildren, while the other had one. This design allows for additional stones, should the family grow.
Weaving a story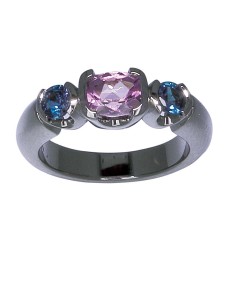 Combining birthstones with other personal symbols for the family can also help to make family jewellery more significant for the owners. A musical family chose a treble clef design for a pendant with a larger stone for the mother at the bottom and three for the children set in the centre. For a client who requested a pendant for his engineer/astronomy buff wife to celebrate their 21st anniversary, I incorporated a slice of Gibeon meteorite as the centre and set it in a yellow gold bezel with a 21-tooth, mechanical gear detail. I star-set the family birthstones to symbolize the constellation Orion. A small white gold crescent moon with blue sapphire eye completes the esthetic.
Sometimes numbers help tell a story. A client celebrating his 25th anniversary requested a ring for his wife. During our discussions regarding its design, he mentioned he had proposed all those years ago with a single red rose. Each year thereafter he added a rose to the bouquet he presented his wife on their anniversary. The ring features two rose gold carved blooms with stems (one for each of them) flanking a .25-carat bezel-set diamond. The side rims comprise eternity bands, set with 25 diamonds a piece, each one .01-carats, packing as much symbolism into this ring as possible.
Some jewellery is more about family history and sentiment. A client who typically purchases significant pieces came in one day with a tiny elephant carved from ivory or bone. It seemed an odd thing for her to own, let alone make into a piece of jewellery. She told me it was one of the few things she had that had belonged to her mother. After learning more about the piece and my client's mother, I came up with a simple brooch featuring white gold mountain peaks, yellow gold foothills, a green gold palm tree, and red gold ground, all to support and frame her little elephant. We finished the brooch with a bezel-set carved moonstone moon face.
For a client whose husband has a passion for frogs, I designed a pair of cufflinks featuring slices of druzy uvarovite garnet for the algae-covered pond that I set with a pair of carved tourmaline frogs perched on the margin. Tiny diamond dewdrops complete the picture.
Now in his mid-40s, a client commissioned a pair of earrings based on a gift he and his twin brother had given their mother when they were children: stylized Christmas trees with glued-on coloured rhinestones. Now a successful business man, my client requested we make her a pair of 'real' earrings that looked like the originals. Creating a rubber mould of the tree, we cast it in 18-karat yellow gold and set genuine family birthstones. We were able to create add-on sales by making cufflinks for each of the twins and pendants for their sisters, as well.
It is worthwhile to engage the client in the development of family jewellery designs. Some more than others can provide a great deal of input the designer can then filter and use for inspiration. I'm reminded of a commission for a client whose daughter was heading off to college in the United Kingdom. Being a very thoughtful man, he had written a few sentences that encapsulated for her his advice for life. After much discussion, we created a simple oval white gold plaque and had his words hand-engraved in a spiral, the phrases separated by flush-set black diamonds. The result was a very intimate piece she would wear daily, but that a casual observer would only perceive as pattern unless she invited closer inspection to reveal the sentiment. When his son went off to university, the same client commissioned a belt buckle, similarly engraved with another personal mantra.
People living in Victorian England used the 'language of flowers' to send highly detailed, though coded messages to lovers (and sometimes to those whom they spurned). I had a commission to design a locket that used this secret language to good effect. The base locket was sterling silver with a textured and oxidized background in a shiny frame. The bouquet was handcrafted of 3-D silver and fine gold flowers, combining a pansy (think of me), forget-me-nots (memories), a rose (true love), and daffodils (regard), with a larger rose as the bail.
Don't forget dad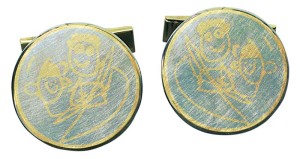 Unfortunately, family jewellery for dad does not offer as much scope for design. A mother of three boys requested cufflinks for their father. I suggested each of the boys draw self-portraits. She came back with three drawings that beautifully reflected the ages of the children with charming degrees of realism. Next, I scanned the images, combining them in graphics software and mirroring the scan to provide left and right images. I imported these into CAD software, converting the black lines of the portraits into cutters, which I used to create recessed areas into disk-shaped elements for the front of the cufflink. These were then milled and cast in 19-karat white gold. (In the time before CAD, I would have had the design photo-etched into metal plates, rubber-moulded, and cast.) After clean-up, we filled the recesses with wax, attached sprues to the wax layer, and invested in the usual way. Since 19-karat white gold has a higher melting point than 18-karat yellow gold, it is possible to cast it in place without affecting the white metal. The next stage was to file and sand the yellow gold layer down until only the image's gold inlay was left. Since polished gold does not reveal colour contrast very well, we created a scrubbed sandpaper finish with the white gold edge bevelled and polished to frame the images. If budget had permitted (these were made in the days when platinum was twice the price of gold), we could have achieved even better colour contrast by using platinum instead of white gold with 22-karat gold for the inlay. The client was thrilled with the result and they have a family heirloom to pass down, though I wonder which son will get them.
Touching tributes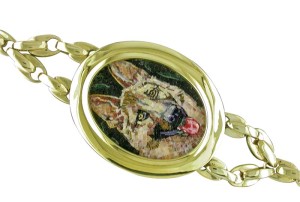 All family jewellery is a celebration, but sometimes it can be a bittersweet commemoration. For a client who lost a child to Sudden Infant Death Syndrome (SIDS), we created a brooch with branches of stylized baby's breath accented with tiny white diamonds overlaid on a slice of rich blue lapis lazuli. It is a poignant reminder of a life cut tragically short.
Some people honour their pets after they've passed away by using paw prints taken by veterinarians. These impressions can be scanned in 3-D and converted into a CAD model. It is usually necessary to shrink the prints to a reasonable size, but once that is done, they can be milled and cast in silver or gold, providing lasting mementos of a favourite feline or man's best friend.
As custom jewellers, we have the great privilege of becoming deeply involved in our client's lives. Creating a personalized piece of jewellery that reflects and celebrates families and their special occasions provides joy for them and satisfaction for the designer. It is up to us to discover innovative and original ways to tell their story!

[6]Llyn L. Strelau is the owner of Jewels by Design, a designer-goldsmith studio in Calgary established in 1984. His firm specializes in custom jewellery design for a local and international clientele. Strelau has received numerous design awards, including the American Gem Trade Association's (AGTA's) Spectrum Awards and De Beers' Beyond Tradition—"¨A Celebration of Canadian Craft. His work has also been published in Masters: Gemstones, Major Works by Leading Jewelers. Strelau can be reached via e-mail at designer@jewelsbydesign.com[7].
Endnotes:
[Image]: http://www.jewellerybusiness.com/wp-content/uploads/2015/12/earrings-christmas-trees-birthstones-18K-y.jpg
[Image]: http://www.jewellerybusiness.com/wp-content/uploads/2015/12/JBD759.jpg
[Image]: http://www.jewellerybusiness.com/wp-content/uploads/2015/12/birthstone-engagement-ring-pink-topaz-alexandrite-19K-white-2.jpg
[Image]: http://www.jewellerybusiness.com/wp-content/uploads/2015/12/JBD766.jpg
[Image]: http://www.jewellerybusiness.com/wp-content/uploads/2015/12/kim-moasic-front.jpg
[Image]: http://www.jewellerybusiness.com/wp-content/uploads/2015/11/Llyn-Strelau.jpg
designer@jewelsbydesign.com: mailto:designer@jewelsbydesign.com
Source URL: https://www.jewellerybusiness.com/features/all-in-the-family-adding-pizzazz-to-family-jewellery/
---