Ambiance matters: Ways you can take the sting out of diamond e-tailers
May 1, 2014
By Jeffrey Ross and Patti Moloney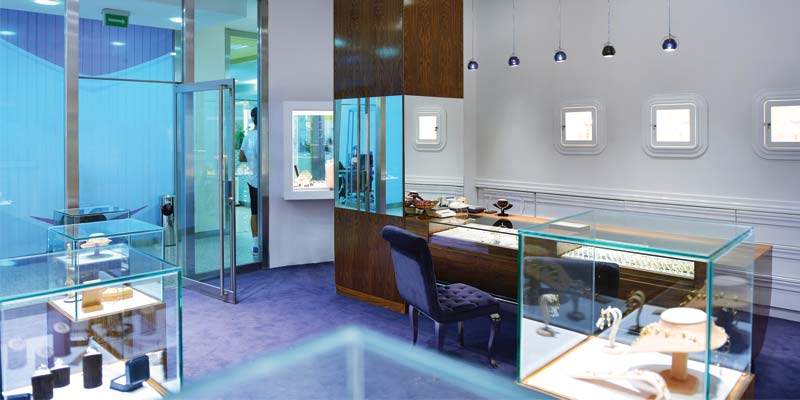 [1]
For Canada's independent jewellers and diamond suppliers, competing with online diamond giants can feel like a losing battle. It's the typical David and Goliath scenario, and as with the Bible story, all is not as it appears.
Online diamond suppliers can certainly be viewed as disruptive to the jewellery industry. They sell diamonds at rock-bottom prices, making it virtually impossible for brick-and-mortar stores to compete on price. This is particularly troublesome for retailers whose main business is engagement and wedding rings. However, it is important for traditional retailers and suppliers to recognize that standing up against diamond e-tailers is not a losing battle.
Instead of competing on their level, we should focus on increasing our quality, service, and customer experience. The goal is to set yourself apart from online discount dealers and appeal to a set of customers that value craftsmanship, custom design, and expertise on a personal level. These are qualities online diamond companies simply cannot offer.
In fact, they are considered so important at the consumer level that one online diamond retailer recently opened a counter at a U.S. department store, thus embracing the trust and human interaction offered in a traditional retail setting. While customers still must place their orders online, this calculated move by the Internet giant proves that for sentimental purchases such as bridal jewellery, people want to see and feel the pieces, rather than blindly purchasing from the web. It also suggests that traditional brick-and-mortar stores are becoming more like showrooms, where customers can indulge in a hands-on experience and brand trust is built. Traditional retailers should note that once this trust is established, they can also benefit from having e-commerce capabilities, which can make it easy and convenient for customers who now trust in their service and product to make additional purchases.
Drive emotion and design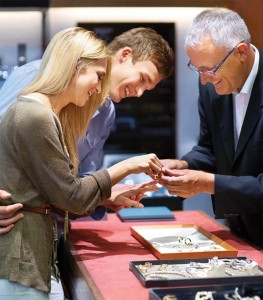 In a Harvard Business Review blog, writer Dian Wang notes while some consumers allocate their entire budget to the diamond alone, others see better value in a stone that comes with personalized service or has a certain brand attached to it.
"For men who are hiring a diamond seller because they are nervous about finding the perfect ring, a brick-and-mortar retailer is a safer bet," Wang writes. "In a store, they can gauge a particular diamond's sparkle with their own eyes, or they can confer with the jeweller, relying on his [or her] artistry. In a high-end store, they can be assured the choices are socially affirmed, expert designs."
As independent jewellers, we must resist indulging in a pity party simply because online diamond suppliers are undercutting us left, right, and centre. Instead, we need to recognize and play up our strengths. Take, for example, an intimate, boutique-style store offering unique, custom pieces they won't find anywhere else. There is a whole segment of consumers to which this type of store will appeal.
Unlike other retail products, jewellery in particular is driven by sentiment and meaning; it is purchased to celebrate milestones and mark special occasions. While many consumers desire a personal customer experience, the challenge is to find the ones that do not and up your game to win them over.
An independent diamond supplier based in London, Ont., Vantyghem Diamonds has been on the front lines of the diamond industry in Canada for 40 years. Father-and-son duo, Ralph and Kevin Vantyghem, have found continued success by staying focused on the strengths of their business, rather than trying to be like the online 'Goliaths.'
"Taking our so-called disadvantages and turning these into advantages is important," Kevin explains. "For example, small companies (i.e. the Davids) have a much easier time building business relationships, and where there is trust, there is confidence. Confidence inspires relationships, leading to successful professional synergies. Service is of the utmost importance to retailers—promptness and efficiency. 'Davids' do this very well! Being small means being quicker and more nimble! Bigger isn't always better."
Once you find your niche, you can easily identify your target customer and reach them in a more effective manner. Focus your energy on finding people who are interested in the experience you're offering, the social aspect of the purchase, or the idea that a piece is being made specifically for them. Your clients know the difference between something that is an assembly of parts and an item that is truly custom made to suit their individual style and taste. With the help of the Internet, consumers can easily and cheaply assemble a mount and a setting to create a standard ring. However, incorporating their own design elements is not something that can easily be accomplished without the help of a jeweller. To bring their vision to life, you can either use CAD or a pencil rendering to create a designer experience in your store—a luxury experience for a luxury item.
There is also a growing trend amongst consumers for their jewellery to be made from ethically sourced materials. This socially conscious group will happily pay for certain custom products in light of the ethics attached to them, something that online diamond suppliers would have a hard time matching.
Fight fire with fire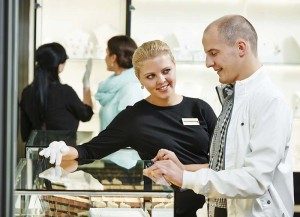 Ask yourself the following question: What does my brand stand for? A brand is a promise you keep and it must be communicated appropriately for the audience you're trying to reach. It must flow through your business from top to bottom through channels such as the way you answer your phone, the look of your website, and your marketing materials. Customers are more likely to remember a unified message.
Despite being a brick-and-mortar store, a big part of your success will be in creating a strong online presence, as this is where most shoppers begin their search before physically visiting a store. Therefore, it is vital your website is content-rich with keywords your target audience is likely to use when searching online. The goal is for your website to land at the top of the search engine list; using appropriate keywords and meta tags will help achieve this.
For example, if your niche is rare and coloured gemstones, use keywords and meta tags that include the types of gemstones you offer. At our store, we recently created a unique custom piece using morganite, later posting a picture and some text on our website, along with the corresponding keywords and meta tags. Since then, we've received several inquiries from people who found us online after googling morganite and custom jewellery. In fact, we appeared at the top of their search list.
Social media is another effective tool to bolster your online presence. While it is time-intensive, it is also an inexpensive and often free way to reach your target market. A presence on Twitter, Facebook, Pinterest, and Wanelo are all great ways to stay top of mind with your customers.
A lasting memory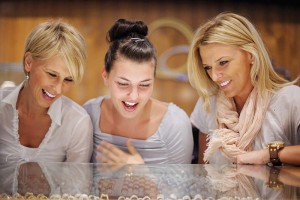 With all the hard work that's required just to get consumers into your store, be sure once they are there that your branding carries through in a unified way. Clear out clutter and create a stylish and comfortable place where you can sit down with clients and chat about what they're looking for. Remember, you want to sell the experience, and simply standing behind the counter is not going to cut it. Instead, engage the customer and make their time in your store memorable. By having interesting and unique products on hand that complement your brand and also appeal to your target market, you can create talking points to engage your clients and put them at ease. You can present this as if you're giving the customer the inside scoop on a new trend. It's a way to build conversation and develop a rapport, two vital things online diamond suppliers cannot do.
"We have to remember jewellery and diamonds are luxury items," Kevin says. "Therefore, we have to look and feel the part, whether it is updating the store, keeping the website current and fresh"¦ or tapping into new and young shoppers. Shopping malls and big box stores are still being built; people still like to be in a nice store."
Contrary to what many of us feared when online diamond suppliers began cropping up, they are not completely disruptive to the jewellery industry. They may be undercutting prices in a way that can't be matched, but by finding a niche and catering to your target market, you can effectively deflect this seeming disadvantage, giving you the competitive edge only a brick-and-mortar store can offer.
Jeffrey Ross and Patti Moloney are a husband-and-wife duo that has used innovative thinking and technology to develop and expand their line of Dimples charms across Canada. They are also owners of Jeffrey Ross Jewellery, a retail store in Uxbridge, Ont.
Endnotes:
[Image]: http://www.jewellerybusiness.com/wp-content/uploads/2014/05/bigstock-jewelry-store-shop-indoors-s-40025257.jpg
[Image]: http://www.jewellerybusiness.com/wp-content/uploads/2014/05/dreamstime_xxl_27283277.jpg
[Image]: http://www.jewellerybusiness.com/wp-content/uploads/2014/05/bigstock-Sales-assistant-in-shop-demons-51959860.jpg
[Image]: http://www.jewellerybusiness.com/wp-content/uploads/2014/05/bigstock-happy-girls-group-have-fun-wh-41809111.jpg
Source URL: https://www.jewellerybusiness.com/features/ambiance-matters-ways-you-can-take-the-sting-out-of-diamond-e-tailers/
---