BaselWorld unveils new look
May 21, 2013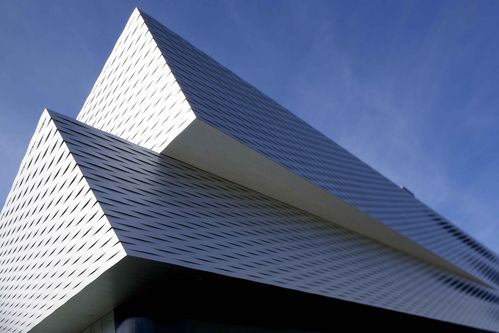 More than 122,000 people from 100 countries attended BaselWorld 2013, up 17 per cent over 2012.
The record attendance was perhaps spurred by the inauguration of the fair's 430-million CHF ($463 million Cdn) facelift. Over 200 contractors, 6800 tonnes of steel, 43,000 m3Â of concrete, and 820 km of electric wiring and cabling are just a few of the figures BaselWorld's organizers proudly proclaim when describing the scale of what is the largest investment ever made in the Swiss trade show industry.
Designed by architects Herzog & de Meuron, the new hall—with its distinct woven metal façade—provides 74,000 m2 of exhibition space and 83,000 m2 for multi-storey booth structures. Its revised layout mirrors what MCH Group—which organizes the fair—describes as new market realities: the convergence of watches and jewellery. Previously housing Swiss watch brands, the new hall now welcomes jewellery, exhibiting both categories side by side.
"Not only BaselWorld's layout is new, but also the appearance and presentation of most exhibitors as well," said René Kamm, MCH's chief executive officer (CEO).
"With their new, and in many cases, more spacious booths, they will be providing an even more impressive showcase for their brands and products. And in doing so, they will lend BaselWorld an attractiveness never seen before at any other exhibition in the entire world."
Constructing the elaborate booths housed in the new hall—some of them covering more than 1000 m2—began immediately after the project's general contractor handed over the building to MCH in early February. Thousands of booth builders from outside Switzerland converged on the building, although the show's organizer had to contend with the Swiss Federal Council's decision to make the entire booth construction industry subject to the collective labour agreement of the carpentry industry.
At the show's start, the crowded aisles throughout the watch halls reflected the strength of the Swiss watch industry, which is currently grappling with the definition of 'Swiss-made,' a label traditionally viewed as the epitome of precision and quality.
Current regulations say 50 per cent of a Swiss watch movement has to be made in Switzerland for a watch to be called 'Swiss-made' and that the assembly, finishing, and final inspection also occur in Switzerland. However, the Swiss government has proposed a rule that at least 60 per cent of manufacturing costs for all products, including watches, must originate in Switzerland. Some in the watch industry, however, have asked the threshold be raised to 80 per cent for mechanical watches and 60 per cent for quartz. Although larger brands like Rolex can meet the 80 per cent and surpass it, small and medium-size companies will struggle to reach even 60 per cent, as many components are actually produced in places like China.
For more, check out our full report in the June issue of Jewellery Business.
Source URL: https://www.jewellerybusiness.com/features/baselworld-unveils-new-look/
---