Breath of fresh air: Tips and tricks to keep your bridal inventory moving
April 30, 2018
By Todd Wasylyshyn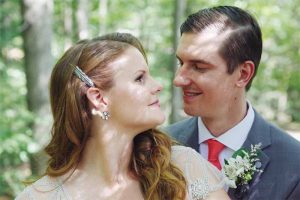 Getting engaged may be exciting, but there's nothing more monotonous in the jewellery industry than to put out the same bridal designs day after day and never display anything new. Designers are inexplicably finding original ways to reshape these tiny, potent symbols of love, and it's invigorating to offer creative new designs to your clients. (Hint: yellow gold is making a huge comeback.)
Are new ways of doing business killing your ability to keep inventory fresh? In this article, we'll consider new ways to dominate your bridal market and discover the hidden side effects on your economics.
More is more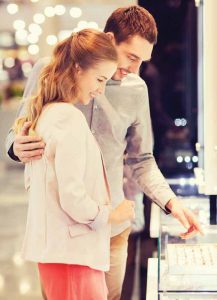 Twenty-five years ago, I was working in a small jewellery store as a gemmologist, salesperson, and apprentice insurance specialist. I was learning jewellery design and working with a fantastic goldsmith to recreate clients' lost treasures. We had a very small inventory, so we had to be incredibly resourceful when it came to making sales. We had every catalogue imaginable, I learned to counter-sketch (with pencil and paper), and we regularly babysat a sales rep's line and used it to sell special orders.
Some of what we sold came from Mansfield Importers down the street. Its longtime owner, Michael Mann, had an inventory that was out of this world. His Yellow Pages ad boasted more than 1000 engagement ring styles. Between a couple hundred fully set rings in the showcase and boxes loaded with mounts and semi-mounts, he probably had them all. He imported kilos of chain from Italy, and bought scads of highly discounted Seiko closeout watches. If you needed Cross pens, kitchenware, luggage, or tools, he had those too. His strategy was to stock a huge variety of jewellery, and my strategy was to have a friend who did.
Today, online retailers, Pinterest, and Instagram have forever multiplied the scope of designs a prospective bride is exposed to. Forget Mansfield's 1000 bridal styles, and think hundreds of thousands. Add to that the move to personalization, which has opened the door to more and more custom makeups and special orders, and the result is a significant challenge. How do retailers in 2018 expand their horizons to impress clients who have shopped the world before coming into your humble enterprise?
Well, the first way is to carry more designs. When I moved from having a skeleton inventory to a store full of ready-made designs, it was heavenly. I almost felt guilty every time I made a cash-and-carry sale, because it was hardly any work. No sketches, no waxes, and no "this isn't what I wanted." However, given the number of selections currently available through digital media, designs are more diverse than ever, so it takes a huge investment to prepare yourself for a successful cash-and-carry venture. To do so, your business might need a large cash injection, or long-terms from a supplier and a leap of faith you can make the payments.
Banding together with brands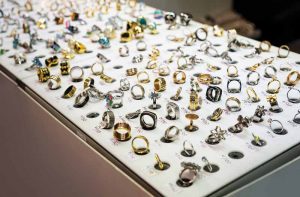 If you don't make that investment, how can you do more with less? One way is to add new semi-set designs with cubic zirconia (CZ) centres. The obvious advantage is deferring the investment in the feature diamond until it's needed. However, the transition from cash-and-carry goods to semis involves an awkward period of adjustment where you have to explain to your clients why some designs are ready to purchase with specific pricing, while others have variable pricing and might have to be special ordered. You can create your own selling system to facilitate this, but there are branded lines who have done a lot of the forethought for you.
Branded semi-mount programs can be so well-orchestrated you don't even need to train your staff, pick your merchandise, or set your budget. Those who choose to hitch their wagons to popular brands stand to gain clientele, credibility, and a boost to bridal business. The first key question to ask when considering this strategy is: how much additional business must you acquire to make the investment profitable?
The second matter to consider is the effect this new line will have on your design turnover. If it takes away sales from your existing product lines, then it weakens your ability to keep those other lines fresh. When most sales of your branded lines are special orders because of sizing issues or design modifications, your selection will not revolve—not to mention the fact your cash-and-carry designs may not be revolving either, due to your new emphasis on the brand.
The more special orders you place, the less you sell down your inventory. The less you sell down your inventory, the less open-to-buy (OTB) (i.e. available budget) you create for new designs. It's quite predictable for branded semi-mount programs to become stale after a year or two. That's why stock balancing has become a very important tactic in many supplier relations.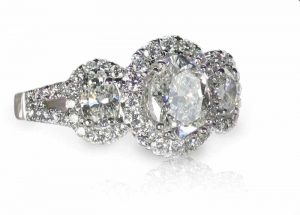 It's a common story that some brands dictate terms and push you to carry more inventory. It may be warranted, or you may have a strong case its performance cannot justify going deeper. The key to negotiating is to be fully armed with information above and beyond the normal 'items sold' and inventory reports.
The nitty gritty of profit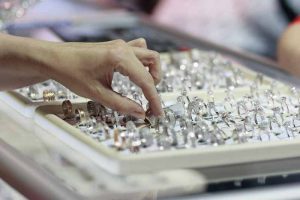 Bear with me as we delve into some technical business terms. The reason you might choose to stock semi-mounts is to avoid having to carry a brand's feature diamonds in inventory. Since you are not bearing that cost as an asset, when you sell a semi-mount, you can credit the gross profit of the sale—including the 'on-demand' feature diamond—against the cost of the semi-mount alone. This boosts and accurately reflects the economic impact of a branded semi-mount on your inventory investment.
For example, take a $1000 semi-mount with a $3000 diamond you brought in on memo to make the sale—which sits for an entire year before you sell it. The entire cost of the ring was $4000, but you made that sale with only $1000 invested in your store's inventory. With leverage like that, you don't need to turn over your semi-mounts two or three times per year for them to be profitable. However, don't forget a lower turnover means fewer new styles coming into stock.
For the real hardcore inventory analysts, consider the following. If you carry an inventory of loose diamonds to go with your semi-mounts, the more diamonds you have, the less leverage you can claim from your semi-mount program. If you have enough diamonds to fill all of your semi-mounts, then you gain nothing. This means if you have enough diamonds to fill half of your semis, you should attribute half of the diamond markup to your semi-mounts when considering their profitability. Mind blown? Nobody said being in business in 2018 was going to be easy!
Bringing browsing back to brick-and-mortar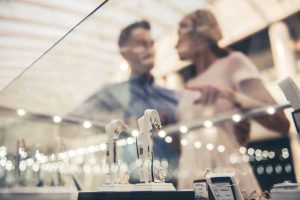 Another way to do more with less is to adopt programs of prototypes. The cost of brass and glass is negligible, so the leverage is huge! With only a thousand or two invested, you'll need just one or two sales to make this strategy pay off. With this kind of ROI, why not just put hundreds of prototypes into your bridal showcase? It seems to work pretty well for Spence.
My theory is trying on brass-and-glass pieces is only a small step up from catalogue or Internet browsing. Your clients can see the proportions and better imagine the design on their hands, but they can't feel the weight or more perfect finish of gold, and they're not experiencing the brilliance of diamonds. When you have both prototypes and fully set bridal designs in your inventory, your business sense will always lead you to promoting the most valuable items first. This is why it's inevitable you either embrace prototypes and develop some or all of your business around them, or allow them to end up collecting dust in your back office.
So, you want to show more bridal designs to stay competitive? Suppliers have found ways to help you with that, but don't forget to count the cost. If you find a way to show 1000 engagement rings in stock and you only sell 250 per year, it's going to take you four years to revolve those designs.
Armed with this knowledge, I hope you look upon your bridal inventory with pride and hope for a prosperous future. As you work with your suppliers, think about how much business you'd like to be doing with them three years from now, and whether that business will be in addition to or in place of other suppliers' business. If it feels like you're a circus performer spinning plates on numerous poles—some of which are precariously slowing down—you're probably a retail jeweller!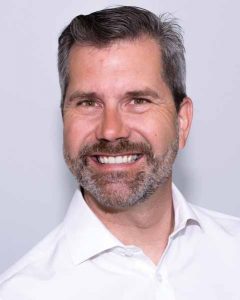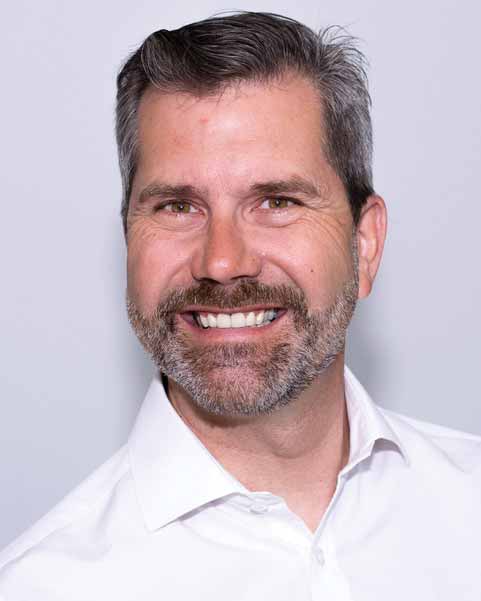 [7]Todd Wasylyshyn stumbled into the jewellery world while completing an arts degree at the University of Alberta in 1987, and still possesses the very first loonie he made in the industry. Having worked retail and been an owner, traveller, gemmologist, and writer, Wasylyshyn has seen the vast jewellery business from many angles, and is always on the lookout for new trends. Currently, he is sales manager for Keith Jack Inc. of North Vancouver. He can be reached via e-mail at toddwaz@gmail.com.
Endnotes:
[Image]: https://www.jewellerybusiness.com/wp-content/uploads/2018/04/0355.jpg
[Image]: https://www.jewellerybusiness.com/wp-content/uploads/2018/04/bigstock-sale-consumerism-shopping-an-104643176.jpg
[Image]: https://www.jewellerybusiness.com/wp-content/uploads/2018/04/bigstock-121981874.jpg
[Image]: https://www.jewellerybusiness.com/wp-content/uploads/2018/04/bigstock-Beautiful-large-three-stone-di-53300704.jpg
[Image]: https://www.jewellerybusiness.com/wp-content/uploads/2018/04/bigstock-180128296.jpg
[Image]: https://www.jewellerybusiness.com/wp-content/uploads/2018/04/bigstock-Couple-Buying-Jewelry-176813410.jpg
[Image]: https://www.jewellerybusiness.com/wp-content/uploads/2018/04/headshot.jpg
Source URL: https://www.jewellerybusiness.com/features/breath-of-fresh-air-tips-and-tricks-to-keep-your-bridal-inventory-moving/
---