Craftsmanship and commerce: Exploring the 60th Bangkok Gems and Jewelry Fair
December 12, 2017
By Cynthia Unninayar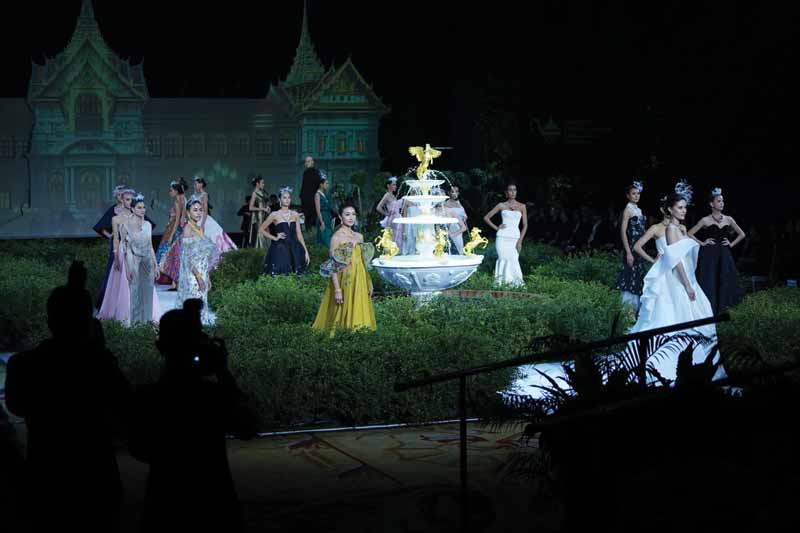 One of the world's foremost producers of gems and jewellery, Thailand showcased its prolific industry at the 60th edition of the Bangkok Gems and Jewelry Fair (BGJF), held September 6 to 10. A testament to the economic importance of this biannual fair is the fact BGJF is supported and organized by Thailand's Department of International Trade Promotion (DITP) under the Ministry of Commerce.
"Thailand's gems and jewellery industry constitutes an essential part of the country's trade and exports," explained Apiradi Tantraporn, Minister of Commerce. "Ranked third after the auto industry and electronics, it generates over US$10 billion in revenue annually, and provides decent incomes for over one million artisans and skilled workers in the nation."
Chantira Jimreivat Vivatrat, director of DITP, added Thailand's gem and jewellery exports are estimated to have risen by around five per cent this past year. She explained the value of Thai exports in 2017 is helped by firmer gold prices and a stronger Thai baht. (Currently, the exchange rate for US$1 is about 33 Thai baht.) Vivatrat also reiterated the importance of the newly established and DITP-supported Thailand Trust Mark (T Mark), which certifies high-quality and socially responsible production of gems and jewellery as well as products in other sectors of the Thai economy.
A significant share of Thailand's gem and jewellery industry is third-party production the country's manufacturers carry out for many foreign brands, including a number of well-known global luxury brands. These pieces are mainly crafted in gold, diamonds, and gemstones, but the nation is also the world's second-largest supplier of silver jewellery, behind India.
Increase in sales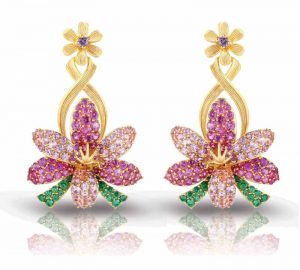 The 60th BGJF brought together 843 exhibitors, including producers, suppliers, and exporters from around Thailand and the world, who showcased their wares in more than 2100 booths. Among the overseas exhibitors were those from the United States, China, Japan, India, Sri Lanka, Iran, Israel, and the Association of Southeast Asian Nations (ASEAN). According to show organizers, the national pavilions enjoyed an increase of 18 per cent in exhibitor participation over the last show.
Organizers also indicated final trade attendance was about 16,000 visitors, who came from 130 nations around the world and helped generate nearly $74.9 million in sales—an increase of nearly 29 per cent over the previous show. The strongest export markets for Thai gems and jewellery are Switzerland, Hong Kong, and the United States.
Finished jewellery was offered at most booths and at all price points, types, and qualities. It ranged from high-end gold pieces set with diamonds and precious gemstones to silver and gem items to costume jewellery set with created gems. Booths offering loose diamonds, packaging, and machinery also attracted a large number of buyers.
However, the biggest percentage of exhibitors—and the leading growth sector in the Thai industry—fell under the coloured gemstone category, both domestic and foreign. These booths were also the ones that garnered the most attention. Stones ranged from large rough samples to faceted coloured gems of all kinds, including diamonds. Even the exotic melo melo and golden pearls from Myanmar were available, although at rather steep prices.
Among the many beautiful gems that attracted this author's attention was a rather unusual stone I had not seen before. Named the "Golden Sheen Sapphire" by Tanzim Khan of Bangkok-based gem dealer Genuine Gems and Jewellery, this unique sapphire was discovered in a remote—and undisclosed—area of Kenya near the Somali border in 2013.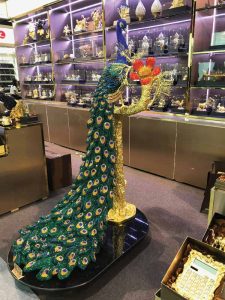 "As soon as I saw the stone," Khan said, "I knew there had to be a way to showcase its unique characteristics."
After trial and error, he succeeded in creating a series of facets and cabochons that bring out the gem's shimmering beauty. Khan was so impressed by this remarkable stone, he purchased the mine's entire production, which is now depleted. He stated the gem has been analyzed and confirmed as natural sapphire by several labs around the world, including the Gem and Jewelry Institute of Thailand (GIT), Asian Institute of Gemological Sciences (AIGS), Gemological Institute of America (GIA), Tokyo Gem Laboratory, and ARD Analytics. Khan also indicated there had been strong interest from some of the world's major jewellery brands in purchasing the stone—available in a range of sizes—for their collections.
Highlights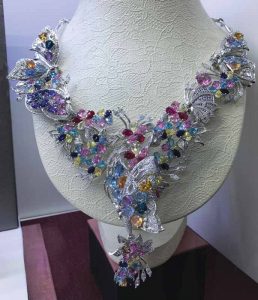 The 60th edition of the show was unique for several reasons. The opening ceremony was presided over by Princess Sirivannavari Nariratana, daughter of the present king. A jewellery and fashion designer in her own right, the princess displayed her collections at the show and oversaw the ribbon-cutting ceremony of her 'Sirivannavari Jewellery Showcase,' on display at BGJF.
Other additions to the show included the New Faces exhibition, with 50 booths offering intricate jewellery pieces crafted by smaller companies and designers.
A special section under the Talent Thai and Designers' Room also showcased various emerging designers and entrepreneurs in the jewellery and gem sector.
Returning from previous years, but in a modified form, was the Niche Showcase exhibition, which featured innovative designs of gems and jewellery in five emerging market categories across the globe. These included:
"The Moment," celebrating weddings, other special occasions, and anniversaries;
"MetroMen/LGBT," comprising a fairly fast-growing segment for refined masculine jewellery;
"Heritage and Craftsmanship," showcasing jewellery and artisanal crafts inspired by cultural roots;
"Spiritual Power," infusing religious and spiritual beliefs in adornment; and
"Beyond Jewellery," featuring bejewelled furniture and objets d'art.
The event also featured a series of seminars and consultation clinics conducted by industry professionals and design experts, plus onsite gem lab services from GIT, AIGS, and other gemmological institutes.
The World Ruby Contest
Co-organized and co-supported by GIT, AIGS, the Jewelry Trade Center (JTC), and the French Association of Gemmology, the goal of the World Ruby Contest is to promote, support, raise awareness of, and create an accurate understanding of ruby for people worldwide—both consumers and members of the trade. It is also a precursor to the World Ruby Forum that took place in Bangkok on November 4, following not long after the CIBJO conference.
"The World Ruby Forum aims to increase recognition of the value and beauty of the ruby, which is regarded as 'The King of Gems,' as well as to showcase the strength of Thailand's gemstone industry," said Duangkamol Jiambutr, the newly appointed director of GIT.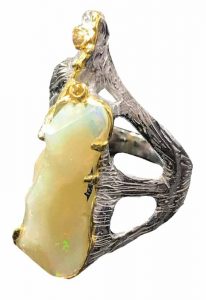 Judges for the World Ruby Contest included:
Wilawan Atichat, GIT advisor;
Chawalit Salwala, coloured stone expert and managing director of Thai Lapidary International Co.;
Victor Tuzlukov, renowned gem cutter;
Gail Brett Levine, executive director of U.S.-based National Association of Jewelry Appraisers (NAJA);
George Shen, director of the California Gemological Institute; and
Winnie Chen, chair of Guangdong Shining House.
The contest was organized into sections for natural unheated ruby and traditional heated ruby, with subcategories for gems in sizes of three to five carats, five to
10 carats, and more than 10 carats.
In the natural unheated ruby category, winners were:
Veerasak Gems Co. (three to five carats);
Gemburi Co. (five to 10 carats); and
K.V. Gems Co. (more than 10 carats).
Winners in the conventional heated ruby category were as follows:
Premiere Gems Co. (three to five carats);
Jack Abraham (five to 10 carats); and
Veerasak Gems Co. (more than 10 carats).
Tax advantages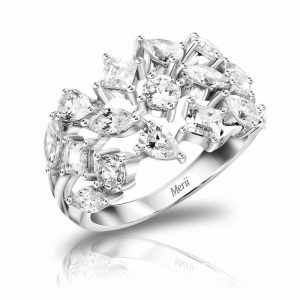 Thailand's gem and jewellery industry enjoys several tax advantages to help its competitiveness. A number of tax-free zones—such as Gemopolis, located on the outskirts of Bangkok—house production facilities, where foreign companies benefit from a strong infrastructure, easy access to raw material suppliers, and a fairly highly skilled workforce.
Further, a new rule exempts BGJF exhibitors from paying value-added tax (VAT) when importing their goods for the show. VAT is paid only after the show, and only for products that are sold. This greatly eases the paperwork and costs for overseas exhibitors who import and then re-export their unsold products, which remain untaxed.
To attract buyers, BGJF also offers a variety of discounts on hotels, car rentals, restaurants, and other amenities in Bangkok. The 61st iteration of the show will be held February 21 to 25, 2018.
A 20-year veteran of the jewellery and watch industry, Cynthia Unninayar travels the world reporting on the latest trends, promising new designers, global brands, and market conditions. Her interviews with some of the industry's top players offer insight into what's new and what's happening on the global jewellery stage. Unninayar can be reached via e-mail at cynthiau@gmail.com.
Endnotes:
[Image]: https://www.jewellerybusiness.com/wp-content/uploads/2017/12/1-fashion-BGJF60_020.jpg
[Image]: https://www.jewellerybusiness.com/wp-content/uploads/2017/12/12-Prima-Gold-165E0571.jpg
[Image]: https://www.jewellerybusiness.com/wp-content/uploads/2017/12/8-IMG_0768.jpg
[Image]: https://www.jewellerybusiness.com/wp-content/uploads/2017/12/13-RJM_0788-copy.jpg
[Image]: https://www.jewellerybusiness.com/wp-content/uploads/2017/12/6-goldlip_0776.jpg
[Image]: https://www.jewellerybusiness.com/wp-content/uploads/2017/12/11-merii-221R0344.jpg
Source URL: https://www.jewellerybusiness.com/features/craftsmanship-commerce-exploring-60th-bangkok-gems-jewelry-fair/
---