Finding forever: Timeless designs for the modern bride
by Samantha Ashenhurst | June 18, 2021 3:12 pm
By Samantha Ashenhurst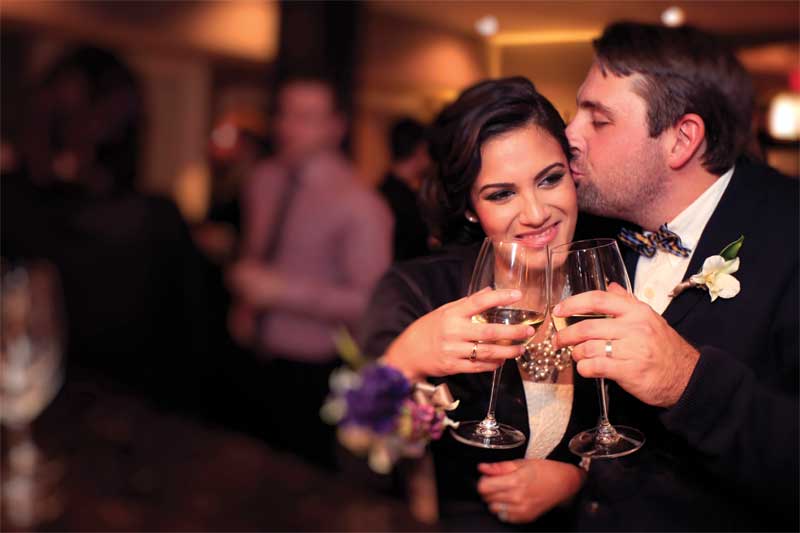 While many may have assumed the global pandemic would have a negative impact on the bridal jewellery industry, it has instead been reiterated that love conquers all.
At least, that's what The Knot found in its 2020 jewellery and engagement study.[2] The report revealed 66 per cent of couples who became engaged between April and November of last year began planning their nuptials within a month of the proposal. And that's not all: roughly half of those polled said they proposed after only a few weeks of planning, while 72 per cent took at least one wedding-related action before becoming engaged, despite COVID-related restrictions. 'For better or for worse' indeed!
Of course, this 'commitment to commitment' does not mean 2020 was an easy year to pop the question. On the contrary, 83 per cent of proposers reported feeling added pressure to curate a highly unique proposal when asking for their love's hand (up from 75 per cent in 2019). What's more, because of the pandemic, nearly half of proposers were forced to divert from their original plans—whether it meant switching up the location (67 per cent), doing it on a different date (63 per cent), or not being able to include their loved ones (52 per cent).
On the bright side, The Knot reports couples have plenty of time to bond these days: 68 per cent of newly engaged couples say they are spending more time together amidst lockdown measures, with 13 per cent having moved in together before getting engaged. Likewise, COVID-related restrictions have, seemingly, impacted the way in which proposals are happening, with 15 per cent saying they popped the question during an outdoor activity, such as hiking (up from 12 per cent in 2019).
That's all well and good, but how has the pandemic affected engagement ring purchasing? Unsurprisingly, couples are doing their research more than ever before—all from the comfort of their own homes, nonetheless. Indeed, proposers report an increased reliance on technology when making this important purchase, including looking at rings online (33 per cent), connecting with jewellers on social media (11 per cent), and using virtual tools for consultations (10 per cent). Despite all this, last year still saw the majority of engagement ring purchases (63 per cent) take place in store, either through a local jeweller (51 per cent) or a national retailer (33 per cent). Pandemic-related restrictions, however, meant shoppers visited fewer shops—an average of two, down from three last year. Plus, on average, they only looked at eight rings (down from 15 in 2019) before selecting 'the one.' Further to the brass tacks, the pandemic has not had a significant impact on spending in this category: in the United States, the average ring went for $5500 in 2020, compared to $5900 in 2019.
Finally, what styles are hitting the mark this year? Today's couples are seeking fresh, innovative twists on a classic symbol; one that can express their unique love story while remaining on the cutting edge of fashion. Round cuts are a favourite, The Knot reports. Colour diamonds—yellow and pink—are also hitting the mark, as are classic sapphire centre stones. Flip through our collection of featured styles that will get even the most modern lovebirds saying, "I do!" Prices in Canadian dollars, unless otherwise noted.
Endnotes:
[Image]: https://www.jewellerybusiness.com/wp-content/uploads/2021/06/MG_4058_1.jpg
2020 jewellery and engagement study.: https://bwnews.pr/3cT6sV5
[Image]: https://www.jewellerybusiness.com/wp-content/uploads/2021/06/FH8-1792D.jpg
[Image]: https://www.jewellerybusiness.com/wp-content/uploads/2021/06/PFJ049-PQ095.jpg
[Image]: https://www.jewellerybusiness.com/wp-content/uploads/2021/06/crop_Assael__La-Feuille_Ear.jpg
[Image]: https://www.jewellerybusiness.com/wp-content/uploads/2021/06/FIJ3292-FIJ3530.jpg
[Image]: https://www.jewellerybusiness.com/wp-content/uploads/2021/06/Promise-MR3039.jpg
[Image]: https://www.jewellerybusiness.com/wp-content/uploads/2021/06/TANT-015-6.jpg
[Image]: https://www.jewellerybusiness.com/wp-content/uploads/2021/06/PEARL-TOPAZ-HOOPS.jpg
[Image]: https://www.jewellerybusiness.com/wp-content/uploads/2021/06/Beloved-MR2778.jpg
[Image]: https://www.jewellerybusiness.com/wp-content/uploads/2021/06/Nebula-Burst.jpg
[Image]: https://www.jewellerybusiness.com/wp-content/uploads/2021/06/FL8-1769-R.jpg
[Image]: https://www.jewellerybusiness.com/wp-content/uploads/2021/06/crop_RF07_FANCY-YELLOW-DIA..jpg
[Image]: https://www.jewellerybusiness.com/wp-content/uploads/2021/06/FIJ3635.jpg
[Image]: https://www.jewellerybusiness.com/wp-content/uploads/2021/06/crop_ECO_TAHJAD6.jpg
[Image]: https://www.jewellerybusiness.com/wp-content/uploads/2021/06/PQ300-PQ212.jpg
[Image]: https://www.jewellerybusiness.com/wp-content/uploads/2021/06/CRYSTAL-BEAD-EARRING.jpg
[Image]: https://www.jewellerybusiness.com/wp-content/uploads/2021/06/TANT-008-7.jpg
[Image]: https://www.jewellerybusiness.com/wp-content/uploads/2021/06/crop_RC79_SAPP.jpg
Source URL: https://www.jewellerybusiness.com/features/finding-forever-timeless-designs-for-the-modern-bride/
---