Gem collectors anonymous: Have gems, will sell
July 1, 2015
By Llyn L. Strelau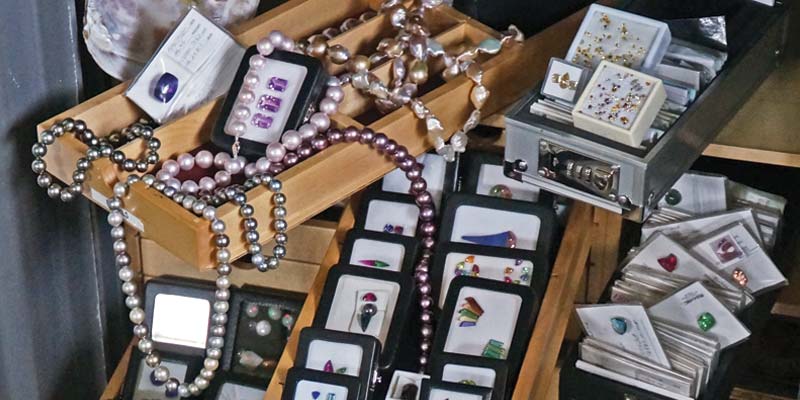 [1]
Let me set the scene"¦ Twelve men and women sit in a circle in a dimly lit room of a church hall. One man stands and says: "Hello. My name is Llyn"¦ and I am a gemstone addict!"
The rest of the circle responds: "Hello Llyn""welcome! Would you like to share this evening?"
"Thank you," I say. "It started innocently when I was just a kid. I loved sparkly things and had a collection of rhinestones and other simulated gemstones discarded from broken jewellery that belonged to my mother and sisters. Even then, I just liked to play with them and admire the colours and lustre. I just didn't know where this obsession would lead!"
When I grew up and started designing jewellery, my habit for collecting also grew. At first, I didn't discriminate between gems or have a great deal of knowledge about them. I purchased only inexpensive stones—it seemed that was all I could afford to buy. As years went on, my business grew and so did my gemstone collection. I had more money to spend and the gemstones were increasingly valuable, as my eye grew more discerning and I learned about quality.
Practicing self-control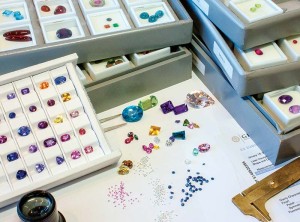 My 'problem' is I woke up one day and discovered my safe overflowed with inventory of (mostly) beautiful gemstones. Sure, I had sold many over the years, but somehow every time I did inventory, both the quantity and the value had increased. I just didn't know how to stop myself. Clearly, things were out of control. There was temptation on every front and my dependence grew. Regular dealers would come through on their annual tour and something from their stock always called my name. A new supplier would visit town and show me a gem I didn't know existed and it simply had to remain behind with me. As hard as I tried to resist, I just couldn't help it—I simply had to buy more gems. Visits to the trade shows are even greater temptation. I am bombarded on every side by booth after booth of sparkle. And even if"¨ I swear to myself and my accountant that I don't need another strand of pearls, a carving, or a faceted gem, I come away with pockets bulging and a dwindled bank account.
Of course, I have sold many gemstones in the 40 years I have been working in the jewellery industry. I even (sometimes) sell them from my treasured 'personal' stock of collector stones. My problem is inventory doesn't turn as fast as either my accountant or my banker would like.
To be honest, it is difficult to operate without a loose stone inventory. As an independent jewellery designer—like many of my peers—I specialize in custom design, making it important to have a good collection of gems with which to work. They inspire creativity for both the designer and, more importantly, for the client. When a customer comes in and wishes to design a piece of jewellery, it is very useful to be able to pull out a selection to inspire them. Naturally, it is impossible (even for a completely addicted jeweller) to have every size, colour, shape, and variety of gem. However, the larger the assortment, the better the chance of closing a sale on first contact. If you see a beautiful, well-cut ruby or sapphire, it can make sense to buy and hold, as you never know when a similar gem will be available. Like me, you may find diamonds don't require as much breadth of inventory as coloured stones. Most of us can call our diamond suppliers who, out of necessity, hold a wide selection of stones that can be delivered on memo in a day or two. You may risk losing a spontaneous sale, but if you have a cross-section of diamonds that fit your typical client profile, you can at least get the ball rolling, even if you have to get him or her back for a second visit.
Quality over quantity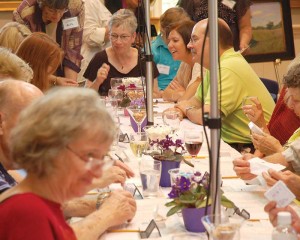 Is there a 'best practice strategy' to build an inventory of gemstones? Self-discipline is good; as much as you may feel obliged, you do not have to purchase a stone from every dealer who visits. I know how difficult it is, but sometimes you simply must say no!
Whether you are new to the industry or have already accumulated a safe full of gems, a long-time 'old-school' gem dealer I know has some wisdom to share. He suggested I focus on quality over quantity, trying to have fewer and larger gems of the best quality I could afford. By purchasing five spectacular stones instead of 50 for the same amount of money, I have built up a significant collection that will hold value and offer potential clients a good experience. Hopefully, the gems will have increased in value if they are still in stock when I retire! Typically, fine examples of sapphire, ruby, emerald, and aquamarine, as well as less utilized material like quartz, garnet, tourmaline, and spinel families, are useful to have on hand. Presenting only high-end gems can run the risk of scaring the client away when you tell them the price, but I find it works to start at the top. Then, if necessary, I can scale back by showing a smaller gem or one of less exalted quality that may better fit their pocket book.
Remember to be diplomatic regarding your client's budget. By compromising size, level of inclusion, or intensity of colour, you can usually find a stone they will love. It is important to share your excitement and enthusiasm for gems with the client. If you aren't happy with your inventory, it is far more difficult to sell it to them.
Also, be cautious when purchasing parcels or bulk lots of gemstones. The price may be extremely attractive, but typically there is a percentage of very good material mixed with middle quality and some 'dogs.' You will often use the cream of the crop quickly and be stuck with the lesser goods, which can eat up the advantage of what seemed like a bargain.
I have been discussing the topic of collecting finished gems, but if you are also a lapidary, you will likely have a hoard of rough gem material in your stash, too. As Allan Beck, a jeweller from Idaho, told me: "Rough is an easy way to make a lot of unsold gems." He described a case where a goldsmith requested three specialty cut aquamarines of specific design and size. The client then chose two and left the last one with Allan. Unfortunately, the stone was the one that would have basically paid for his time and resulted in a profit. It may look good in the box, but would likely look better on his wife's finger! I suppose this is another way to deal with excess inventory.
What to do
Short of outfitting all your relatives with gemstone jewellery, here are a few creative ways to help reduce inventory:
Host a roundtable event for your clients and use your own inventory rather than inviting an independent dealer. Your inventory may be 'old-hat' to you, but it will be new to your clients. The dynamic of a roundtable can go a long way to helping sell a lot of stones. Of course, you also have the bonus of custom designing jewellery from the stones purchased.
Liberate your gemstones from the prison of your safe! You can't sell them if your clients can't see them. Displaying complementary gems along with your finished jewellery will enhance both the jewellery and the stones. Of course, it may be difficult to find a method to display gemstones that is both visually appealing and offers a measure of security. There is also a genuine risk a stone could be dropped and damaged either when being shown to a client or when the stock is being set out for display or returned to the safe at the end of day. Plastic or glass boxes work, but tend to clutter the showcase. There are some devices to hold a stone in a clip and a variety of commercially available displays that can show stones to advantage. In any case, you and your staff should be very careful when handling loose stones to avoid damage.
Take advantage of your regular suppliers who have large inventories by ordering gems on memo. Some suppliers have programs allowing you to hold a portion of their stock and rotate it over a period of time. Be careful not to abuse the privilege—your suppliers are your lifeline.
ҬIt can be very useful to pull your entire inventory out of the safe every so often and become re-acquainted with it. Laying everything out not only reminds you of what you have, but you may find combinations of gems that will inspire a new design for the showcase.
Discount inventory you are no longer inspired by or just doesn't fit your design style anymore. Sometimes a wholesale dealer will buy gems or take them on consignment for re-sale.
Donate gemstones to a charity of your choice. While it doesn't offer a tax advantage in Canada, the promotional value of a donation can pay for the stone's cost.
ҬIf your local college offers a jewellery program, invite students and faculty to visit and purchase gems for their work. Offer attractive prices and help inspire the next generation of jewellery designers.
ҬIf you have the ability, client traffic, and funds, go ahead and mount as much of your collection as possible. Yes, you will tie up more cash in metal and labour, but your gem inventory can sell more quickly as a finished piece. At the same time, scale back your purchasing.
A rather more extreme gambit was described by David Geller in the February 2015 issue of INSTORE magazine. He writes about a jeweller who literally gives away gemstones if he cannot sell them within a year. His thinking is a stone that has been sitting around for that long is practically 'dead' inventory. A weekend promotion invites clients to visit his shop and choose a grab bag containing a loose gem worth up to $1000. He imposes no conditions on the promotion, and some people literally grab a bag and leave. Others, however, chose to mount their 'free' gems in a selection of semi-mounts on display or commission new settings. The overall promotion generates a healthy income and moves a lot of dead stock!
Featuring photos of loose gemstones on your social media platforms or website can provide a low-cost method of exposing the plethora of stones in your safe to a much wider audience. Perhaps include sketches of options for setting them.
When clients are unsure of what to purchase for their loved one, suggest a loose gemstone, along with a gift certificate for the recipient to use for the design of their choice. Again, you can include images to kick-start the process.
Ingrid Kaddatz, a goldsmith with Costen Catbalue Goldsmiths & Design in Vancouver, offers a creative suggestion. On learning of the death of the man who invented the Pet Rock, she suggested jewellers start a new fad—encouraging their clients to have their own collection of pet rocks of the precious variety!
Planning for the future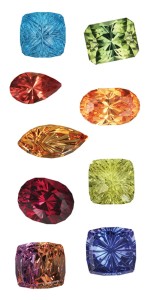 On a more sobering note, consider your estate planning. As Ian McAskill, retired jeweller from Kingston, Ont., recounted: "Gems are immortal and jewellers are not." What will you do with those sparkly gems? How will you turn them back into cash? Like most things, this takes a lot of planning. If you are looking at retirement, you may have partners who can buy you out or you can find a buyer for both the business and your stock."¨ If you have made smart inventory purchases, you may be able to receive a good return on your investment (i.e. getting your inflation-adjusted money back, plus a modest profit). However, one man's treasure may not equate to a good return when trying to liquidate your stock, especially if you are unable to plan ahead. Take, for example, a local colleague who passed away recently, leaving his family with the task of settling his estate. Without good inventory records or up-to-date prices, they are having difficulty maximizing the sale price of his inventory. This scenario is all too common in our industry and I would recommend advance planning for retirement.
Of course, there are companies who specialize in liquidation that can offer one method of dealing with retirement, but by the time they take their percentage, there may not be much left for you or your heirs.
Perhaps it is possible to operate with a minimal level of inventory and to control your addiction for collecting gems. It is quite likely you could gain a better return by investing the money outside your business, rather than spending it on more gemstones. However, it would probably not be nearly as much fun or satisfy your creative needs! In conversation with industry colleagues, I've learned we all suffer from this addiction to a greater or lesser degree. The rush of opening stone paper to reveal a lovely gem satisfies the craving. Gems have beguiled and entranced for millennia and I'm afraid my imaginary 'Gem Collectors Anonymous' support group has its work cut out for it. Thankfully, our compulsion is not detrimental other than to our cash flow, and for many of us, we will likely never be cured. But luckily our passion for collecting surrounds us with gifts of nature that continue to inspire us and our clients.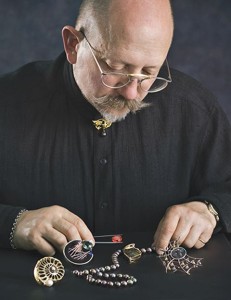 [5]Llyn L. Strelau is the owner of Jewels by Design, a designer-goldsmith studio in Calgary established in 1984. His firm specializes in custom jewellery design for a local and international clientele. Strelau has received numerous design awards, including the American Gem Trade Association's (AGTA's) Spectrum Awards and De Beers' Beyond Tradition—A Celebration of Canadian Craft. His work has also been published in Masters: Gemstones, Major Works by Leading Jewelers. Strelau can be reached via e-mail at designer@jewelsbydesign.com[6].
Endnotes:
[Image]: http://www.jewellerybusiness.com/wp-content/uploads/2015/07/Strelau-Safe-overload-6.jpg
[Image]: http://www.jewellerybusiness.com/wp-content/uploads/2015/07/Gemstone-Array-courtesy-Costen-Catalue-Vancouver-BC.jpg
[Image]: http://www.jewellerybusiness.com/wp-content/uploads/2015/07/Gemstone-round-table-photo-courtessy-Sherris-Cottier-Shank.jpg
[Image]: http://www.jewellerybusiness.com/wp-content/uploads/2015/07/gems.jpg
[Image]: http://www.jewellerybusiness.com/wp-content/uploads/2015/11/Llyn_Strelau.jpg
designer@jewelsbydesign.com: mailto:designer@jewelsbydesign.com
Source URL: https://www.jewellerybusiness.com/features/gem-collectors-anonymous-have-gems-will-sell/
---