Time to talk: In conversation with Alessandra Ambrosio
by Samantha Ashenhurst | July 17, 2023 2:37 pm
By Samantha Ashenhurst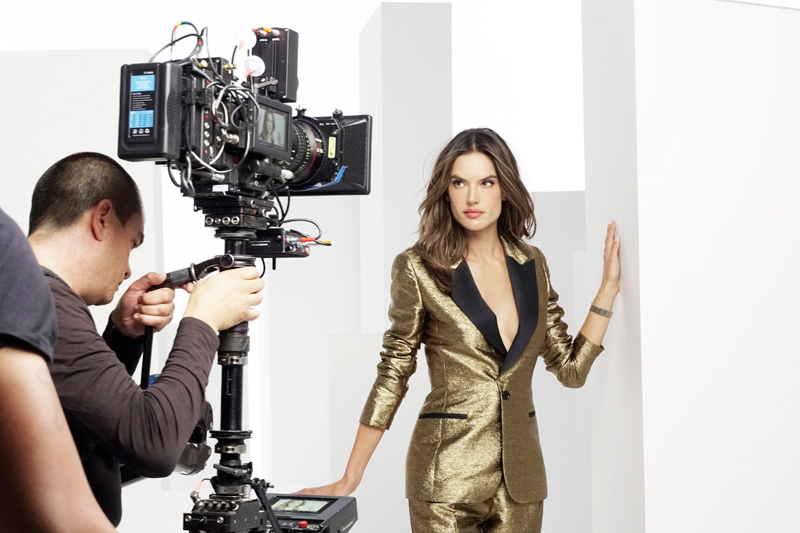 While some accessories may come and go, other pieces are meant to last for generations to come. To achieve this longevity, styles in the latter category require expert craftsmanship, high-quality materials, and, of course, a timeless look.
This trifecta is what attracted Alessandra Ambrosio to Omega. Famous for her classic, effortlessly cool style, the model has appeared in advertising campaigns and on runways for brands such as Gucci, Dolce & Gabbana, Gap, Hugo Boss, and more. She first connected with Omega during the 2016 Summer Olympics in Rio de Janeiro, Brazil, attending the Swiss watchmaker's "Gold Night" celebration for medal-winning athletes. For both parties, it became clear: the match was meant to be.
Since then, Ambrosio has had the time of her life working with Omega. In 2017, she appeared alongside English actor Eddie Redmayne in a nautical-inspired campaign, celebrating the 15th anniversary of the Seamaster Aqua Terra. The following year, Ambrosio joined fellow ambassadors Nicole Kidman, Cindy Crawford, and Liu Shishi in Shanghai for Omega's Iconic Ladies Evening, which saw the launch of the brand's new Constellation "Manhattan" collection.
"The Constellation is so classic," Ambrosio said. "You can wear it from morning to night, from the beach to the red carpet. You can wear it with anything."
Jewellery Business recently caught up with the Brazilian model to find out more about her timeless style and discover why her partnership with Omega is a perfect fit.
Jewellery Business (JB): What can you tell us about your history with Omega?
Alessandra Ambrosio (AA): I have always admired Omega's craftsmanship, design, and quality, so when I got an opportunity to work with such an iconic brand it was a no-brainer. We first started working in Rio de Janeiro during the Olympic Games in 2016 and, since then, we have become like family. I am truly honoured to be a part of a brand with such a storied legacy.
JB: What appeals to you in a watch? Is it about the technology or the look?
AA: For me, a perfect watch is all about balance between the look and technology. This is exactly what you get with every Omega timepiece.
JB: You were instrumental in the promotion of Omega's Seamaster "Aqua Terra" 15th anniversary collection. What do you love most about the Aqua Terra in general?
AA: I love how elegant Omega's Seamaster Aqua Terra is, and that it's available in so many different sizes and designs. Like all of the other Omega timepieces, it is made with the utmost craftsmanship. I love the mother-of-pearl dials, and, if you want the piece to be more like jewellery, you can pick the ones with diamond hour-markers.
JB: What is like to work alongside fellow brand ambassadors Cindy Crawford, Nicole Kidman, and Liu Shishi?
AA: Like Omega, Nicole, Cindy, and Liu are all iconic ladies, but, more importantly inspirational, amazing women and great people to be around. We loved shooting the campaign and spending time together in Shanghai. I feel like when we are together, it is not work, but a fun girlfriends' get-together.
JB: A luxury watch is much more than a time-telling device. Do you dress around your watch on a daily basis or how do you choose the watch that best fits your outfit?
AA: I think it all depends on the day. Sometimes I pick the watch and dress around it, while other times I pick the watch that works with my look for the day. I have my pieces like Aqua Terra in neutral colourways that can fit most looks, so this is the piece I wear most of the time.
JB: With time in mind, how would you spend your perfect 24 hours?
AA: I think my perfect 24 hours would be spent with my family and friends at the beach, riding bicycles, playing volleyball, or just having a barbecue at my house. I also need to make sure I have some time for self-care, so I would also want to go to the gym, journal, or do a quick yoga class.
Source URL: https://www.jewellerybusiness.com/features/interview-alessandra-ambrosio/
---