Jewelers Mutual: Counting down to the next 100 years
May 1, 2013
By Jacquie De Almeida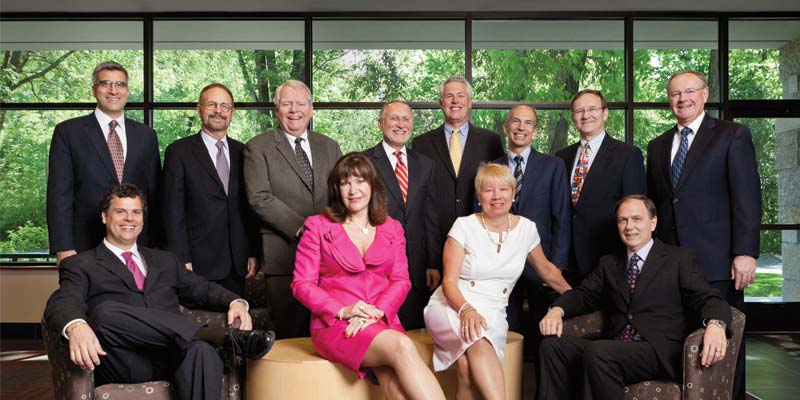 The best part of Darwin Copeman's day is sitting down for a coaching session with a member of his executive team.
As president of Jewelers Mutual Insurance Co. (JM), he's partly tasked with growing talent in the organization, as well as adding to it. It's something he takes very seriously and thoroughly enjoys, he's happy to say. He's especially proud of his role as mentor at the Wisconsin-based company, more so now than previously, perhaps. This is the year Jewelers Mutual raises the roof on its centennial; Copeman's not only moulding the company's future leaders, he's laying the foundation for the next 100 years.
"I get a chance every day to work with some of the brightest, most enthusiastic people," he says of the company's nearly 200 employees. "The one-on-ones I have are an opportunity to hopefully pass through this organization and leave it just a little better than what it was when I came into it, and that's what I enjoy the most."
With about 10,000 commercial clients in North America and more than 270,000 consumers carrying personal jewellery policies, Jewelers Mutual's start might take some by surprise. Turn back the clock to 1913 when 115 members of the Wisconsin Retail Jewelers Association gathered to find a solution to their predicament. When getting fire coverage proved difficult due to the use of open flames and flammable liquids, the group started its own insurance company out of the back room of a jewellery store.
One hundred years later—not to mention 26 'A+ Superior' ratings by A.M. Best Co., and several appearances on Ward Group's 50 top-performing insurers list—Jewelers Mutual is one of the few jewellery-specific insurance firms operating, a fact every employee wears like a badge of honour. True, a homeowner's policy provides limited coverage for a piece of jewellery, but besides that, few insurers can count accredited jewellery professionals among its staff. At JM's home base in Neenah, about 25 employees carry designations from groups like the Gemological Institute of America (GIA). According to Copeman, the United States' largest homeowner's insurer has one. "That's the level of credibility we bring to the jewellery industry, and especially to our personal jewellery insurance clients," he adds.
Come full circle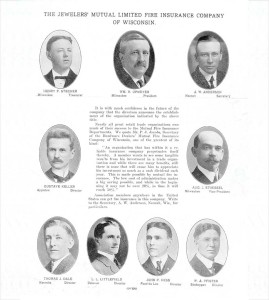 Enter Perfect Circle, Jewelers Mutual's branded personal jewellery insurance directed toward the consumer who has just picked up that Rolex they've always dreamed of or the gent about to pop the question with a sparkling diamond ring. In addition to settling claims for theft, breakage, or repair, Perfect Circle also covers mysterious disappearance, like say, unintentionally leaving a ring on a restroom counter.
Symbolic in name not only of a wedding band perhaps, Perfect Circle is meant to describe the circular relationship between a consumer and his or her jeweller, and the promise Jewelers Mutual makes to its clients to resolve a claim efficiently. It also puts the consumer back in the position they were when he or she purchased the watch or jewellery, and helps strengthen the trust between retailer and client. A cheque issued to both the claimant and the jeweller ensures the money goes toward a jewellery purchase, rather than a big-screen TV, for instance. This does the jeweller no good.
"The circle exists between the jeweller who sold the item, the consumer who bought it and had the loss, and back to us who will pay for the claim," Copeman says. "The consumer never sees a cheque, never deals with a claim's adjuster—that's all done in the background with the jeweller the customer trusted to purchase that item to begin with."
Although Jewelers Mutual has offered personal jewellery insurance since 1953, this was the first time it had branded one of its products, a project that involved the use of a marketing agency and focus groups. The goal was to develop a brand that conveyed a specific story to a potential buyer. After 18 months and scrutinizing over colours and logos for continuity, JM launched Perfect Circle. Not only could a retailer present the policy at point of sale, but branding also fit in with Jewelers Mutual's online marketing, helping the product to appeal directly to a consumer who might simply be running a Google search, for example. It was also a way to enter the social media arena more effectively, a must these days for every business, Copeman says.
"We thought it was important that we have a brand we could use across all the distribution channels, not just simply count on the retail jeweller to be the sole mechanism for distribution," he explains. "We stepped back and said, 'How do you do that?' And the answer was, 'You need to build a brand that resonates with people.'"
The tactic seems to be working. A peek at Perfect Circle's Facebook page shows it has just over 33,000 'likes.' Jewelers Mutual is also covering its social media bases with a LinkedIn page, as well as Twitter and Pinterest accounts. It sees all as a direct path to helping build tomorrow's client base, both for itself and jewellery retailers.
Partners in crime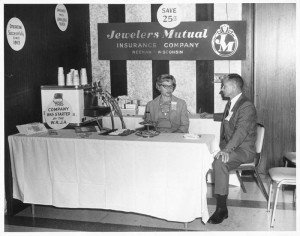 Jewelers Mutual's mission is not just to offer insurance protection when a loss occurs, but to also help keep them from happening. Preventing jewellery crime and empowering jewellers with information to help keep them safe is critical, particularly in Canada, which has seen an increase in armed robberies, says Patrick Drummond, the company's vice-president of sales and marketing.
"A lot of crime and loss prevention centres around making sure the retailer or salesperson follows the right procedures," Drummond explains. "You can't always prevent someone walking in with a weapon and robbing your store, but you can do everything you can to make yourself an unattractive target, and that means following those procedures. Ultimately, it's up to the jeweller to be proactive—nobody can prevent crime for them."
Collaboration with groups like Jewellers Vigilance Canada (JVC) is key, Drummond stresses. In fact, David Sexton, JM's vice-president of loss prevention (and Jewellery Business contributing writer), sits on JVC's board. Online courses at Jewelers Mutual's JM University, as well as presenting seminars at trade shows, are also tactics the company uses to get the word out on how not to be a victim.
"We have the financial capability to take care of any claim you have," Copeman says. "What I can't pay for is the trauma you experience when you've been robbed, abducted, or violated by having your store robbed."
Finger on the Canadian pulse
Although Jewelers Mutual currently has 500 to 600 retail clients in Canada, it is looking to expand its distribution in the Great White North. With only one broker here, plans are in the works to possibly add another in the western part of the country.
Recognizing there are differences between the United States and Canada, the company also relies on local expertise for a better understanding of those nuances. Partnering with the Canadian Jewellers Association (CJA) and JVC—both of which have signed exclusive agreements with the insurer—is one way it does that. The other is its Jewellers Advisory Council, which includes Canadians Susan Cartwright-Coates of Cartwright Jewelers and Yakup Tecimer of Tecimer Jewellery. The group is a sounding board for new products and a source of feedback on various related issues, such as how well an advertising campaign will resonate with retailers, Drummond says. Jewelers Mutual's executive team also looks to another Canuck for guidance.
As the first and only Canadian to sit on the company's board of directors, Alex Barcados of Toronto's C.D. Barcados Co., is Jewelers Mutual's go-to person when it comes to understanding the Canadian scene.
"Alex understands the regulatory environment, as well as the challenges associated with the most important reasons why we exist, and that is trying to better secure jewellers from the loss that is always out there from crime," Copeman says.
Just like other facets of the jewellery industry, building relationships is the bottom line for Jewelers Mutual, Drummond says.
"The voice of the customer is critical for Jewelers Mutual," he explains. "Our business is a relationship business—that's how jewellers have worked together and that's how Jewelers Mutual has come to be a 100-year-old company."
So what's in store for the next 100 years?
"It's very easy to look back and say, 'Job well done,'" Copeman says. "We're not sitting on our laurels. This is just a launching site for investing for the future in this organization. We've done a lot to support the jewellery industry over the last 100 years, and we've only just touched on some of the things we believe we can do and will continue to do."
Sounds just like the attitude of Jewelers Mutual's founders. In a way, you could say they've come full circle.
Endnotes:
[Image]: http://www.jewellerybusiness.com/wp-content/uploads/2015/12/Pictures-033.jpg
[Image]: http://www.jewellerybusiness.com/wp-content/uploads/2015/12/Original-board-1914-ad-1.jpg
[Image]: http://www.jewellerybusiness.com/wp-content/uploads/2015/12/Picture-053.jpg
Source URL: https://www.jewellerybusiness.com/features/jewelers-mutual-counting-down-to-the-next-100-years/
---