Keep your guard up: Smart tips for selling with security during the holiday season
October 1, 2014
By David J. Sexton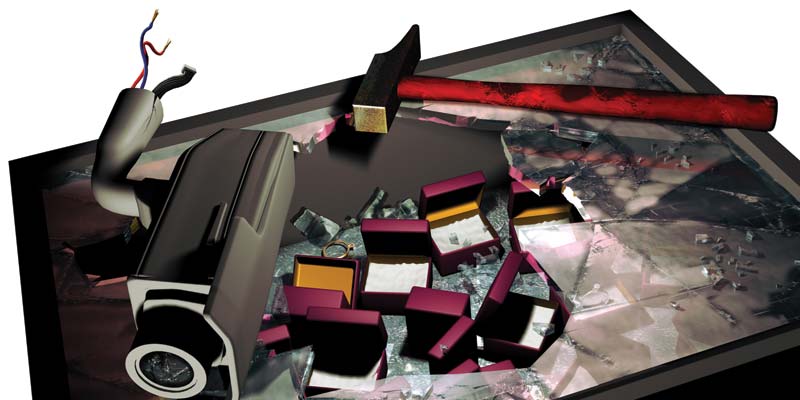 [1]
Long the subject of movie and crime novels, jewellery heists continue to capture attention. For those of us in the jewellery business, on-premises thefts and robberies remain an ever-present danger and legitimate concern. According to the Federal Bureau of Investigation, the jewellery industry loses more than $100 million US each year to theft[2]. North of the border, Jewellers Vigilance Canada (JVC) cites 100 incidents in 2013 totalling more than $5 million Cdn. in losses[3].
So how can you protect your business, yourself, and your staff during the upcoming holiday season when inventories are high and your associates are busy?
First, keep in mind that you can do everything right as a conscientious and secure jewellery operation and still be victim of an armed robbery. As such, Jewellers Vigilance Canada and insurance professionals advise appropriate and adequate insurance.
Second, you can start by emphasizing safety and security now, so sound habits are already in place before holiday sales begin. It's common for criminals to pose as customers, waiting for the opportunity to do a grab-and-run, shoplift, or even attempt to switch items when you or your associates inadvertently 'drop your guard.' Here are vital procedures that can help you stay safe.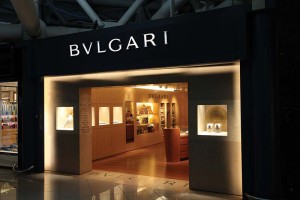 Opening and closing your store. Statistically, retail jewellers are most vulnerable to an armed robbery at opening and closing times. Jewellers Vigilance Canada and Jewelers Security Alliance (JSA) agree it is important that two individuals open and close the store. In addition, there should be at least two associates on the sales floor at all times when the store is open for business.
To safely open a store, appoint one associate to unlock the door and conduct a thorough search of the premises, indicating an 'all clear' to the second associate, who is positioned outside at a safe distance to notify local law enforcement should there be any danger or issues. The same procedure can be used to close a store.
Meet and greet. Saying hello to every customer who enters your store and making eye contact isn't just a good way to make people feel welcome—it makes criminals feel unwelcome. Greet guests by asking whom they're shopping for and offering to show interesting pieces of jewellery. Even if you're busy with another guest, you should still offer a quick greeting. Just be sure not to turn your back on the current customer.
One on one. Keep your focus on one guest at a time. It can be tough during the holidays, but it makes a customer feel special that they are worthy of your undivided attention. It also helps ensure you don't lose track of merchandise. In addition, show only one item at a time. If a customer wants to compare two watches, for example, put one on your wrist. Show rings on a ring holder, so they remain within eyesight at all times. Also, don't be distracted by arguments or other commotions. Something as simple as a person dropping a cup of coffee could be part of a plan to commit a crime.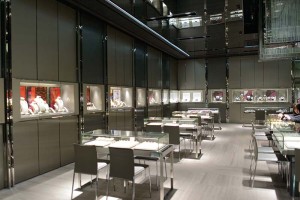 Turn the key. Keep all jewellery showcases locked and remove the keys from the cases when they are unattended or when you're not actively taking items out or returning them. Also, keep an eye on your keys at all times. Never set them down where they can be taken easily.
Provide a private showing area. Whenever a customer asks to see high-value merchandise, allow them to do so in a private area or office away from the main showroom. This arrangement offers privacy for your customer, while allowing the associate to focus their undivided attention on showing the jewellery. It also helps prevent a grab-and-run.
Secure your store. Keeping your merchandise safe isn't just about training yourself and your employees. It's imperative to create a secure store environment. Take a good look around your store and ask yourself the following questions:
Does your entrance have a chime to alert associates when customers enter and exit?
ҬDo associates have a clear view of the entire showroom?
Are high-value items distributed throughout the store and away from entrances?
Do you maintain a surveillance camera that records 24-7?
Do all jewellery merchandise showcases have pick-resistant locks without universal keys?
Are all showcase tops secured with metal clips and adhesive?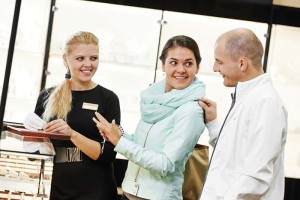 Value safety above property. Discuss with your staff the very real possibility that an armed robbery could occur at the store and what they will need to do to facilitate a safe outcome. Remind them property can be replaced, but a life cannot. That is why you have insurance.
When an armed robbery unfolds, it is essential associates remain calm and co-operate fully with the thief's (or thieves') instructions. This discussion before an actual event may lessen the trauma that follows an armed robbery event.
Trust your instincts. Whenever you or an associate have reason to believe the store is being cased, share your suspicions with staff and notify local law enforcement and/or mall security of your concerns with due dispatch. Remind staff that interactions inconsistent with your usual customer exchange can be an indication you are being actively cased. When associates feel something isn't quite right, they are probably correct.
Be smart about hiring. Internal theft is very real and potentially devastating. It can also be effectively addressed and, in great part, mitigated by jewellers committed to the discipline of consistently observing certain hiring practices, such as a thorough background check of all potential hires. This includes following up on all references, as well as checking out candidates on social networks, such as Facebook.
The majority of losses reported by jewellers can be eliminated when jewellers establish and consistently observe sound security procedures at their operations. For more security tips, check with Jewellers Vigilance Canada and/or visit the safety and security page at JewelersMutual.com[7].
For training resources regarding safety and security when carrying or working with jewellery, visit JM University at JewelersMutual.com[7]. Jewelers Mutual Insurance Company is the only company specializing exclusively in jewellery insurance in the United States and Canada. It is licensed in all 50 U.S. states
and Canada.
David J. Sexton, CPCU, is vice-president of loss prevention consulting at Jewelers Mutual Insurance Co., in the United States. A graduate of the University of Wisconsin, Sexton serves on the Underwriters' Laboratories' (UL) Security Systems Council, where he is a corporate member of the insurance category. He also sits on the board of directors for Jewellers Vigilance Canada (JVC), and worked on the Central Station Alarm Association's (CSAA's) Insurance Liaison Committee that assisted in the development of the UL burglar alarm modular certificate program and revised UL standard. Comments and questions can be sent to lossprevention@jminsure.com[8].
Endnotes:
[Image]: http://www.jewellerybusiness.com/wp-content/uploads/2014/10/dreamstime_l_41654507.jpg
According to the Federal Bureau of Investigation, the jewellery industry loses more than $100 million US each year to theft: http://www.fbi.gov/about-us/investigate/vc_majorthefts/jag/overview
Jewellers Vigilance Canada (JVC) cites 100 incidents in 2013 totalling more than $5 million Cdn. in losses: http://www.jewellerycrimecanada.ca
[Image]: http://www.jewellerybusiness.com/wp-content/uploads/2014/10/bigstock-Bulgari-34056275.jpg
[Image]: http://www.jewellerybusiness.com/wp-content/uploads/2014/10/bigstock-HONG-KONG-APRIL-shopping-s-68132962.jpg
[Image]: http://www.jewellerybusiness.com/wp-content/uploads/2014/10/dreamstime_l_34161473.jpg
JewelersMutual.com: http://JewelersMutual.com
lossprevention@jminsure.com: mailto:lossprevention@jminsure.com
Source URL: https://www.jewellerybusiness.com/features/keep-your-guard-up-smart-tips-for-selling-with-security-during-the-holiday-season/
---