Kid stuff: The enduring charm and brisk business of children's jewellery
December 6, 2018
By Diana Jarrett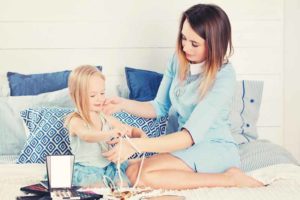 Children's and babies' jewellery holds tremendous sentimental value for those who wear it and those who give it as gifts. Once outgrown, these tiny jewels often take on a new life as treasured totems of childhood memories for the original wearer. Parents often place baby rings on their own golden chains and wear them as a cherished memento of their little one's first years of life.
Buried story
Adorning children with jewellery is hardly a new concept. A look back to earlier civilizations like Egypt will uncover its primeval origins. Both adults and children in ancient Egypt wore brightly coloured jewellery made of gold and precious stones. Its purpose was manifold—not only did jewellery convey the wealth and status of its wearer, but it also warded off evil spirits and was required for burials to ensure a successful afterlife for the deceased.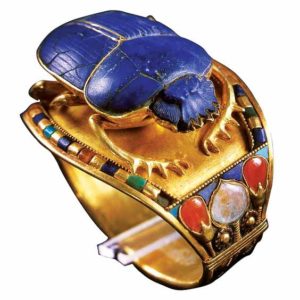 Egyptologists uncovered a small scarab bracelet secreted in an ornate box amongst King Tutankhamun's burial hoard. Its tiny size and similarity to the bracelet found on Tutankhamun's mummy indicate the petite gold band bedecked with carnelian, lapis lazuli, quartz, and turquoise belonged to King Tut as a little boy.
By looking to the last century or so, we gain a more recent sense of just how important jewellery has been for the tiny crowd. Rhett Ramsay Outten, co-owner of century-old Croghan's Jewel Box in historic Charleston, S.C., helps put this into perspective.
"We have always sold baby jewellery," Outten explains, "but more importantly, we sell things that commemorate life's most special occasions. A baby is certainly one of those occasions."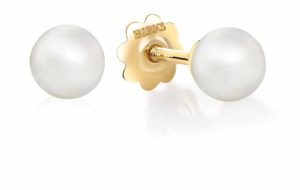 Everything old is new again
Outten says there are few gifts that can be handed down or kept that last for generations. Yet, children are still wearing the same types of baby jewellery they wore centuries ago, she points out.
"It is very common to see babies in our city wearing a bangle bracelet or a tiny cross or locket around their necks," she says.
The most popular antique baby jewellery Croghan's sells would be the baby pin, often decorated with enamel or pearl.
"These are very often pinned at the back of an heirloom christening gown, since buttons were not used back in the day," Outten explains. This jewellery type provides infinite flexibility for its tiny wearers. "A pin allows room for either chubby necks or scrawny necks as the gown gets passed down to babies from one generation to the next."
Today, these antique pins still hold charisma for a new generation of youngsters. "Very often here, you'll see these pins at the front collar of a little girl's smocked dress on a Peter Pan blouse under a little jumper."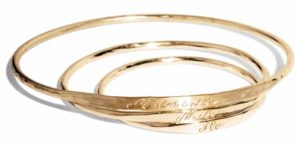 Outten understands gifting jewellery to babies and children is a lasting gesture, an idea reflected in offerings like the Add-a-Pearl necklace, which begins with one pearl and allows more to be added on special occasions such as birthdays, Christmas, Easter, a baptism date, or the first day of school.
"For less than the cost of a well-made toy, you have created a meaningful piece of jewellery that will last forever and be worn on special days like graduation and wedding days," she says. "As a jeweller, it produces a fabulous touchpoint with customers over a lifetime."
Little ears to adorn
Esther Fortunoff, president of New York-based Fortunoff Fine Jewelry, has a special fondness for babies' and children's jewellery. Fortunoff has been offering these distinctive items since 1975. In her business, it soon became apparent what the top choices are for tiny tots.
"The best sellers have been earrings, because they are available with safety backs. And bracelets too; they tend to be less of a problem because they are not going to catch since they are generally not too loose," she says.
With so many categories available today, what should gift-givers keep in mind before purchasing a piece of jewellery for a young recipient? When it comes to buying jewellery for the junior set, Fortunoff shares her perspective.
"Gift-givers should think about the lifestyle of the parents," she says, "and also consider the cultural background of the child's family."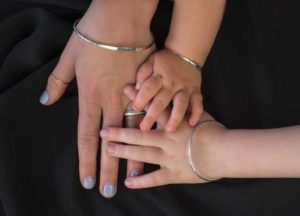 Keep it interesting
The collection of babies' and children's jewellery offered by Canadian retailer Birks has grown with the times since the company's founding in 1879, allowing customers to keep discovering something new and relevant for young ones. According to Aynsley Knight Mariani, director of public relations at Groupe Birks, the company's children's department is continually growing.
"Particularly, we are noticing a rise in the 'mommy and me' trend," Knight Mariani says, referencing a movement where moms and children can purchase matching pieces. "This year, we launched the Plaisirs de Birks silver or gold bracelet, which can be engraved to match the adult version."
Yet, even with all the creativity directed at keeping things fresh in this niche, Knight Mariani says pricing has remained stable within the children's department. "Our focus is to create pieces that will stand the test of time and will be passed on through generations."
Once customers step inside the children's department, impulse buys are bound to happen. However, most shoppers are on a mission.
"Many purchases are made for celebrations, like births, baptisms, birthdays, and flower girl gifts," says Knight Mariani. "A lot of customers come into the store with their child to make a purchase."
Purchasers expect to find more options today in this category. For instance, Birks' Snowflake studs are offered in two diamond carat sizes and can be worn well into adulthood, as they are intended to grow with the child. However, the company's bestsellers in the children's group are still sterling and pearl items, revealing how just timeless these classic pieces are.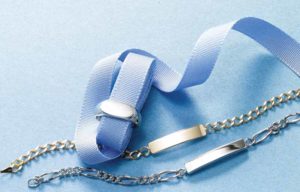 Sustainability, ethics, and more
Jewellery for adults and children should always be manufactured with safety concerns as the top priority, according to the Responsible Jewellery Council's (RJC's) executive director, Andrew Bone. Considerations like metal safety are all the more critical when you're talking about baby jewellery. Yet, issues like ethical practices and sustainability also enter the conversation. Manufacturers in the global marketplace are becoming increasingly aware of this responsibility, especially with babies' and children's jewellery.
"With today's increasingly conscientious consumer," Bone points out, "many businesses in the jewellery industry are already taking the steps to ensure they operate as transparently as possible. For retailers in particular, having a tangible and ethical approach to business speaks to the concerns of a key audience. This generates consumer trust and makes them more likely to return and to make referrals."
In 2017, RJC introduced a revised chain of custody (CoC) standard applicable to businesses in the gold and platinum metals sector. Updates include the introduction of the Mining Association of Canada (MAC) Towards Sustainable Mining (TSM) program and the International Council on Mining and Metals' (ICMM's) sustainable development framework.
"Important clarifications have been made to the criteria on eligibility of CoC material to make it more practical for today's supply chains," Bone explains.
However, the basic priorities of the standard remain the same.
"The promotion of sourcing from responsible artisanal and small-scale mining (ASM) remains a hallmark of the CoC," says Bone. "The recognition of the Fairmined Gold Standard is complemented by recognition of the Fairtrade Standard for Gold from Artisanal and Small-scale Mining."
Thoughtful, handcrafted, and fairmined
Bario Neal, a women-owned jewellery design and manufacturing company based in Philadelphia, Pa., produces a collection of baby bangles crafted with fairmined and reclaimed metals. Sustainability is reflected in its baby collection as well.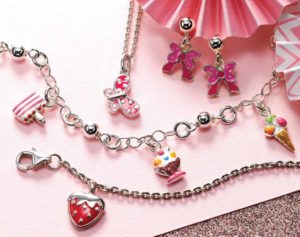 "We've seen an uptick in interest with jewellery for babies and children," says Bario Neal's creative director, Sarah D. Francks. "A movement toward sustainability in gifts for all, even children, seems to be at the core of the sentiment. There is a desire to give gifts that will have value beyond how long the child might be able to wear them."
Francks adds it's often parents who purchase baby jewellery for their little ones or gifts for their older children and teens.
What's next for children's jewellery?
Fortunoff finds a pattern has emerged with regard to the most often-purchased children's jewellery.
"We are seeing a trend of returning to name and initial jewellery today," she says. To keep consumers energized in this category, new collections emerge seasonally, which also tap into a gift-giver's preference. "We're excited by the rainbow of colours in gemstone jewellery for the little ones—and these certainly have great appeal to shoppers."
The tendency toward name jewellery has not escaped other retailers, either.
"The fun of personalizing our Keepsake Bangles with a name or nickname means that these objects become family heirlooms," says Francks.
Bario Neal would love to see more thoughtful gifting in general in the future.
"Jewellery purchased for a baby or child can be passed down to the next generation," says Francks. "Handcrafted, meaningful jewellery is really eternal, and so many people feel drawn to this new-old tradition."
Baby and children's jewellery as a profit centre for retailers has never been stronger. Parents, godparents, and the extended base of gift-givers are discovering the wide array of babies' and children's jewellery speaks to their sentiments, ethics, and personal style.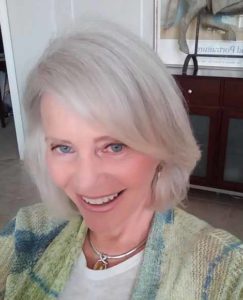 [8]Diana Jarrett is an award-winning trade journalist and graduate gemmologist (GG). A registered master valuer, Jarrett is a popular conference and trade show lecturer. She writes a syndicated column called "The Story Behind the Stone" for Southern Jewelry News and Mid-American Jewelry News and is also a writer for magazines such as Life in Naples, New York Mineralogical Club Bulletin, and the gem trade blog, Color-n-Ice.
Endnotes:
[Image]: https://www.jewellerybusiness.com/wp-content/uploads/2018/12/bigstock-154640168.jpg
[Image]: https://www.jewellerybusiness.com/wp-content/uploads/2018/12/King-Tut-childhood-bracelet.jpg
[Image]: https://www.jewellerybusiness.com/wp-content/uploads/2018/12/Birks-Baby-YGPearl-Earrings-v1-r1.jpg
[Image]: https://www.jewellerybusiness.com/wp-content/uploads/2018/12/Keepsake_Baby_Toddler_Guardian_STACK_2_14Y-1.jpg
[Image]: https://www.jewellerybusiness.com/wp-content/uploads/2018/12/03_15_Baby_Bangles_SS-1929-1.jpg
[Image]: https://www.jewellerybusiness.com/wp-content/uploads/2018/12/Baby-blue.jpg
[Image]: https://www.jewellerybusiness.com/wp-content/uploads/2018/12/kid_Pink_little-girl.jpg
[Image]: https://www.jewellerybusiness.com/wp-content/uploads/2018/12/20181111_1025131-e1544106345377.jpg
Source URL: https://www.jewellerybusiness.com/features/kid-stuff-the-enduring-charm-and-brisk-business-of-childrens-jewellery/
---