Las Vegas lowdown: Cautious buying and high hopes for a turnaround
July 29, 2016
By Jacquie De Almeida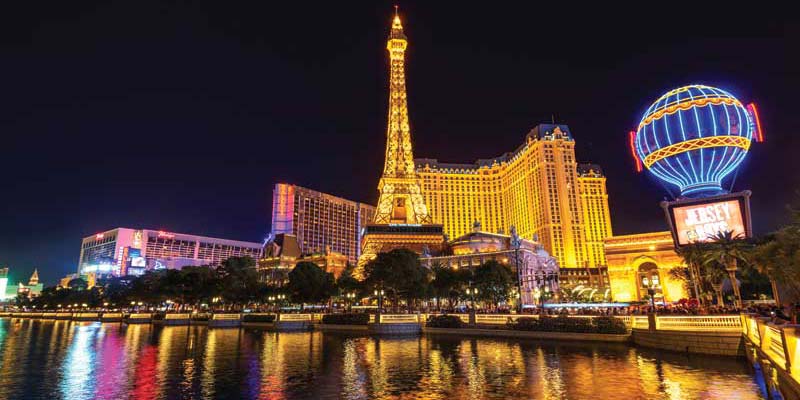 Three words grace the glass wall of Martin Bunting's office: truth, transparency, and teamwork.
As the recently appointed CEO of Calgary-based ammolite jewellery company, Korite, he is tasked with growing the brand in North America, Europe, and Asia. And he's relying on truth, transparency, and teamwork to help him do that—or "move Korite to 2.0 from the 1.0 stage it was at," as he puts it.
One of the founders of sporting goods giant, Sport Chek, Bunting acquired Korite last December. Since then, he and his team have worked to develop a grading system for ammolite, an opal-like organic gemstone. Primarily sourced in Alberta and Saskatchewan, ammolite's astonishing play of colour is caused by light interference during refraction into its many layers.
"We are creating technology to read the colour, clarity, and fractures of ammolite and translate that into quality," Bunting says from the Korite booth at JCK Las Vegas. "Everybody has to be on the same page. We are developing it ourselves and it will become a standard for the industry."
An industry standard itself, JCK Las Vegas welcomed jewellery retailers, manufacturers, and suppliers to renovated ballrooms and a new buyer-friendly floor plan that grouped product categories together in designated neighbourhoods. The start of the show capped off 'Jewelry Week,' which also saw Luxury, Couture, and JCK Events' newest offering, the cash-and-carry JIS Exchange, welcome the industry to what is considered North America's main jewellery-buying event.
While final numbers were not available at press time, attendance appeared to be down, judging from less-than-packed aisles and the ease of getting a table at peak hours at any number of nearby restaurants; for the most part, however, exhibitors said they were doing good business, explaining fewer buyers had attended the show this year to keep expenses down.
Mary Milan, senior vice-president of PAJ Canada, said she noticed buyers were taking a different approach from previous years. A tough economy, particularly north of the border, has retailers managing their inventory more carefully.
"People are being selective about what they're buying," she explained. "The buying pattern has changed. Retailers are very aware of their budget. In the past, they would say they wanted to order our top sellers, but now they are hand-picking their items. They want to take an assortment of colours to show their customers and then do special orders for what they don't have in the case."
Hera Arkarakas of Toronto-based Hera Jewellery said her focus was on creating pieces that took the guesswork out of buying jewellery, while also providing the consumer with options on how to put a look together.
"Bracelets are a great seller in stores," she said from her booth at Couture. "They're a good gift item—very easy to buy for somebody else. We felt it was important to have a soft bracelet that gives you flexibility and also an expandable bracelet, so it's easier for the consumer to find the right fit. Women now stack five, six, seven bracelets on one arm and they co-ordinate bracelets from different lines, mixing leather with silver and gold. It gives you the ability to create your own look."
Hot trends spotted this year included opulent opal rings, pendants and rings featuring cutout geometric shapes, front-and-back earrings, and climbers. Stackable bracelets and layered necklaces also stood out. And it looked as if everything was coming up rose this year, with the blush-colour metal a standout-style in watches, bridal, and fashion jewellery. Dainty designs introduced by brands that traditionally sell oversized pieces were also noteworthy.
Creating jewellery for consumers with smaller budgets is important, but so is developing product that meets design preferences of a particular country or region.
"We downsized our designs to appeal to the Canadian consumer, which can be a little more conservative in terms of styling, although I can see they're warming up," said Carolyn Thamkul, executive vice-president and creative director of Belle Étoile. "We really listen to what our retailers say. A lot of our newest designs are based on feedback, especially in the Canadian market."
Aside from wearing a watch or woven leather bracelet, most men aren't the type to get blinged out. And while there is definitely a market for diamond and precious metal designs for grooms-to-be, some companies are mixing precious metals with alternate materials, such as carbon fibre.
"You don't have to explain carbon fibre to men," said Tony Malo, head of sales and marketing for Montreal-based men's wedding band manufacturer, Malo. "They already know it from the auto, sporting equipment, and watch industries as a light, strong, performance material. And black is already well accepted in watches and fashion jewellery."
The Vegas shows are generally the busiest time of year for retailers as they purchase stock for fall delivery. With the holidays practically around the corner (by industry standards), the race is on to create interest and drive consumer traffic to stores.
Sian Williams, president of Bulova Watch Co., said holiday campaigns built around exclusive offerings for independents is one tactic that worked well for the brand in the past, generating additional stimulus. Social media is also at the top of the list in terms of marketing efforts. Kelly Vandenbroek, Bulova's Ontario regional sales manager, said the company's social media initiatives are creating inroads among the digital-dependent millennial demographic.
A dedicated social media guru at Bulova prepares ready-made content for retailers to push through their social media channels.
"They can post something every day," she said. "We are starting to attract the social media crowd and this kind of initiative will drive the younger consumer to our counters."
Ask any exhibitor who their target market was and more often than not, they answered millennials. More and more marketing campaigns are focusing on appealling to a buying demographic that is characteristically aloof regarding luxury goods, preferring instead to spend their money on experiences for the most part. Still, companies are pouring resources into campaign strategies that rely heavily on social media channels, as they try to convey their values to this elusive category of consumers.
Barry S. Cohen, founder and co-CEO of Luminox Watch Co., said there is a serious industry-wide shift toward millennial-focused efforts and conveying the idea of a brand experience. "If we want to catch the millennials, traditional consumer print advertising is not the way to do it," he explained. "Social media is the key. This consumer base looks at everything on their handheld."
One way Luminox is doing that is through its Special Operations (Spec Ops) Challenge, which celebrates the long-standing relationship between the brand and the Navy SEALS. Led by a retired Navy SEAL, the event puts about 30 members of the media—including bloggers—through the paces of some of the rigorous training every candidate undergoes to become a SEAL. "When the media writes about the challenge, people can experience it and the brand," Cohen says.
The Diamond Producers Association (DPA) used JCK Las Vegas to launch its new campaign, which it said is based on in-depth research into its target market: millennials. Its slogan 'Real is Rare. Real is a Diamond' is meant to redefine diamonds for the 21st century. "Our research reveals millennials long for real, lasting connections with others, but struggle to make them—or to feel sure they are truly authentic—in a world of constant flux, seemingly limitless choice, and superficial interactions. The idea that diamonds have the gravitas and power to celebrate and mark an authentic connection resonates deeply with them," DPA wrote in a press release.
Appealing to millennial preferences was not lost on Rio Tinto Diamonds. Traceability and transparency are the reasons behind its new tracked jewellery collections and related marketing initiatives, catering to what it says are changing expectations of a new generation of consumers regarding the source of diamonds. The mining giant launched its annual 2016-2017 'Diamonds with a Story' campaign at the show, which includes the work of six U.S. jewellery designers.
"Increasingly, the value of a diamond is tied to where and how it was mined, how it was cut and polished, and the process of bringing it to sale," said Rio Tinto Diamonds managing director, Simon Trott in a press release. "This is a very reasonable expectation that is steadily reshaping the diamond industry for the better."
David Siminski, vice-president of sales and marketing for United Precious Metal Refining (UPMR), agrees traceability is front and centre among consumers, and the industry is taking notice. The company received certification in May against Responsible Jewellery Council's (RJC's) 2013 Code of Practices (COP). It's the latest audit to ensure the integrity of UPMR's supply chain, which comprises metal received from jewellery or pawn shops for refining, rather than the mining, industrial, electronic, or dental industries.
"There is a big push right now for conflict-free and green metals, not only from the major department stores, but from designers and independents," Siminski said. "When we bring in jewellery scrap and refine it, we are turning it back into pure gold, for example. It gets a fresh start. We can say at this point it wasn't taken out of the ground and didn't disturb Mother Earth." Still, he says 100 per cent traceability is tricky. "We are following the chain as far back as we can," he added. "If someone has melted material into a bar or an ingot, we make them sign a metal source document saying the metal came from their jewellery manufacturing or fabrication, so we have some type of traceability for the metal. The industry is lobbying the best it can and self-policing the best it can. Will it be perfect? Absolutely not, but is it better than it ever was? For sure."
Lab-grown diamond producer, Pure Grown Diamonds, showcased several large man-made stones at its booth. Company director Suraj Mehta said consumers are becoming more aware of lab-growns as an alternative to naturals, in part due to their traceability, but also when it comes to price and appearance. The show came just days after the company announced its Pure Value Guarantee Program, which works to provide assurance lab-grown diamonds offer the same value proposition as a mined diamond. Through the program, retailers can offer their clients returns or trade-ups, helping to ensure the stone's intrinsic value, which is a point of contention among natural diamonds producers who say lab-growns don't hold their value because they aren't rare. (Pure Grown says it will charge a 15 per cent restocking fee on stones returned six months after purchase.)
Mehta disagrees, pointing out the resources required to create a diamond have value. "Growing diamonds is an extremely difficult process," he said. "It takes a tremendous amount of effort to make lab-growns from the investment side, technology, and intellectual understanding point of view. The costs are quite high to do this and we don't see the value diminishing."
The news from the watch aisles seemed cautiously optimistic, though not without concern for how the rest of the year would play out. The Swiss watch industry took a major hit in 2015 on the weakness of the Asian market; 2016 appears to be facing similar struggles, making it critical to attract watch aficionados to counters.
Chris Iliopoulos, owner of Montreal-based Sothil, which recently picked up British brand, AVI-8, said social media campaigns not only complement traditional advertising methods, but in some cases, surpass it in importance.
"Mainstream companies have now realized the power of social media, particularly when it comes to conveying a lifestyle, rather than just a product," he explained. "Also, the use of social media influencers with millions of followers can help build a brand."
No doubt, smartwatches have taken a bite out of the traditional watch business. And while many brands have thrown their hat into the wearables ring and created their own smartwatch, traditional watches are still holding their own.
Eric Senftleben, vice-president planning and operations at Citizen Watch Company of Canada, says the influx of smartwatches on the market from traditional watch brands is a sign of the times, but not a betrayal of the old-fashioned way of keeping time.
"If companies don't move forward and just do what they've always done, they fail to exist," he said. "People will always wear something on their wrist. It's a reflection of their personality, just like jewellery. Time is something you live through. It exists around you and you're always concentrating on it. Your phone is your phone, but a watch is something you always look at."
The Vegas shows opened as the Canadian dollar hovered around $0.77 U.S., keeping Canadian jewellery retailers on this side of the border during Jewelry Week, exhibitors reported. Troubles in the oil industry have not settled, leaving luxury goods at the bottom of consumers' must-have lists.
Nazir Noormohamed, general manager of Pandora Canada, says the brand has felt the downturn in Alberta, but added other provinces like British Columbia, Ontario, and Quebec are performing better. The company recently rolled out its 'Unique as We Are' campaign, which aims to convey the uniqueness of women and how they celebrate that through the jewellery they wear. The marketing campaign comes at a time when many companies based in Canada are struggling against the weak Canadian dollar, although Noormohamed said Pandora is somewhat insulated against the turmoil, given its brand power.
"We also work with commodity and exchange analysts who look at exchange rates and how we should be passing the savings on to consumers," he added. "We are prepared for the consumer to get the best price."
Darren Dubrovsky, president of Montreal-based Empress Luxury, the Canadian subsidiary of the Shah Group of Companies, says the bridal industry isn't 100 per cent immune to challenging times. While a bride may have her heart set on a large diamond engagement ring, the groom's or couple's budget may be more geared toward a smaller or lower-quality stone. To help alleviate some of the budget constraint, Shah introduced a proprietary hand-set composite top where angled shared prongs in a halo setting are used to create the illusion of a large single centre stone. At some point down the road when money is less of an issue, the consumer can switch out the top for a bigger stone and reuse it in a pendant, for example.
"It allows the consumer to graduate to the next level by switching out the top for a bigger centre stone," he explained. "The consumer wants that big bling look, but their budget is much more constrained. Why should they have to trade quality for size?"
With the Vegas shows behind us, the Canadian jewellery industry will be heading to its own trade events in August. Stay tuned for our coverage of CJExpos Toronto, CJExpos Edmonton, and Expo Prestige in the October issue.
Source URL: https://www.jewellerybusiness.com/features/las-vegas-lowdown-cautious-buying-and-high-hopes-for-a-turnaround/
---