Mill or 3D printer: Tips to carve out the right choice for your business
July 1, 2013
By Shele Letwin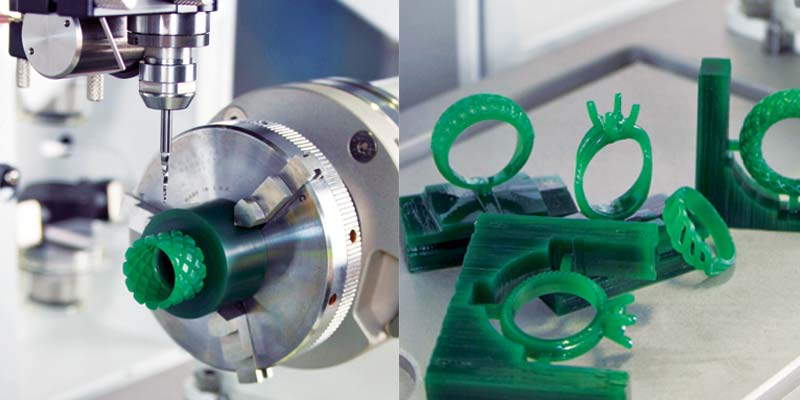 [1]
The decision to incorporate CAD/CAM into a business may conjure visions of Santa's workshop set up at the back of a jewellery store. Although using a service bureau is one way to produce a custom piece, purchasing your own milling machine or 3-D printer is also an option to consider. With the size of machines available these days, CAD/CAM need not take up more space than a desk. In other words, no workshop or elves required. Let's take a look at the pros and cons of milling machines and 3-D printers to help you decide which is best suited to your business.
Mulling your choices
Mill versus printer? Which one do you choose? Some might consider buying both, depending on their business and production needs. But which should you buy first? A short tutorial is in order.
What is milling?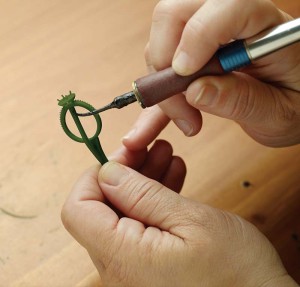 Milling—also known as computer numerical control (CNC)—is a cutaway process that has been around for more than 100 years. Imagine a sculptor using a mallet and chisel to chip away at a stone block into the desired shape, only with milling machines, the block is actually wax and the tools are carbide cutters (i.e. drill bits). Jewellers can choose from several milling machines based on their needs.
Three-axis machines start at about $1500 and are good for cutting flat objects. The machine moves side to side, forward and backward, and up and down. If your business is primarily charms or coins, a three-axis machine is all you need. However, if you are using a mill to produce rings, you may want to consider a four-axis machine, since it rotates the wax as it is being cut. This technology can range from $3000 to $25,000.
A five-axis machine can clear out more wax than a three- or four-axis mill. Describing a five-axis milling machine requires audience participation. Hold up your left hand and make a fist. Using your right hand, place a finger perpendicular to your fist. Now rotate your left wrist. Whichever direction it moves, keep your finger on your fist. Notice the different angles of your fist in relation to your finger. Although this technology typically starts at $70,000, some manufacturers are working to get an accurate five-axis machine into the jewellery market for less than $20,000. In general, most custom shops would use a four-axis machine, due to price. (The software alone for a five-axis machine is well over $10,000.) In order to justify the cost of a $20,000 four-axis mill, a company would need to cut more than six waxes a month.
Can a mill cut gold?
There are different classes of mills. Some are built to cut wax, while others cut metal. If your purpose is to cut metal, keep in mind that gold is actually 'sticky'—a thin piece of gold can wrap itself around a cutting tool. In addition, there is some loss of gold depending on the metal thickness.
Can I make metal moulds using a mill?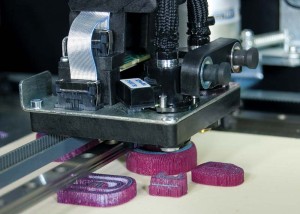 Well, yes and no. Metal does not 'peel back' like rubber does. Instead, you have to construct a metal mould using 'building blocks' to get the desired model. The real question is, how many metal moulds do you need a year? If your answer is not that many, you may want to outsource the job to a company specializing in this area. I wish all of us were selling thousands of one design. We would all be driving better cars.
Let's look at the pros for adding a milling system to your jewellery store. First, it can be very inexpensive to run—wax costs pennies and optional extended warranties are reasonably priced. Second, wax can be recycled at low temperatures and can be easy to cast. In addition to being great for anything requiring text like school rings, as well as flat objects, bangles, and belt buckles, mills can also produce very smooth surfaces, which also makes it easier for cleaning up platinum casting.
With the pros, come the cons. Milling machines can cut only one design at a time, unless they are cutting flat items that can be grouped together or bands on a tube of wax. Some mills do not hollow out, which means the operator may have to cut the design in several parts to clear away excess wax.*
If you have a bench jeweller on staff, the mill may be right for you, as he or she can touch up the wax piece before casting. This allows you to spend less time creating the fine details in CAD, saving hours of computer time.
One very important point about purchasing a mill. Milling machines require a tool path called 'G-code.' Some companies offer a complete package at a higher cost that includes CAD software, an automatic G-code generator, and a mill. Although you can purchase these components for less from separate companies, you may have to contact them individually to diagnose a problem and fix it.
Read the fine print
If a milling machine is not suitable to your operation, you may want to consider a 3-D printer. As its name implies, this machine 'prints' the wax. The correct terminology for the process is stereo lithography or rapid prototyping (RP). Our industry often refers to a printer as a 'grower,' which is fitting, since the machine builds layers of wax one at a time using jets, lasers, or a projector. Compared to CNC, rapid prototyping is relatively new, although the technology has greatly improved in the short period it has been available. Smaller units introduced in the last year can range in price from $10,000 to $25,000.
What about resolution in a printed mould?
Resolution has always been a concern with RP machines. Jewellers require a finer surface than, say the car or toy industries. However, new resins combined with wax are helping to create smoother surfaces, along with smaller microns (i.e. thinner layers).
Rapid prototyping machines for fine jewellery production tend to cost around $18,000, but can be as much as $250,000 depending on volume. Most companies with two or more CAD operators would likely lean toward a larger-capacity machine, which starts at about $48,000 and can produce more than 15 items in a single build time. Smaller machines costing less than $25,000 can produce up to eight engagement rings at a time, which is suitable for a one-man operation. Bangles or large 'rapper' type pendants would need to be farmed out to a wax service centre. Build times range depending on the model's height, although the type of printer you purchase is more of an influencing factor. Some printer companies have created machines with larger build platforms, but tend to run slower. On the other hand, some manufacturers have opted for smaller build areas with faster print capabilities.
How much does it cost to operate a 3-D printer?
The average yearly optional warranty and tech support coverage can cost anywhere from $2200 to $40,000 a year. Resin usually costs about $1.50 to $3.00 per model, while light bulbs or replacement jets can range from $1100 to $2000. The high cost of precious metals is also something to consider. A mill uses tapered cutters to do the fine detailed work, which can leave extra wax on the model. It may not be much, but with metal prices being what they are these days, the goal is to create as precise a model as possible for casting. A 3-D printer leaves no extra resin. In essence, what you design in CAD is what you get with a printer.
Training and tech support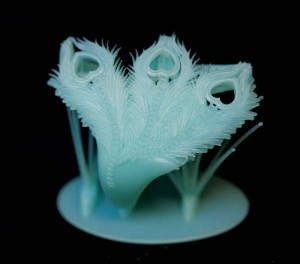 Mastering the mill or printer can be easier than learning CAD, and most suppliers offer two-day classes as part of the final price. It is quite possible to produce wax or resin models on your own within a day of being trained.
I can't stress the importance of training and tech support—your success depends on it. If you miss delivering a piece of jewellery on time due to the fact you couldn't get technical help, you've just lost a customer. And let's face it—word travels fast in cyberspace. You've likely also lost the potential clients you had among that person's family and friends. Facebook can be great for business or hurt it with the simple click of a mouse and a bad review.
So ask yourself, how many custom orders are you taking in a month? Seven or more can justify the purchase of a mill or printer in the $25,000 range, if you were to lease to own at 10 per cent interest. Compare that to using a service bureau. The average print job in Toronto or Vancouver is $85 for a standard 3-mm to 4-mm engagement ring. Milling can range from $40 for plain wedding bands to approximately $450 for bangles.
If you like having the best tools at your disposal and produce various types of jewellery, you may find yourself owning both a mill and a printer. However, make sure you have calculated the number of jobs you need to take in every month to realize a return on your investment. And start looking for a bigger desk.
*Fine-quality jewellery is often made in pieces to allow the parts to be pre-polished before they are assembled.
Shele Letwin is president of GV Design Canada, the authorized Canadian distributor of Gemvision and Envision Tec products. She is a graduate of the jewellery arts program at George Brown College, an award-winning designer, and CAD/CAM instructor. Letwin is often a guest speaker at trade shows and at the Gemvision Design Symposium. She can be reached via e-mail at shele@gvdesigncanada.com[5] or (866) 299-1702.
Endnotes:
[Image]: http://www.jewellerybusiness.com/wp-content/uploads/2013/07/6.jpg
[Image]: http://www.jewellerybusiness.com/wp-content/uploads/2013/07/5.jpg
[Image]: http://www.jewellerybusiness.com/wp-content/uploads/2013/07/3Z-PRO-inside-closeup-Solidscape-1000px.jpg
[Image]: http://www.jewellerybusiness.com/wp-content/uploads/2013/07/JS_mold.jpg
shele@gvdesigncanada.com: mailto:shele@gvdesigncanada.com
Source URL: https://www.jewellerybusiness.com/features/mill-or-3d-printer-tips-to-carve-out-the-right-choice-for-your-business/
---