O Canada: Canadian jewellery shines bright this fall
August 1, 2018
By Dan Scott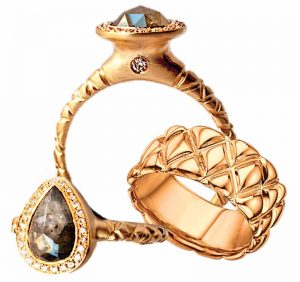 When it comes to high-demand fashion and accessories, New York Fashion Week (NYFW) is no stranger to the weird and the wonderful. This autumn follows suit. For example, Raf Simons, Calvin Klein's latest artistic director, used Friday the 13th and The Shining to set a dark fashion mood. The theme was justified with items like Calvin Klein shoes crafted with the exact same material as Jason's hockey mask. (For more information, click here[2].) Fashion's front row didn't seem to bat an eyelash over this style of presentation, but even the most seasoned of attendees were surprised by the amount of Canadian apparel and jewellery designs that appeared onstage. Now, those designs have run off the runway in royal fashion.
Walk this way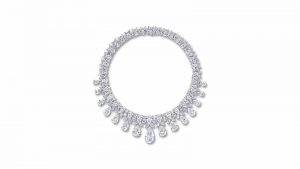 Breaking decades of tradition, a strong group of young designers including Rodarte, Proenza Schouler, and Alexander Wang have officially stepped off the NYFW February and September runways or announced they will no longer be doing those shows. (To learn more, see stories from Vogue[4], Pattern[5], and Mic[6].) This shift rearranges some of fashion's hottest trendsetters to showcase in June and December, to better address supply chain and production issues. How this historic change will impact the fine jewellery and accessories market is yet to be seen, but from what you are about to learn, Canada is set to benefit.
Legendary brands Calvin Klein and Oscar de la Renta stayed on NYFW's routine schedule, and the overall result was wildly retro. Nearly every designer threw back to the 1980s, many piling on faux fur with contrasting zig-zags of colour or tonal animal prints. Playful fringe swayed back yet again, while funky floral designs will continue their acclaim into 2019. Canada's Harry Winston caught onto these trends early and reintroduced its famed 'diamond fringe' necklace while garnering refreshed attention to its established floral diamond designs. This was seen online and through retail store displays as early as June of 2017 with the launch of 'Winston Garden' flower-inspired pieces.
While the return of wide belts and big hair drew some smirks, fashionistas nodded in approval to some of the most daring jewellery statement pieces. Among these were Prabal Gurung's convertible, asymmetrical pearl earrings and Brandon Maxwell's zebra statement earrings—each so massive, one may expect these statements to be overkill. They weren't.
Canadian contrast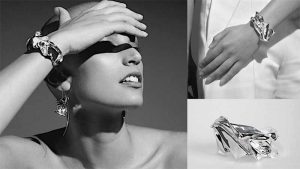 Beyond the faddish statement styles, this season's most popular jewellery trends, by and large, aren't large at all. To balance this fall's ready-to-wear (RTW) retro boldness, daily-wear jewellery is much more diminutive. From earrings to anklets, the dominating look was, in a word, demi-fine. Canadian designers predominantly selected 14-karat yellow gold plated over sterling silver, with solid gold reserved for the daintiest of designs. For gems, white diamonds were upstaged by Ultra Violet-toned stones, a nod to Pantone's colour of the year.
Half a carat or less of natural and manmade amethysts, sapphires, and grape garnets in faceted, unique cuts joined cabochon opals, moonstones, and pearls set in modern, minimalistic designs.
Great White way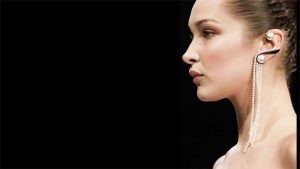 The word of Canada's strong presence within NYFW's shows and the broader fashion spotlight has shifted from enlightened gasps to bountiful applause. At first, no one could quite pinpoint why Canadian brands were suddenly top of mind.
"Until recently, Canadian artists seemed to work in the shadows," noted Lea Remski of WhoWhatWear.com. "Suddenly, a bright light is being shined on some very talented Canadian designers. Canada is definitely having its day in the sun."
That day should turn into a decade as Canada's top creatives pick up their pace and pick up awards.
"Our artists have been creating in secret in a lot of ways. To everyone's surprise, something special is happening, and it's about time!" said Vanessa Laurin, producer of the Great White North Exhibition (a juried, annual competition[9] dedicated to awarding Canadian jewellers).
It's exciting for a designer who calls Canada home to win a Canadian award, but when a contest created by and for the global jewellery industry acknowledges a Canadian artist, the accolades reach longer and stronger. Such was the case for Shelly Purdy, one of three winners of the 10th annual Centurion Emerging Designer Competition. (For more on Purdy, click here[10]. A list of all the winners can be found here[11].)
"It feels a bit odd to be honoured as an 'emerging designer,'" said Purdy, who started designing early in her life. "In 1991, I opened a studio in Toronto's fashion/entertainment district, where we remain today. With the discovery of the first Canadian diamond mine, I wanted to give bridal consumers the choice of pledging their commitment with locally and ethically sourced diamonds in hand-sculpted settings."
These designs won the coveted De Beers Diamond Today Award and resulted in Purdy's selection as a featured designer in Rio Tinto's 'Diamonds with a Story' campaign (representing Canada's Diavik Mine). Purdy purchased her first loose diamond from the Canadian Ekati mine and set it in an achievement ring.
"My achievement ring is something I look at while I'm sketching. It reminds me of the significance of what I'm creating for others," Purdy said.
She recalls purchasing a selection of rose-cut grey diamonds due to their appearance alone, not a preconceived design they would be set within. Those diamonds sat with her in her studio until the birth of the 'Bound' collection two years later. Why the name 'Bound?'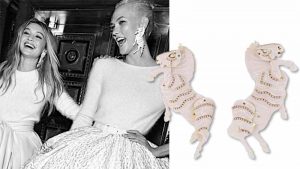 "'Bound' may be playfully sexual or denote a lifelong tie between two people," Purdy said.
So, she sculpted the appearance of a weave set around each stone. Think of corded silk wrapped tightly around your finger…slightly pronounced skin would naturally be seen between each revolution. This was the thought process refined in the hand-tooled look of Bound.
Befitting of this fall's outside-the-box fashion look, Bound delivers and goes beyond trends. After all, bridal jewellery is a symbol of sanctity. Purdy understands engagement rings and wedding bands are meant to be worn every day, and should speak to the life and style of the user. People should want to wear deeply symbolic designs, not feel forced to.
Engaging millennials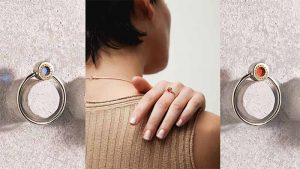 As millennials continue their search for personalization and differentiation within their engagement ring selections, this fall should see an increase in nontraditional looks. Precious and semiprecious gemstones in vibrant colours, often in smaller sizes and shapes, will be set as centre stones. (Learn more by reading this Forbes article[14].)
We can also expect the term 'demi-fine' to surpass its current 29.7 million daily Google searches—I predict it will rise to more than 49.5 million by the time this article is published. (Details on demi-fine can be found here[15] and here[16].) Look for subcategories such as demi-fine bridal to also start trending strong with millennials by this year's holiday season.
While stackable rings remain in vogue, the fall trend is on singularity rings, like those offered by Vancouver artisan Erica Leal. Leal polished her skills at the illustrious Camberwell College of Arts in London before returning to her native Canadian home to handcraft millennial-minded jewellery. In recent years, she has gained high fashion praise with her printed sterling silver cast and hand-cut acrylic colour inlay jewellery—all keeping to her own art deco flair.
Canadian-born Wing Yau, founder of WWAKE, now creates in New York City. She launched WWAKE in 2012 by merging fashion art with the intimacy of jewellery. In some ways, WWAKE acts like a high-fashion apparel brand, as it creates seasonal market disruption. An example of this is WWAKE pioneering a new bridal category segment in 2015 with the debut of unorthodox engagement ring styles. These will probably be branded as demi-fine bridal in due time.
Canada gains the Markle sparkle
Celebrities aren't always recording artists, actors, models, or sports heroes. In fact, one family is guaranteed global celebrity fame forever—England's royal family. As consumers worldwide continue their infatuation with all things blueblood, Canada is again reaping significant retail benefits.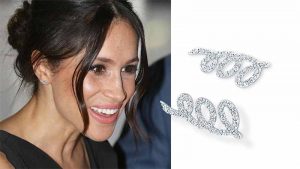 From a surface-level perspective, Canada is taking the spotlight again thanks to Los Angeles-born actress Meghan Markle. Her recent marriage to Prince Harry, together with her open devotion to many Canadian brands, is providing newfound Canadian awareness and profitability.
Like Kate Middleton (now the Duchess of Cambridge), Markle is a 'commoner,' not having been born into royalty. Despite her former lead role in the cable television series Suits, Markle more fits the image of the very pretty girl next door than a Hollywood starlet making her way to the throne. She has an endearing, people-pleasing personality and seems proud to unofficially promote the Canadian brands she wears. Yet, this is the mere tip of the sword to why Canada is cashing in on Markle's magic.
Let's understand the product placement powerhouse Meghan Markle is. Her current public and social relations presence is so strong, the items she is photographed wearing sell out within hours—sometimes minutes—of release. The consumer frenzy that ensues from any product (many Canadian-based of late) Markle dons is so intense, a global marketing phrase has been coined: "The Markle Effect."
No matter what you call it, the resulting numbers that relate to consumer online activity over Markle's jewellery adornment are riveting. Take Montréal-based Birks Group and the 400 per cent increase in web traffic it experienced soon after Markle wore its gold and opal earrings in the official engagement photo released to the world. (Click here[18] for more information.) That spike was responsible for the same earring selling out on the Birks website at US$995, followed by the sellout of a matching pendant and a similar earring.
In a recent Financial Times article, "Meghan Markle's Choice of Earrings Boosts Birks," the brand's CEO, Jean-Christophe Bédos, noted the product placement wasn't planned.
"One likes to believe we are great masterminds and plan everything to the minor detail. But it was a very, very happy and nice surprise for us," he said.
Birks plans to continue leveraging Markle's namesake and images with its social media platforms, website, and public relations. The fact she wears minimalistic designs (as selected by her stylist) plays perfectly into the fashion trends of diminutive opals with diamond accents and single rather than stacked rings—both set to continue through the fall of 2019.
The bow on the box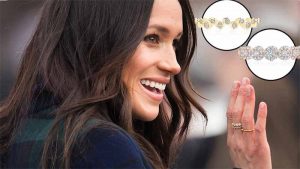 What do the British Fashion Council (BFC), the Commonwealth Fashion Council (CFC), and Canadian designers all have in common? The first-ever Commonwealth Fashion Exchange, held at Buckingham Palace in February of this year. This is a major event that, beyond the regal setting, connects fashion's elite with Canada's current and up-and-coming jewellery designers.
Robin Kay is largely to thank for this recent Canada-Britain-world marvel. (More details are available here[20].) Kay pioneered the largest Fashion Week in Canada, then transferred ownership in 2012 to lead the Fashion Design Council of Canada (FDCC), a nonprofit organization dedicated to supporting the Canadian fashion industry. Her latest role is actively engaging government leaders to focus on the nation's culture and commerce. She is now lobbying for a new national policy that would acknowledge all designers' contributions in Canada.
I conclude this story with a newfound respect and awe for all Canada is now and what will be revealed in the near future. Beyond the royals and New York, Paris, and London's Fashion Weeks, we will undoubtedly see more Canadian jewellery and accessories hitting the runway and resulting in rich retail sales.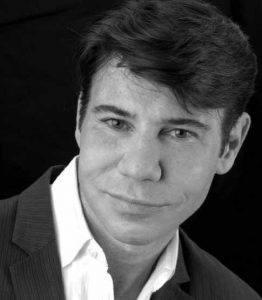 [21]Dan Scott is a brand architect with Luxe Licensing, working with clients including Harry Winston, Gucci Jewelry, and a number of young brands and retailers. He is a founding member of QVC and served as Scott Kay's CMO for a decade. Scott was a former advisory board member to the North American division of the CMO Council for 12 years and is on the board of directors for the Internet Marketing Association's (IMA's) New York chapter. He has been honoured with multiple branding, marketing, and social media awards, and hopes to relay his continued experience to the fine jewellery industry. Residing in the New York Metro region, he welcomes communications and may be reached at dans@luxelicensing.com or (201) 294-3697.
Endnotes:
[Image]: https://www.jewellerybusiness.com/wp-content/uploads/2018/08/Bound-collection-in-demi-fine-bridal-by-Shelly-Purdy.-c-2018-Shelly-Purdy-Studios-Alll-Rights-Reserved..jpg
here: http://www.aol.com/article/lifestyle/2017/09/08/nyfw-calvin-klein-spring-2018/23202051
[Image]: https://www.jewellerybusiness.com/wp-content/uploads/2018/08/D-internally-flawless-fringe-necklace-by-Harry-Winston-5095872-diamond-HarryWinston-.jpg
Vogue: https://www.vogue.com/article/altuzarra-exits-nyfw-cfda-response
Pattern: http://www.patternindy.com/2018/02/11/nyfw-alexander-wang-reaches-the-end-of-the-runway/
Mic: http://mic.com/articles/167672/why-are-designers-staging-a-mass-exodus-from-new-york-fashion-week#.kJkH0gyjP
[Image]: https://www.jewellerybusiness.com/wp-content/uploads/2018/08/Hand-folded-solid-silver-sheet-cuff-by-WWAKE.jpg
[Image]: https://www.jewellerybusiness.com/wp-content/uploads/2018/08/Prabal-Gurung's-convertible-asymmetrical-pearl-earring.jpg
juried, annual competition: http://www.greatwhitenorthexhibition.com/about-the-gwne
here: http://www.jewellerybusiness.com/news/toronto-talent-recognized-centurion-emerging-designer-contest
here: http://news.centurionjewelry.com/articles/detail/centurion-show-names-2018-emerging-designer-winners
[Image]: https://www.jewellerybusiness.com/wp-content/uploads/2018/08/Presentation1.pptxKarlie-Kloss-l-with-Gigi-Hadid-wearing-Brandon-Maxwell's-zebra-in-peony-pink_Ivory-enamel-with-peony-pink-crystals.-.jpg
[Image]: https://www.jewellerybusiness.com/wp-content/uploads/2018/08/Silver-brass-acrylic-and-resin-handcrafted-ring-forms-b-Erica-Leal-.jpg
Forbes article: http://www.forbes.com/sites/trevornace/2016/05/08/7-non-diamond-engagement-rings-stunning-non-traditional-alternatives/#23f6006f1fab
here: http://www.google.com/search?num=20&ei=Je70WtL5H6XBgAbEprOYBw&q=Demi-fine&oq=Demi-fine&gs_l=psy-ab.3..0j0i30k1l2j0i8i30k1l5.14035.15572.0.15964.11.10.1.0.0.0.173.978.6j4.10.0....0...1c.1.64.psy-ab..0.11.981...0i67k1j0i131k1.0.C2BzBCrlajo
here: http://www.facebook.com/DemiFineJewelry/videos/251228938765399
[Image]: https://www.jewellerybusiness.com/wp-content/uploads/2018/08/Megan-Markle-in-PlaisirsDeBirks-diamond-swirl-earrings.-.jpg
here: http://www.look.co.uk/news/meghan-markle-birks-earrings-603049
[Image]: https://www.jewellerybusiness.com/wp-content/uploads/2018/08/Megan-Markle-in-Birks-Iconic-Rose-Gold-and-Diamond-Snowflake-Ring-worn-with-the-Iconic-Yellow-Gold-and-Diamond-Splash-Ring-4995-and-1495-Canadian-respectively..jpg
here: http://www.fdcc.ca/press-release-1.html
[Image]: https://www.jewellerybusiness.com/wp-content/uploads/2018/05/DanScott_headshot.jpg
Source URL: https://www.jewellerybusiness.com/features/o-canada-canadian-jewellery-shines-bright-this-fall/
---