On a silver platter: A look at 2015's biggest trends in silver jewellery
February 1, 2015
By Jacquie De Almeida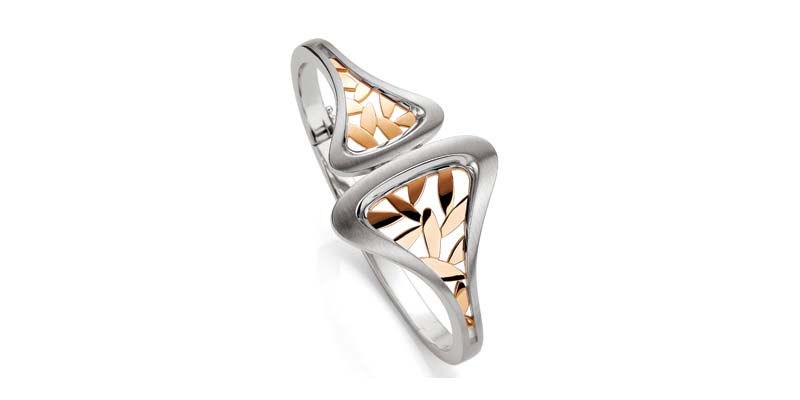 As the go-to metal for retailers during the lean years of the recession, silver helped entice clients into stores. Jewellers who had only worked in gold embraced it as a lower-cost substitute for the yellow metal.
Today, it's a fine jewellery staple and a core component of a store's merchandise mix that cannot be overlooked for its ability to generate traffic and profitable margins.
Michael Barlerin, director of Silver Promotion Service (SPS), says multiple factors are driving the popularity of silver jewellery.
"There is continuing growth in the number of exceptional, well-designed lines making silver an affordable luxury," he explains. "Research also shows younger customers prefer the white metal, and silver is the ultimate female self-purchase product."
Barlerin points out that while jewellers and investors are keenly aware of precious metal prices, the buying public is less so.
"Silver's status as a precious metal is based on the exact same definition as that for gold and platinum group metals," he says. "It is not linked to price. Prior research shows consumers are only marginally aware of the price of the metal content in jewellery."
So what's ahead in the silver category for 2015? We turned to manufacturers for their insight (and a sneak peek into what they're working on).
   
Confident cuffs
The cold and snowy weather will be gone in no time and summer will soon be here, along with short sleeves. Style watchers say bold cuffs are slated to make a big statement this year, and jewellers are answering the call. Slip on a cuff and you've taken the guess work out of adding a touch of bling to an ensemble. It's also a jewellery staple that never goes out of style and may even empower you with its bold look.
"This season is about making a personal statement in sterling silver," says Jodi McLoughlin, director of marketing and design for Thistle & Bee. "A wide sterling cuff"¦ creates a beautifully dynamic look that is bold and very personal. Particularly interesting is the mix of chunky gemstone cuffs layered with colourful stacking bangles or high-polish links for a truly individual fashion statement."
'Dual' tones
Although silver came on strong as an alternative to gold, the yellow metal is not to be forgotten entirely. In fact, designers are even turning to its rosier hue as a contrasting metal to silver, bringing a touch of European flare to a collection. Whether as an accent colour or plating, gold plays an important role in silver jewellery design.
Spanish manufacturer Jorge Revilla says it is adding a more luxurious look to its new silver collections by incorporating both 18-karat yellow and rose gold plate. "It is refreshing and speaks to the senses," the company says.
Often referred to as vermeil, the gold-on-silver combination has been a growing trend over the last few years, as consumers look to maintain the precious metal content of plated jewellery.
Designer Frederic Duclos has been using gold as a plating material for the last few years, and sees no signs of it slowing down.
"Our pastel rose gold and sterling combinations have been very popular, and I feel that stronger colour combinations are emerging," Duclos adds.
Canadian designer Hera Arkarakas says two-tone jewellery is not only luxurious, it also serves a very practical purpose. "Silver with 18-karat gold allows clients to combine their existing jewellery with new pieces," she explains.
X-citing
It seems X will mark the spot in 2015. Also known as criss-cross rings, X-rings are gracing the fingers of celebrities and fashionistas everywhere intent on a cool, chic, and funky look. Yet, their design serves a practical purpose as well: creating a lower-cost ring that looks bigger than it actually is.
"Even though the rings are much wider than traditional rings, all the open space makes them weigh much less," says Steven Greenwald, owner of Toronto-based Supreme Silver. "Normally companies will hollow and thin out a ring as much as possible to lower its weight. These rings show a new way of thinking."
Whether plain, hammered, or pavé-set with stones, or even a single or double X, criss-cross rings make a statement with their unique shape and style.
A touch of silver with your leather?
Let's face it… most men are perfectly content wearing a watch and/or ring. But for the fashion-conscious, a bit more man bling may be in order. As a category, men's jewellery has taken off in the last few years, offering gents a lot more variety and materials to satisfy everything from the rebel that may be lurking inside to the metrosexual who always puts his best Gucci loafer forward. Enter leather bracelets with silver accents.
"Men are more interested in accessorizing than ever before, and they're looking for something better than the basic stainless steel or other non-precious metal men's jewellery you find in most stores today," says Neil Travis, president and chief executive officer (CEO) of First Jewelry.
For a bolder look, consider pairing a leather bracelet with a gemstone bead bracelet in matte onyx, jasper, or pyrite to kick things up a notch style-wise.
Layering it on thick
Why wear only one necklace or bracelet when you can have on several? Consumers will be looking for ways to stand out, and layering pieces does just that.
"The trend of layering will continue to remain strong and silver is the perfect precious metal for this, given its warmth and richness," says Travis.
In addition, silver's low cost relative to gold helps put it at the front of the line when it comes to wearing multiple necklaces or bracelets. Stylish and affordable! Who wouldn't want that?
"Silver at certain price points makes jewellery accessible as a self-purchase item," says Arkarakas. "It is the metal of affordable luxury. Silver has always been used to make more interesting fashion-forward pieces. It allows us to break the traditional rules and to really have fun with our jewellery."
Keep a lookout for chains of various lengths worn together and stackable bracelets featuring eye-popping gemstones.
Getting personal
When Sarah Jessica Parker donned what's come to be known as the 'Carrie' necklace, she made monogram jewellery a fashion must-have, and that trend is still strong 10-plus years later. Consumers will be looking for ways to express themselves on a personal level, making do-it-yourself jewellery (read beads and charms), as well as monogrammed pieces, style staples among fashionistas.
Even the men in our lives will want in on the personalization craze, says Lizzie Bertrand, Stuller, Inc.'s product manager, metal fashion and chain.
"Some trends you will be seeing throughout the market include a focus on men's fine jewellery, such as cufflinks and signet rings especially with engraving; a strong presence of monogramming and personalization, such as phrase collections; and the infinity shape, which we will also continue to see as a stand-alone piece or with phrasing included."
Glammed up with gems
Silver jewellery is spectacular on its own, but throw in some dazzling gemstones and you've taken it to a whole new level. When you pair gemstones with the pristine white of silver, the effect is eye-popping. And given its lower cost relative to its pricier counterparts, silver allows designers to create large, dramatic gemstone jewellery at an affordable cost.
"With rich hues and distinctive appeal, coloured gemstones set on silver is one of the most expressive forms of jewellery," says designer Lucy Kilislian of Candy Ice Jewelry. "Consumers are able to pick colours that match their fashion palette and customize it to suit their budget and lifestyle."
Topaz, garnet, tourmaline, and quartz all come in a rainbow of colours, making them affordable and ideal pairings with the white metal.
Endnotes:
[Image]: http://www.jewellerybusiness.com/wp-content/uploads/2015/12/Breuning4.jpg
[Image]: http://www.jewellerybusiness.com/wp-content/uploads/2015/12/Boma-BCB-4160.jpg
[Image]: http://www.jewellerybusiness.com/wp-content/uploads/2015/12/105-1586-Wave.jpg
[Image]: http://www.jewellerybusiness.com/wp-content/uploads/2015/12/DP579.jpg
[Image]: http://www.jewellerybusiness.com/wp-content/uploads/2015/12/143411_010_HR.jpg
[Image]: http://www.jewellerybusiness.com/wp-content/uploads/2015/12/Frederic-Duclos-BR483.jpg
[Image]: http://www.jewellerybusiness.com/wp-content/uploads/2015/12/R0171CLR.jpg
[Image]: http://www.jewellerybusiness.com/wp-content/uploads/2015/12/Supreme-silver-Ring1.jpg
[Image]: http://www.jewellerybusiness.com/wp-content/uploads/2015/12/LB41.jpg
[Image]: http://www.jewellerybusiness.com/wp-content/uploads/2015/12/BR565.jpg
[Image]: http://www.jewellerybusiness.com/wp-content/uploads/2015/12/Currency-RRLeather.jpg
[Image]: http://www.jewellerybusiness.com/wp-content/uploads/2015/12/skinny-bracelets.jpg
[Image]: http://www.jewellerybusiness.com/wp-content/uploads/2015/12/HERA_CocktailStax-Bangles.jpg
[Image]: http://www.jewellerybusiness.com/wp-content/uploads/2015/12/9818.jpg
[Image]: http://www.jewellerybusiness.com/wp-content/uploads/2015/12/Persona-MonogramedJuneBirthstoneCharm.jpg
[Image]: http://www.jewellerybusiness.com/wp-content/uploads/2015/12/B001.jpg
Source URL: https://www.jewellerybusiness.com/features/on-a-silver-platter-a-look-at-2015s-biggest-trends-in-silver-jewellery/
---