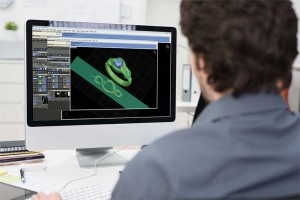 My first job as a designer was with Beni Sung in the early 1980s, long before CAD was available to the jewellery trade. I had flown to Gemological Institute of America (GIA) in Santa Monica, Calif., for a seven-week jewellery design class to develop my drawing skills. I moved to Toronto not long after, and within a week, I landed a job with Beni at his downtown studio. He would hand me these 'child-like' sketches, and somehow I managed to turn his 'chicken scratches' into a beautiful watercolour painting that he presented to his clients.
Beni was a great talent—I marveled at how he could imagine his ideas in 3D, designing jewellery as a whole, rather than snapshots of one angle or another. He could practically 'see' a design as a finished piece, rather than a 2D object. While many of us struggle to form a clear image in our mind's eye of how a particular design will look in profile, let's say, some designers can picture it instantly. Most importantly, they know when proportions will work and when they don't, for example. I'm afraid I don't fall into this category. I have to sketch a design from different angles to have a clear understanding of what a piece will look like when rotated. Some of us aren't as blessed as Beni.
So why am I telling you all this? Well, sketching takes a bit of skill and sometimes what you come up with is only half an idea that you may never develop because you can't 'see' what you've got. In other words, your drawing skills may be hindering your creativity. This is where CAD comes in.