Picture this: Pushing the design envelope with CAD
December 1, 2014
By Shele Letwin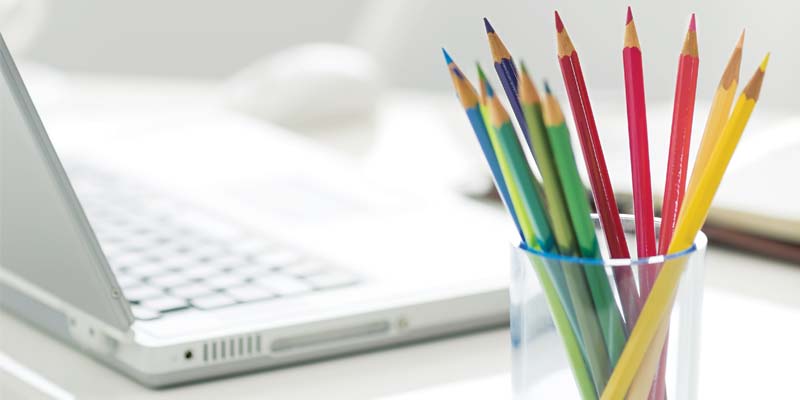 [1]
I love to draw. There is no greater satisfaction for me than to see a concept come to light. Drawing allows me to be creative and helps with better communication with my students and employees, which is why I'm always prepared to pull out a piece of paper and quickly sketch a design. I have a large collection of pencils, ranging from the kind you use to keep score on the golf course to flat and wide carpenter-style models you can find at the local hardware store. My mechanical pencils run the gamut, too, from sterling silver or stainless steel to the inexpensive plastic disposable kind. Yes, I love to draw, which works out well in my line of work.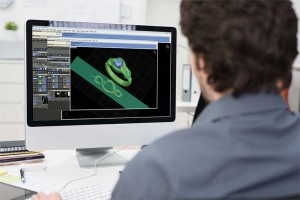 My first job as a designer was with Beni Sung in the early 1980s, long before CAD was available to the jewellery trade. I had flown to Gemological Institute of America (GIA) in Santa Monica, Calif., for a seven-week jewellery design class to develop my drawing skills. I moved to Toronto not long after, and within a week, I landed a job with Beni at his downtown studio. He would hand me these 'child-like' sketches, and somehow I managed to turn his 'chicken scratches' into a beautiful watercolour painting that he presented to his clients.
Beni was a great talent—I marveled at how he could imagine his ideas in 3D, designing jewellery as a whole, rather than snapshots of one angle or another. He could practically 'see' a design as a finished piece, rather than a 2D object. While many of us struggle to form a clear image in our mind's eye of how a particular design will look in profile, let's say, some designers can picture it instantly. Most importantly, they know when proportions will work and when they don't, for example. I'm afraid I don't fall into this category. I have to sketch a design from different angles to have a clear understanding of what a piece will look like when rotated. Some of us aren't as blessed as Beni.
So why am I telling you all this? Well, sketching takes a bit of skill and sometimes what you come up with is only half an idea that you may never develop because you can't 'see' what you've got. In other words, your drawing skills may be hindering your creativity. This is where CAD comes in.
Doodle me this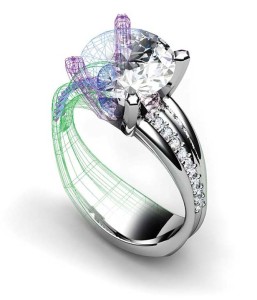 I have to doodle to get an idea and I've saved every sketch, which is a good thing. My first De Beers Diamond Award in 1987 was the result of an earlier idea for a necklace that I re-sketched into a scaled-down version, turning it into a bangle so that it made more of a statement.
Sketching is the fastest way to communicate a custom design, but it does have potential drawbacks. I can't help but wonder how many times a client has turned down my idea because they could not 'see' my 2D drawing as a 3D object? I could wonder the same about myself. Have I doodled the next big trend, but have been too busy (or lazy) to take the time to develop it by re-drawing it over and over into something great? With CAD, though, I find I do push the envelope.
Case in point. I am often a guest speaker at the annual Gemvision Design Symposium and my classes centre on designing. (Not to brag, but 'Creative Design Inspiration' is one of the more popular courses.) To prepare for this class, I take an idea and develop it using CAD. Taking an image from the system's library, I quickly design a pair of earrings, and this is where the fun begins. What if we scale it? Change the stones or metal? Add a halo around the gem or take one away? I have a ball creating examples to show in this class. In a short period, I have designed anywhere from 12 to 15 pairs of earrings. You can bet I have never sat down and sketched 15 variations of anything.
While exhibiting at the Canadian Jewellery Group (CJG) show in August, I visited with designer Lilian Jensen of Customgold in Vancouver. Like Beni, Lil has a very distinct style, which was at its best with a new collection of unusual banded agate pendants she had on display at her booth. As I was admiring them, she casually mentioned she had designed the pieces using CAD. "As a matter of fact, every piece we have here at the show was done in CAD," she said. So I asked her if she thought CAD helps her to be a better designer. "Absolutely," she said. "Seeing a piece onscreen and being able to rotate it 360 degrees helps with visualizing my thoughts. Then I can make improvements to the design to get the right flow."
Lil touches on an interesting point. For the most part, designing jewellery is a 2D process that results in a 3D object. While sketching a face-on view of a piece certainly provides enough detail to get an idea of the finished piece, without various sketches at different angles, it's a bit of a guessing game for your goldsmith to imagine what the back looks like, for instance.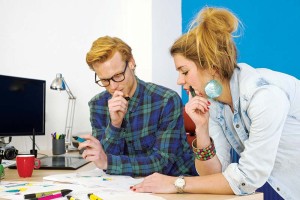 Shaun Staples works for me as a CAD/CAM trainer, but he also designs and was once commissioned to create an acorn pendant. Designed in CAD and cast in silver, the top of the pendant was so lifelike, it actually looked like Mother Nature's handy work. (Hard-carving the wax top would have resulted in much less detail.) Although an experienced hand engraver could have done better than the wax carver, it would have been too costly for the client. I posed the same question to Shaun that I did Lil. "Yes, it is difficult to convey a 2D pencil drawing as 3D without sketching many different angles," he explained. "Often, you give up because it takes too much time to get it right at a certain angle."
Jewellery Business bench tips columnist Llyn L. Strelau of Jewels by Design in Calgary has won many awards for his work. Llyn is often inspired to create intricate pieces reminiscent of designs made more than 100 years ago. He admits, though, he is not a draftsman. As such, he decided to learn to work with CAD when it first hit the jewellery scene. He says that by using design software, he is able to better communicate with his goldsmiths—it saves him time and there are no surprises. The good news for Llyn is he can still compete in design competitions, since contests often accept a CAD rendering in place of a sketch.
Mo Asgari of Toronto's Halo Jewellery Design says CAD set her on the path to being a jewellery designer. Growing up in the family business, Mo has had an interesting career working for auction houses and the Shopping Channel. Halo Jewellery has always offered custom work, but like other businesses, they farmed out many projects to CAD designers when the customer had a clear idea of what they wanted. Mo decided she wanted to take the business in a different direction and took on the challenge to master CAD. Now when I run into her, she shows me her latest designs on her smartphone. It has been so much fun watching her develop her skills as a designer (and she is one of the best at making matching wedding bands in CAD).
A word of caution
Of course, using CAD doesn't automatically make you a better designer if you don't have the technical know-how to back you up. Three-dimensional vision won't make much of a difference if the piece can't stand up to wear and tear. That said, CAD can help you develop an idea without the time-consuming task of sketching. It also allows you to work out all the details ahead of time for more accurate estimating, and not be limited by the skills of your goldsmiths or your own shortcomings with a pencil. I have to admit my first inclination will always be to put pencil to paper. And while it's true I have won many design awards thanks to my pencil, I have to say I've become a much better designer since I picked up CAD 15 years ago. Now if only I could find that million-dollar design among all my doodles!
Shele Letwin is president of GV Design Canada, the authorized Canadian distributor of Gemvision and Envision Tec products. She is a graduate of the jewellery arts program at George Brown College, an award-winning designer, and CAD/CAM instructor. Letwin is often a guest speaker at trade shows and at the Gemvision Design Symposium. She can be reached via e-mail at shele@gvdesigncanada.com[5] or (866) 299-1702.
Endnotes:
[Image]: http://www.jewellerybusiness.com/wp-content/uploads/2015/11/bigstock-Model-of-a-colored-pencil-and-44041177.jpg
[Image]: http://www.jewellerybusiness.com/wp-content/uploads/2015/11/bigstock-Businessman-Using-A-Desktop-Co-57726656.jpg
[Image]: http://www.jewellerybusiness.com/wp-content/uploads/2014/12/WireToRender.jpg
[Image]: http://www.jewellerybusiness.com/wp-content/uploads/2015/11/bigstock-Two-colleagues-working-togethe-56632349.jpg
shele@gvdesigncanada.com: mailto:shele@gvdesigncanada.com
Source URL: https://www.jewellerybusiness.com/features/picture-this-pushing-the-design-envelope-with-cad/
---