Seeking inspiration: How the spark of an idea can translate into thoughtful jewellery design
July 29, 2016
By Llyn L. Strelau
Inspiration for jewellery design comes from many sources, such as client input, gemstones, nature, architecture, narrative, and fantasy. These often work in combination to produce the finished piece.
I create primarily bespoke, custom-designed jewellery; therefore, much of my inspiration is driven by the client themselves. Usually, he or she is purchasing jewellery to celebrate an occasion, (which often dictates the choice of gemstone) or a commemorative event, such as an anniversary, birth, life celebration, or achievement.
In some cases, clients are only able to provide 'general' ideas for their project and it takes a certain amount of probing and almost 'psychological' technique to get inside their heads. Good listening skills are vital for jewellery designers, since clients often have trouble articulating what they really want. As such, it is important to take small steps and confirm decisions as you go to avoid disappointment further along in the process. This may require scheduling several appointments; however, the extra time is worth taking. It is challenging, though very satisfying, to interpret a client's thoughts and create what they 'want,' even when they don't know what that is!
Happy birthday to you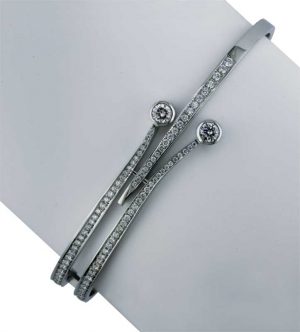 When there is clear design inspiration, projects tend to be easier to tackle; however, as the designer, your job is to figure out how to make it possible. A few years ago, my clients welcomed their first child and named her Calla. To celebrate, they commissioned a piece of jewellery in the shape of a slightly abstracted flower. Formed in soft sheet wax, we cast the pendant in white gold. Since Calla was born in June, I used an elongated freshwater pearl as the spadix and added a sweep of pavé-set diamonds (the mother's birthstone) to accent the piece. The same couple has just had their second daughter, named Ivy, and I am currently designing a pair of earrings featuring a wreath of ivy leaves (this time using CAD to simplify making the book-matched pair) that will be accented with small emeralds to celebrate her May birth. Again, a few small diamonds set in the earrings will acknowledge the mother.
To celebrate his wife's 40th birthday, another client commissioned a hinged bangle bracelet. The birthdate inspired a variation on a style I have used frequently: a single arm on one side hinged between two similar arms on the other. The bracelet is clasped by the spring tension of the single arm into a bar on the underside. To signify her birthdate, Feb. 21, 1974, we bezel-set two round diamonds as terminals on the double side, pavé-set 74 diamonds on the arms, and set 21 diamonds on the single arm.
Etched in stone
Personally, I find great inspiration in the gemstones with which I work. The shape and colour of a single stone or pearl can simply define the piece of jewellery it will become. Like looking at clouds, baroque pearls can reveal 'hidden' fantasy creatures or symbols. A single gemstone may have been purchased because of its quality and basic appeal, but by intent or accident, it is seen in combination with another gem and that synergy instantly inspires a design incorporating both. The sum is greater than the parts.
I rarely cut gemstones to incorporate into a design. I find this tends to be a more expensive process, as you may have to re-cut an existing gem or waste good rough to get the precise dimensions and colour you need. Flexibility in the design process is useful, although you may sometimes have to bite the bullet and cut a gem to fit a project.
My preference is to be inspired by the stone and see what I can do to enhance it. I find some gem cutters are more difficult to 'design' than others. As much as I admire and appreciate the work of the Munsteiner atelier, most of their cuts are, for me, already 'finished.' I have difficulty finding anything I can do with metal or other gems that will make them any more beautiful than they already are. A simple frame and method of allowing them to be worn seems to be the best solution for me.
Other cutters, like my friend Stephen Avery, specialize in colour combinations. His eye for putting just the right intensity, tone, and saturation of gems together gives me great inspiration, allowing me to take those stones and add my own interpretation to enhance and support their artistry.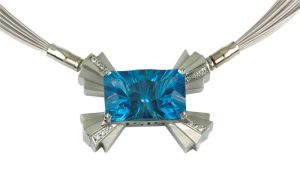 Avery's 'Double Diamondback' rubellite and indigolite tourmalines are a case in point. The white gold hinged bangle in the photo on page 30 looks simple, but was complex in construction. We made a pair of white gold rails to fit the three gemstones, in addition to the bearings used to support the stones from behind. We bezel-set two small princess-cut diamonds, securing them at either end and undercutting the bezels to fit the indigolites' girdles. We also undercut the two larger bezel-set princess cuts to fit the tourmalines, and attached smaller square tubing to their undersides. For the final setting, we fit the tubes of the large diamonds into sockets on the underside of the bangle's top and secured them with a laser welder. This technique required very close tolerances, but the final result could not have easily been achieved without laser technology.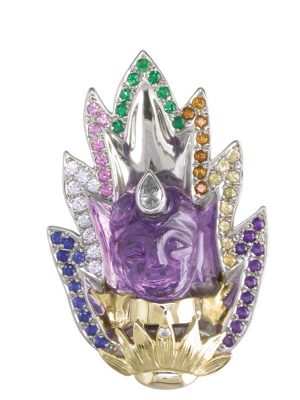 Recently, a client purchased a 22- x 11-mm concave-cut blue topaz. Inspired by the gem's radial reflections, we modelled the pendant in CAD, creating stepped angled rays to enhance the stone. (We hollowed out the back of the rays to prevent the piece from being too heavy.) A frosting of pavé diamonds and bead-blast texture provide contrast. We milled the pendant in one piece and incorporated my logo on all four sides of the bearing, repeating it on the back plate, which was milled and cast separately then welded to the claw setting. I could have had the pendant grown in one piece via rapid prototype; however, we decided it would have been impossible to properly clean and finish its hollow back, had it been cast as one. The addition of a bayonet clasp system allows my client to wear it on various chains or pearl strands.
For a client who studied Eastern religion, we created a pendant for which the genesis was a Buddha head carved in amethyst. This was set in a flame-shape shell with blue sapphire, diamond, pink sapphire, emerald, topaz, yellow diamond, and amethyst, as well as an engraved lotus flower. These are the colours of the seven-fold flame, significant for the Buddhist theme.
Nature's way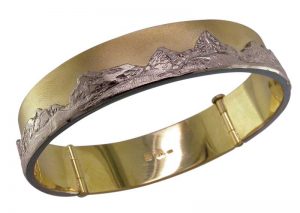 Nature can be a great source of inspiration for jewellery design. Whether it is a literal representation of a flower, leaf, rainbow, or sunset, or an abstraction of nature's beauty, there is immense scope for creativity. Some of the finest jewellery designers in the world—past and present—have interpreted the natural world in their jewellery. Lalique, Tiffany & Co., Fouquet, JAR, and Wallace Chan are but a few such artists.
Living on the edge of the Rocky Mountains, I have made rings and bangles featuring individual peaks. Although I now use CAD to achieve mountains motifs, in my pre-CAD days, I turned to photographs of the peaks and traced their silhouettes by hand with pencil, sketching in some of the identifying contour lines. In addition to creating an arbitrary sea level, I scaled each peak such that their individual heights reflected the altitude of the real mountains. Using a photocopier to shrink the sketch to the appropriate size, I had them photo-etched by a machine shop, turned into rubber moulds, and injected and cast. For this kind of project, I invite my clients to choose their favourite peaks—three fit a normal ring and seven or eight fit a bangle. Typically, we cast the peaks in white gold, using either white or yellow gold for the background.
From the ground up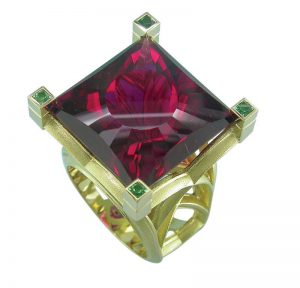 Architecture is another source from which to draw inspiration. Gothic arches and flying buttresses have great appeal for me—their controlled curves translate very well to jewellery forms. Post-modernism, Spanish architect Antoni Gaudi, art nouveau and deco, and Frank Lloyd Wright have all influenced my work over the years, even from something as simple as the curve of an arch or a tiny detail of a doorway or window.
The combination of a gemstone and architecture inspired the ring to the right. Entitled 'Magnum Opus,' the piece comprises a magnificent 20-mm square rubellite tourmaline cut by Stephen Avery in his 'square morph' shape. Created in CAD, the ring is a series of gothic arches rising to support the tourmaline. This was one case where I had accent gems cut to order. Specifically, I asked Stephen to cut 2-mm square tsavorite garnets in the same morph cutting style as the larger stone. After some hesitation, he agreed to cut the minuscule gems. Using a post-in-sleeve method, we bezel-set the four stones as the claws to hold the tourmaline, laser welding them in from the underside.
The inside story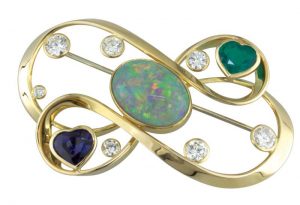 Narrative is another important source of inspiration. Some of my most interesting designs tell a story, whether a client's real-life experience or fantasy.
One of my best clients was, tragically, diagnosed with terminal cancer. Historically, he had always given me very specific guidelines for the pieces he commissioned, and this job was no different, particularly as it would be meant to celebrate his seventh anniversary. He was very determined the piece tell the story of their relationship, rather than be his 'final' gift to his wife, although it turned out to be just that.
He requested the following: a gem representing them as a couple, a gem for each of them, and seven gems to indicate their years of married life. Initially, I considered less valuable colourful gems, such as tourmaline or garnet, but when he told me his starting budget, I realized I had to up my game. Fortunately, one of my top gem suppliers had a fabulous crystal opal with all the colours of the spectrum. He also had a stunning heart-shape blue sapphire, which was symbolic of my client, an avid fisherman who funded waterway conservation. Next, I had to find a gem for his wife. By fluke, another supplier had a great emerald that was also heart-shape and nearly the same size and proportions as the sapphire. My client's wife loves the outdoors, so it was the perfect choice. I bezel-set the coloured gems into a double-infinity brooch (also to signify their bond of love) and finished the piece with seven diamonds, the smallest being .07 carats. Each succeeding stone was a multiple of seven, with the largest stone ending at .49 carats. The story was told and he was able to present the gift on their anniversary. She treasures it still.
Like cats and dogs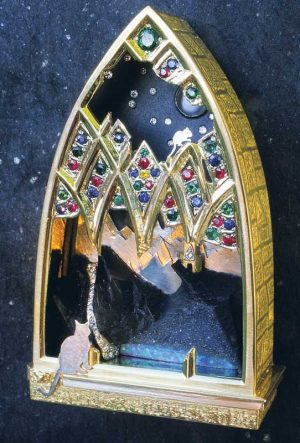 A couple was inspired by a trapezoidal boulder opal. They saw it as a doorway to another dimension. They had recently lost their cat at the ripe age of 20 and discussion led to creating a memorial brooch. Since the couple liked Victorian-era architecture, we crafted a frame and door in gold that swung open to reveal the full view of the opal, with a platinum silhouette of a cat sitting in front. The cat is looking up, spying a mouse carved in relief in the keystone of the door's arch.
A rainbow of gemstones reflects the opal's colours to complete the story.
A few years later, the same couple welcomed their first child and they commissioned another brooch to tell her story. This time, they wanted water and a mountain, for which I found a piece of druzy black agate with a natural fractured surface. I used a narrow piece of black opal to serve as the lake, which was reflected in a polished white gold mirror base and a diamond pavé waterfall tumbling down from the peak. I added a layered white gold mountain range to the background. Maintaining an architectural theme, the mountain was set behind a crumbling gothic arched window frame, which featured multicoloured gems set into the broken stained glass window. The cat re-appears, sitting on the window sill, gazing at the mouse perched on the window and looking across the valley at another castle in the distance. The constellation matching the daughter's birth sign is picked out in tiny diamonds flush-set in a blackened silver sky, while a translucent moonstone displays the phases of the moon (adjusted with a dial on the edge). Hidden behind the window is a comet with a freshwater wing-shape pearl and gold tail fixed in the sky. The piece was entitled 'Time and Three Tails,' a subtle pun on telling the family tale.
Perhaps more amusing are three key fobs we made recently. The client is a hobbyist sculpture and arrived with a comical soapstone moose measuring 70 x 50 mm he had carved. I had it scanned in 3-D and imported the file into my CAD software to reduce it to a suitable size for the fob. We milled three in wax and cast them in sterling silver, adding a jump ring for the attachment, a chain, and split rings. I have used the same scanning and computer processing from paw prints some veterinarians make of a client's pet to create commemorative key fobs, as well.
Jewellery design is a multifaceted discipline—it offers a challenge and great satisfaction as you seek inspiration for your work, most often by combining more than one source to achieve your goal. Feel free to explore all the many avenues available in conjunction with your personal style and design. There is no end to the possibilities.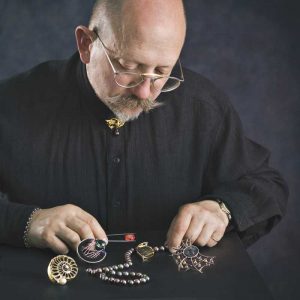 Llyn L. Strelau is the owner of Jewels by Design in Calgary. Established in 1984,
his by-appointment atelier specializes in custom jewellery design for local and international clientele. Strelau has received numerous design awards, including the American Gem Trade Association's (AGTA's) Spectrum Awards and De Beers' Beyond Tradition—A Celebration of Canadian Craft. His work has also been published in Masters: Gemstones, Major Works by Leading Jewelers. Strelau can be reached via e-mail at designer@jewelsbydesign.com.
Source URL: https://www.jewellerybusiness.com/features/seeking-inspiration-how-the-spark-of-an-idea-can-translate-into-thoughtful-jewellery-design/
---