Shades of gold: Picking the best partner for a diamond
by Samantha Ashenhurst | April 28, 2023 2:43 pm
By the Langerman Diamonds Team

When it comes to engagement and wedding jewellery, clients often have preconceived ideas of what colour of gold is "right" for them. Perhaps, for instance, their mother, grandmother, and great-grandmother all had yellow gold wedding sets, and they are keen to carry on this tradition, or maybe they are drawn to the modern look achieved with white gold. In other cases, they may simply have go-to pieces—necklaces, bracelets, bands—they wear daily, and want to make sure their wedding jewellery harmonizes with these favourites. Regardless of the reasoning, deciding on the colour of gold often serves as a client's point of departure when choosing engagement or wedding jewellery, particularly for colourless stones.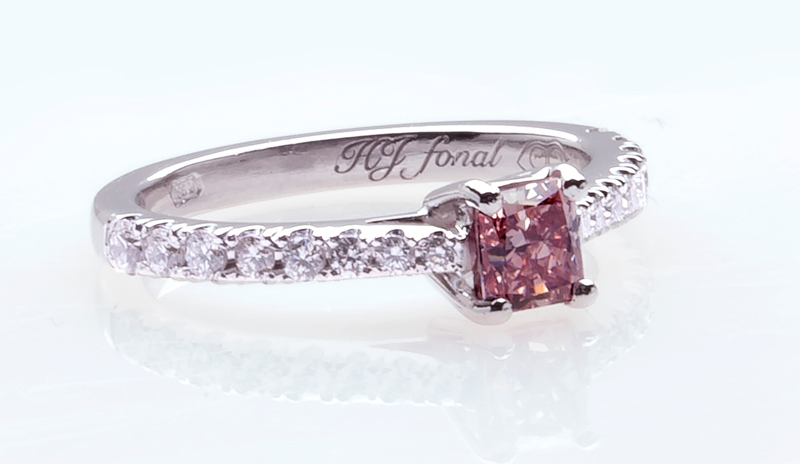 To help ensure a client selects the diamond/gold combination that is best for them, jewellers should consider approaching the process of ring selection from a different angle. Rather than starting with the gold or metal, ask clients to select their preferred natural colour diamond. From there, the colour of gold can be selected according to which nuances will bring out the best elements of the diamond(s).
Of course, this approach might require shaking up a client's idea of how their ring 'should' look. This may be a challenge; however, it will be well worth it in the end when a masterpiece has been crafted with the bride's favourite colour diamond and its complimentary shade of gold. The two elements will come together and produce a match made in heaven!
To inspire colour combinations for unforgettable, heirloom-worthy pieces of jewellery, what follows is an overview of shades of gold and the ways in which they can enhance different diamond hues.
White gold: Icing on the cake
One of the reasons why white gold remains such a popular choice for engagement and wedding jewellery is the colour serves as a striking contrast to almost any skin tone. Indeed, this clean, crisp metal can make a piece pop, and it is certain to attract attention.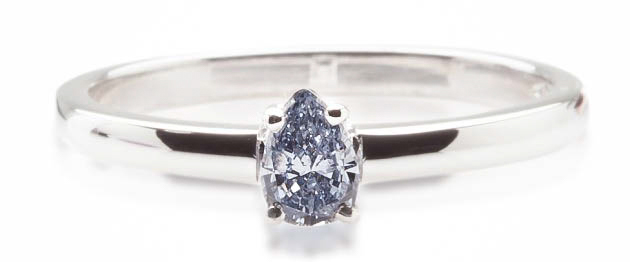 Pairing a colour diamond with white gold can make the stone appear larger and even purer in colour. This optical illusion can be taken to new heights by encircling the natural colour diamond centre stone with a halo of colourless melee diamonds. Alternatively, add colourless diamonds on the ring's band with a natural colour diamond as the ring's centrepiece (Figure 1). The overall contrast between the warmth of the skin tone and the sleekness of the white gold is certain to catch the eye.
White gold also pairs wonderfully with blue and grey diamonds. These mysterious, subtle stones benefit from the brightness of the metal, which helps to showcase every nuance of colour, setting a diamond apart from its colourless counterparts (Figure 2).
White gold bands and settings also play up the cooler nuances often seen in natural colour diamonds. An olive diamond set in a white gold band, for example, will look sophisticated and alluring, while displaying lime undertones (Figure 3). By comparison, when set in yellow gold, this colour of diamond looks beautiful in a completely different way, appearing warm and soft-toned, with mossy and bottle-green nuances catching the eye (Figure 4).
Yellow gold: Something old, something new

In 2005, when Heidi Klum debuted a yellow gold ring with a whopping 10-carat yellow oval diamond, it was a case of "new cool" meets "old-school" glamour. Indeed, nothing is quite so timeless as yellow gold—and, when this classic metal is paired with a bold and colourful stone, magic happens.
Golden tones lend their warmth to diamonds of any colour. Set in yellow gold, a cognac natural colour diamond will look fluid and honeyed. Yellow or orange diamonds appear larger and even deeper in colour (Figure 5), while green and brown diamonds will get a dose of art deco-allure and old-world charm.
In general, many of the celebrity engagement rings which serve as inspiration for jewellery admirers have been designed with yellow gold, as it is flattering for both colourless and natural colour diamonds, along with varieties of pearls and gemstones.
Rose gold: The maid of honour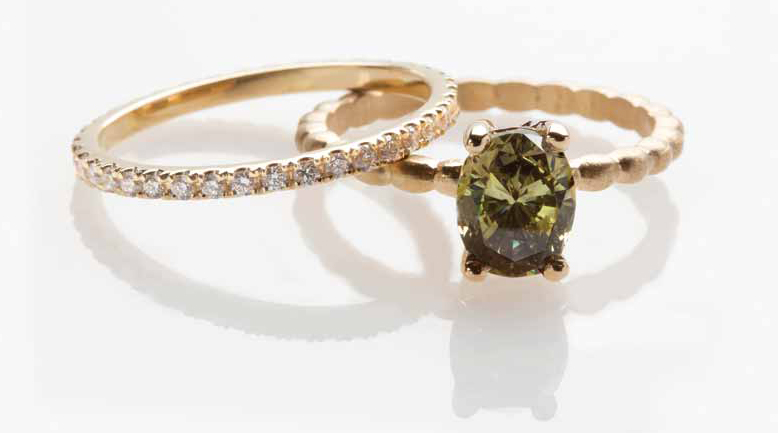 Though often overlooked for settings and bands, rose gold is universally flattering, as well as a wonderfully diverse colour for engagement and wedding jewellery. On some skin tones, the metal will blend in, making the diamond appear to be almost floating; on others, it will simply look striking and exciting.
Additionally, rose gold is also among the best ways to accentuate rosy nuances in champagne and brown diamonds (Figure 6), as well as play up the blush hues in pink and purple diamonds. With the price of pink diamonds being what they are (i.e. consistently increasing), we are all looking for ways to make these precious stones appear larger, deeper in colour, and as pink as possible. A halo of blush melee diamonds set in rose gold can work wonders in making a pink centre stone appear larger and create the overall impression of an impressively pink diamond ring.
In the celebrity sphere, Blake Lively's rose gold engagement ring features a light pink oval diamond. The nuance of the metal naturally adds colour to the diamond, making the stone appear even more pastel and pink.
Mixing it up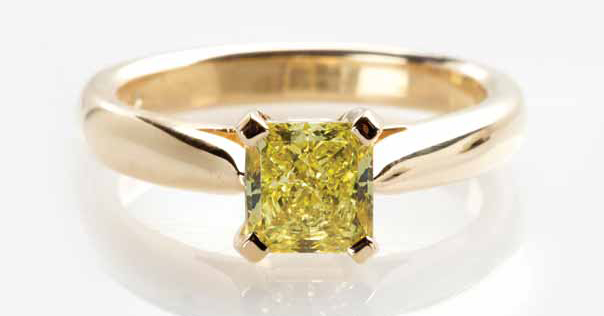 While 2022 was not the first time Ben Affleck ignited a natural colour diamond craze with his pick of an engagement ring for Jennifer Lopez (remember the pink diamond demand of 2002?), the couple's most recent engagement did spark a trend for mixing gold colours.
Lopez's latest engagement ring features an 8.5-carat fancy vivid yellowish green diamond, flanked by two colourless baguettes, book-ended by a matching pair of trapezoid diamonds. The ring is already exceptional, but what makes it even more unique is the mix of gold colours: the yellowish green diamond has been set in yellow gold, while the other diamonds and the band are set in platinum. This serves as a very sophisticated way of playing up the warm, yellow nuances of the green diamond, while simultaneously making the colourless diamonds look crisp and cool.
This look can also be seen in the pear-shaped diamond ring, shown in Figure 7, which features a pink diamond set in rose gold, surrounded by a halo of pink diamonds (also set in rose gold). These are then encircled by a second halo of colourless diamonds, set in white gold on a white gold band. The colourless diamonds add a crisp, chic sparkle to the pink centrepiece, which is accentuated by the warm tones of the rose gold. This creates a striking piece of jewellery where every colour nuance is considered and created to flatter.
The right fit
Setting a diamond with the colour of gold which is most able to bring out a stone's natural nuances is a unique and exciting way to design lasting, eternal jewellery pieces. This feat requires skill and an eye for colour—and it can work wonders in helping a client see how they can make the most of the diamonds they love.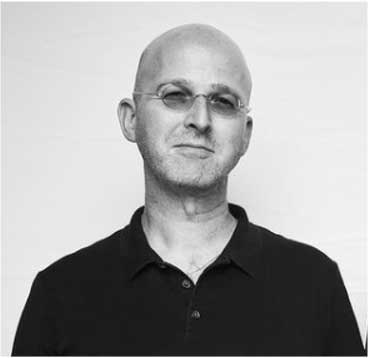 [9]Stefan Langerman, PhD, is the CEO of Langerman Diamonds, a family-owned and -operated business with the world's largest selection of natural colour diamonds. Langerman and his team can be reached at contact@langerman-diamonds.com[10].
This article was researched and written by the Langerman Diamonds Team. Based in Belgium, Langerman Diamonds is recognized for its expertise, dedication to craftsmanship, and the highest levels of service excellence. For more information on natural colour diamonds, please visit langerman-diamonds.com[11] or langerman-jewels.com[12].
Endnotes:
[Image]: https://www.jewellerybusiness.com/wp-content/uploads/2023/04/opener01bag-nat-2-coeurs-jaune-blanc-6-2.jpg
[Image]: https://www.jewellerybusiness.com/wp-content/uploads/2023/04/crop_20191206-20191206-IMG_9377.jpg
[Image]: https://www.jewellerybusiness.com/wp-content/uploads/2023/04/fig-2IMG_2074.jpg
[Image]: https://www.jewellerybusiness.com/wp-content/uploads/2023/04/crop_2OliveSolitaireRing.jpg
[Image]: https://www.jewellerybusiness.com/wp-content/uploads/2023/04/crop_11042017-IMG_0123-3.jpg
[Image]: https://www.jewellerybusiness.com/wp-content/uploads/2023/04/crop__Martin1.jpg
[Image]: https://www.jewellerybusiness.com/wp-content/uploads/2023/04/14062018-IMG_4060-2.jpg
[Image]: https://www.jewellerybusiness.com/wp-content/uploads/2023/04/ID-3112-Pink-Ring-2.jpg
[Image]: https://www.jewellerybusiness.com/wp-content/uploads/2021/04/Stefan-Langerman.jpg
contact@langerman-diamonds.com: mailto:contact@langerman-diamonds.com
langerman-diamonds.com: https://www.langerman-diamonds.com/
langerman-jewels.com: https://langerman-jewels.com/en/
Source URL: https://www.jewellerybusiness.com/features/shades-of-gold-picking-the-best-partner-for-a-diamond/
---