The other precious metal: Shake things up with silver
February 1, 2014
By Jennifer Hopf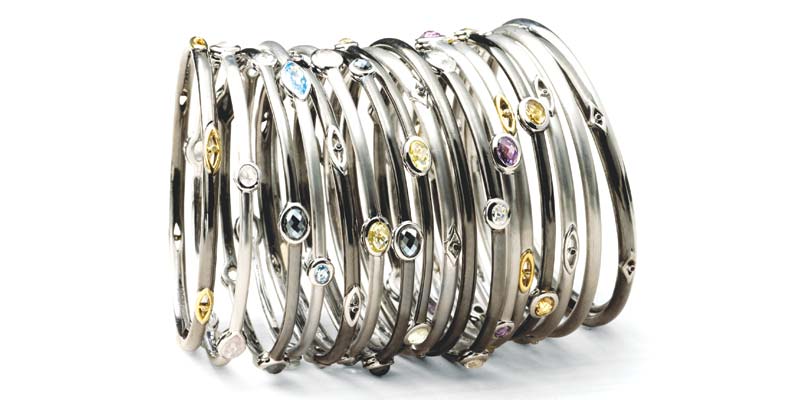 The switch to silver began as a way to adapt to the sky-high price of gold, but since then, it's become a successful approach in its own right. Brands and retailers previously known for dealing exclusively in fine gold jewellery have fully embraced the metal and are even looking for edgier, less traditional styles to keep customers engaged.
As the new buying season approaches, some of the standout styles for the year include two-tone designs, vermeil, and unique finishes like black rhodium, enticing new fans of silver, as well as its devotees. And while having the right product in your cases is a definite must, knowing how to best position it is also critical to sales.
Embracing new techniques
When investing in pricier metals like gold and platinum, designers tend to take fewer risks, opting for more tried and true pieces. Although there will always be a place for traditional styles, more flexibility is needed to stay on top of the trends and meet the demands of today's fashion-conscious consumer.
"Silver is probably the fastest growing commodity," says Mary Milan, vice-president of marketing for PAJ/ELLE Jewelry. "[It] allows the luxury of being a little more elaborate with styling."
Indeed, designers are creating much more significant pieces, whether it's in weight, adding stones, mixing metals, or craftsmanship, says John Anderson, owner of Davidson's Jewellers in Ottawa. Yet, silver remains accessible to the average buyer, filling in the void of sales lost when the price of gold spiked.
Loretta Gordon-Bock, president and owner of Gordons Gold Jewellers in London, Ont., is seeing highly sought-after brands making successful advancements into silver collections. By addressing the price point needs of 'brand enthusiasts,' there is increased potential for demographics of varying age and income to own and wear a piece of that brand.
"These silver collections were not intended to replace the fine selections, but certainly have established their niche in the jewellery market," she says.
Consider that sterling silver can still be manufactured in a way comparable to the quality of gold and diamond jewellery. "In some cases, even an expert eye cannot tell the difference," Milan says. "Although we can offer more weight and fashion in silver, it often still has the look of fine."
Anderson sums it up: "The style is such that it's extremely appealing, and the material is such that it makes it possible to do it at a very affordable price point."
Cultivating a customer base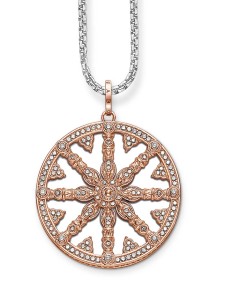 When it comes to selecting silver for your store, a natural choice would be moving forward with the available lines within a brand you already carry. However, there are certain factors to keep in mind.
"It is costly to promote and introduce a top silver brand, so it warrants the time to make the best choices," Gordon-Bock explains. She recommends picking lines that blend with your store image and listening to what clients are requesting in terms of brands.
Another important consideration is deciding who will be selling these new lines. "If your staff members are best suited for the diamond counter selling a $5000 ticket, you may need to hire another salesperson to sell silver," she adds.
Of course, there are different categories, which include generic silver as well. "We've had success with branded lines and there are other situations where we've just picked up a handful of pieces from other companies, too," Anderson says. "Where it wasn't necessarily sold under a brand name, it was sold as a house brand."
However, some marketing experts feel silver should be positioned beside gold and backed by a brand. Milan believes branding should make a strong statement for a greater impact. Also, a larger selection gives a brand more exposure and credibility, whereas a few pieces mixed with other jewellery tends to get lost.
Hera Arkarakas, designer and owner of Hera Jewellery, agrees. "If you're going for a silver collection, I think it's always nice to carry a full collection, rather than just pieces," she says. "I think it makes it more appealing to your customer when there is some brand identity to a collection. It's definitely more attractive when there's a story."
Less is not always more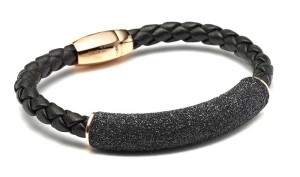 It's fair to assume when there is continuity to a collection that one piece will help to sell another. Factoring in the more accessible price points offers clients the ability to collect and wear multiple pieces from any given line.
Anderson has also seen a number of customers building on collections, whether buying a complete set at once or one piece at a time. There are also those who purchase a finer piece of jewellery and then look to silver as an add-on sale, as both the design and the price are right.
"Clients are dedicating drawers of their jewellery boxes to silver," Gordon-Bock says. "They are looking for great design elements and details that make their silver purchase feel as important as if it was fine gold."
Sean Polan, national sales director for Axessimo International, thinks that while the demographic making more than $100,000 is shrinking, women still want to remain up to date with evolving fashion trends and have the option to change up their look more often, whether it is with shoes, purses, or their jewellery. With silver, customers can indulge in more for a lot less.
Mixing up the mediums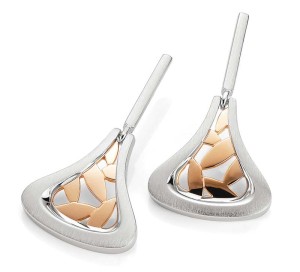 Polan's impression is consumers are leaning more toward combining silver with fun and unusual materials like leather. Mixing is a way to jazz up silver styles and attract the consumer's eye, he says.
Pairing silver with stones and gold not only offers supplementary choices among a brand, but also helps lift base price points to be more in line with client buying preferences. "A great design at $200 is not the right answer for any jewellery store when the purchaser wanted to spend $2000," Gordon-Bock explains.
Silver jewellery is much more interesting than it used to be, Arkarakas says. She's noticed her clients prefer having a versatile piece. Jewellery with a bit more 'oomph' looks just as great for an evening out as it does while picking up the kids from school. "We're getting creative; we're adding diamonds to it and we're adding gold to it, so it is a fine piece of jewellery, but still has a casual feel that you can wear every day because it is combined with silver," she notes.
Introducing gemstones or other accents elevates the style of the piece, while achieving a two-tone look allows wearers to tie all their jewellery together. Mixing the colours of the metals gives women the opportunity to combine what they already have at home with a fresh piece for a new, updated look.
Is silver here to stay?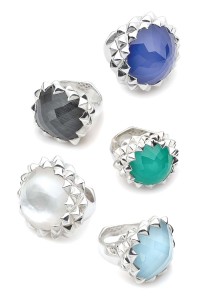 It is clear silver is selling. So who is buying? From the younger generation to more established clientele, it seems to be everyone. Gordon-Bock also points out that while silver jewellery used to  be a self-purchase, its price point and value-added panache now make it a go-to gift.
Many shoppers stock up on silver before travelling as a substitute to taking their finer pieces along with them. Others simply find silver enjoyable as a carefree wear on a more regular basis, not something to be reserved solely for special occasions.
As designers continue to get more creative with offerings that rival less attainable gold collections, silver is proving to be worth much more than second place.
Jennifer Hopf is a copywriting specialist and freelance writer based in Toronto. A journalism graduate from Durham College, she is now focused on feature writing for magazines, with a passion for the jewellery and luxury industry. She is also savvy in social media and digital content marketing, with a background in retail sales.
Endnotes:
[Image]: http://www.jewellerybusiness.com/wp-content/uploads/2014/02/HERA_CocktailStax-Bangles.jpg
[Image]: http://www.jewellerybusiness.com/wp-content/uploads/2014/02/KB_06.jpg
[Image]: http://www.jewellerybusiness.com/wp-content/uploads/2014/02/id1432_img01.jpg
[Image]: http://www.jewellerybusiness.com/wp-content/uploads/2014/02/Breuning-suite.jpg
[Image]: http://www.jewellerybusiness.com/wp-content/uploads/2014/02/rings.jpg
Source URL: https://www.jewellerybusiness.com/features/the-other-precious-metal-shake-things-up-with-silver/
---