The Wonders of Canada
August 28, 2019
By Lauriane Lognay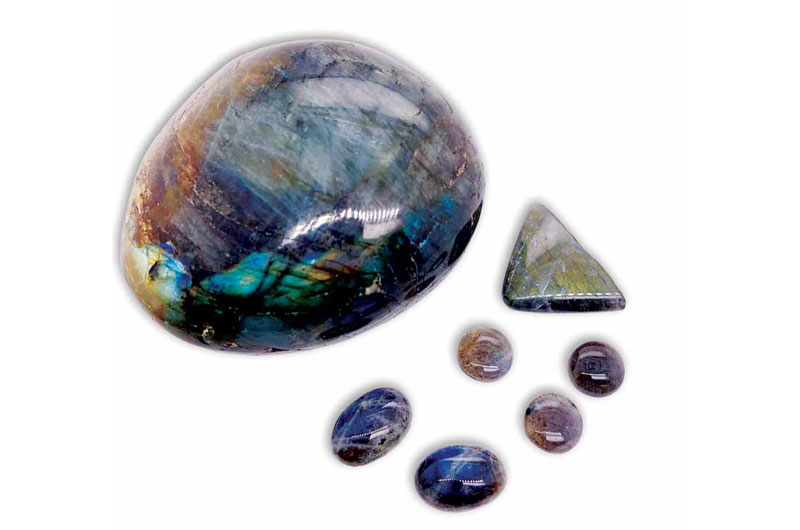 As consumers and designers alike continue to prioritize the ethical mining of metals and gemstones, I have encountered more and more individuals interested in adding stones with Canadian origin to their collections. This is largely because these beautiful gems have virtually no risk of being a source of conflict, nor a source of finance for terrorism. While mined stones are often accompanied with papers tracking their origin, these reports are not always a guarantee that a particular stone was not, say, mined by a child, or harvested through another source of unethical means.
Along with the product itself, today's retailers want to sell a gemstone's story, including its true origin and the methods of how it was mined—but is it possible to find affordable gemstones that were mined in Canada by fairly compensated adults? The answer is yes!
It seems like every country in the world has its own array of gemstones, each with their own specific quality (Kashmir sapphire from Kashmir), specific colour (Cobalt spinel in Vietnam), specific stone (Tanzanite in Tanzania), or specific inclusion (three-phase inclusion in emeralds from Russia). Likewise, Canada has its own unique offerings that go far beyond diamonds.
A bit on geology
Canadian geological history goes back four billion years—that's four billion years of rock formation, natural climate change, tectonic activity, volcanos, and continent movement to form the country we know and love today. All of this transformation and activity contributed to the formation of gold, copper, zinc, and iron in the Canadian Crust.
These days, the mining industry in Canada employs nearly 426,000 people who work in the extraction, fabrication, and treatment processes of the minerals. This business directly affects the Canadian economy, taking in a booming $97 billion in gross domestic product (GDP) in 2017.[3]
Canada is considered one of the largest mining countries in the world, with more than 60 minerals and metal produced and processed. The nation is also recognized worldwide for having the safest practices in the industry[4], as well as some of the most durable techniques[5].
When considering geology and gemmology, one interesting Canadian locale is Québec's Mont-Saint-Hilaire. Home to 333 different found specimens—including 37 that were discovered in the country for the first time—the area is regarded as one of the largest sources for different minerals in Canada.[6] The site is largely privately owned, which makes digging on it almost impossible, but the location remains a hot spot for tourists. 
Another area worth exploring is Bancroft, Ont., which boasts approximately 180 different minerals on site (note: the Bancroft Gem & Mineral Club Mineral Museum counts about 400 different specimens found locally for interested parties). Unlike Mont-Saint-Hilaire, access at this location is a bit easier, as some mines are still active. Further, the Government of Ontario permits recreational digging for anyone interested in visiting as a means to promote the advancement of geology and gemmology in the province.
Canadian gems in jewellery today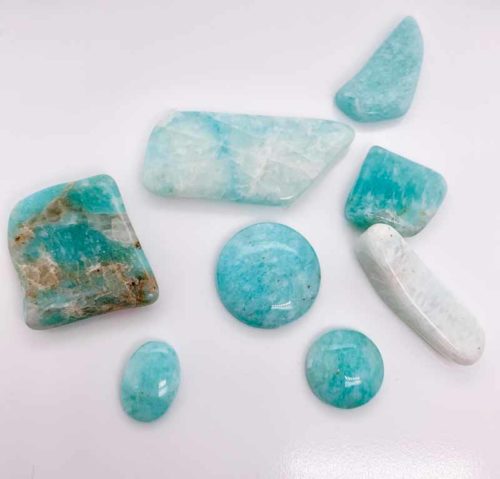 The Canadian crust counts an innumerable number of minerals and metal, some yet to be discovered. I will concentrate on a few gemstones that are often used in jewellery, along with some lesser-known stones that could be more readily incorporated.
Ammolite
Some Canadian gems are well known outside of the country because of their rarity, appearance, and quality. The ammolite gem is a good example.
This gemstone comes from a Jurassic fossilized cephalopod that is referred to in present day as ammonite. This stone is full of micro layers of aragonite, which contribute to its iridescent appearance that vaguely resembles the black opal. With a hardness of 4 on the Mohs scale, it's common to see it in a triplet or doublet with quartz to make a more durable gemstone for the jewellery industry.
Collectors from around the world love to purchase this fossil in its modified form, along with the ammonite for collection purposes. The latter can measure up to 1 m (3.3 ft) in size with a beautiful array of colours, ranging from red, to blue, to green.
Ammolite can be found in Alberta and in the Canadian Rocky Mountains.
Garnet
Garnet is one of the most prominent gemstones in Canada. This is because it can be found in a number of varieties in almost every province and territory.
Tsavorite, demantoid, and hessonite are generally the most valuable finds. Along with Sri-Lanka, Madagascar, Myanmar, the U.S., and Tanzania, Québec is among the most well-known and largest localities in the world for hessonite garnet.
Most garnets discovered in Canada are sourced from one site: Jeffrey Mine in Asbestos, Qué. Access is limited to a few outings per year and, as the mine is all but abandoned, the water level has risen steadily, submerging the garnet section of the mine. This means accessing the area and finding new hessonite garnet or[8] dermatoid is becoming increasingly difficult. (For more information, see Guide des pierres précieuses by Walter Schumann [2008].)
Specific garnets can be found in the following locations across Canada:
Tsavorite (green variety): Québec.
Hessonite (orange to peach variety): Québec, British Columbia, Ontario, and the Yukon.
Demantoid (green variety): Québec and the Yukon.
Almandine (brownish red variety): Québec, Manitoba, British Columbia, Nunavut, Ontario, and the Yukon.
Rhodolite (purple variety): British Columbia.
Andradite (brown and green variety): The Yukon.
Spessartite (orange variety): The Yukon.
Labradorite
Labradorite is a feldspath variety found mainly in Newfoundland and Labrador. Its hardness is around 6 to 6.5 on the Mohs scale, making it fairly soft.
This gem exhibits a labradorescence—essentially an iridescence that can present as different colours on the surface and inside of the gemstone. Labradorite is often used as an ornamental gemstone and, as of late, is experiencing an increase in popularity in jewellery worldwide. The stone can also be found in Australia, the U.S., Mexico, Russia, and Madagascar.
Labradorite has been on the market for a long time, and the finer qualities are the ones that exhibit the most colour and intensity. While most commonly found in blue and/or yellow, rare varieties in purple have also been identified[9].
Diamond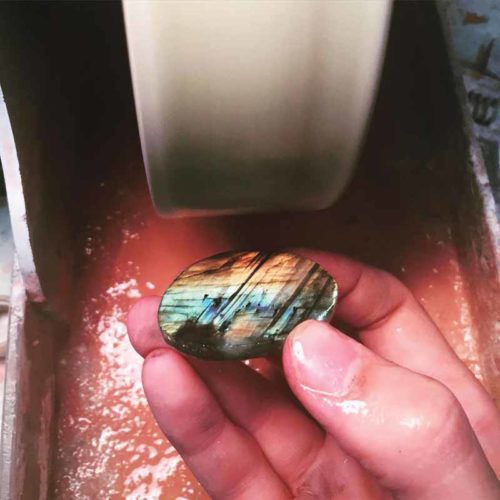 Canada has seen the opening of several mines in recent years that have produced extraordinary diamonds of fine quality. As such, the country has experienced an explosion in the diamond market, offering known-source, non-conflict, ethically mined gems. This success follows what seems to be the gemstone trend of the century: prioritizing ethics and transparency.
The first-ever production of a Canadian diamond was in 1998—who could have predicted that within two decades the country would emerge as one of the largest diamond producers in the world, with more than 23 million carats mined in 2017? There is no doubt Canadian diamonds have experienced a steady increase in popularity and will continue to grow on the market.[11]
The country has celebrated many significant discoveries in recent years. In December 2018, Dominion Diamond Mines, headquartered in Toronto, found a 552-carat fancy yellow diamond at its Diavik Diamond Mine in the Northwest Territories. Diamond mines can also be found in British Columbia, Nunavut, Ontario, Québec, and Saskatchewan. Canada is known today as one of best quality diamond producing country in the world.
Jade
Jade has two varieties: jadeite and nephrite. Canada is known for its production of the latter—so much so that the largest jade Buddha in the world was made from it! The figure was created from an 18-ton boulder, which was found in British Columbia in 2003. Since then, the giant jade Buddha has travelled the world.[12]
Jade is considered one of the toughest gemstones; items such as bangles, statues/sculptures, and jewellery can be carved from it and still leave a durable gemstone. Jade is a gem loved by many Asian cultures. It is believed to bring good fortune, and is used a lot on the market today. While the jadeite variety is considered more precious than its counterpart (imperial green, icy white, and lilac jadeite are the most expensive), nephrite is more commonly used for sculptures and in jewellery today, as it is more affordable. It can also be found in various colours.
In Canada, jade can be found in British Columbia, the Yukon, and Québec.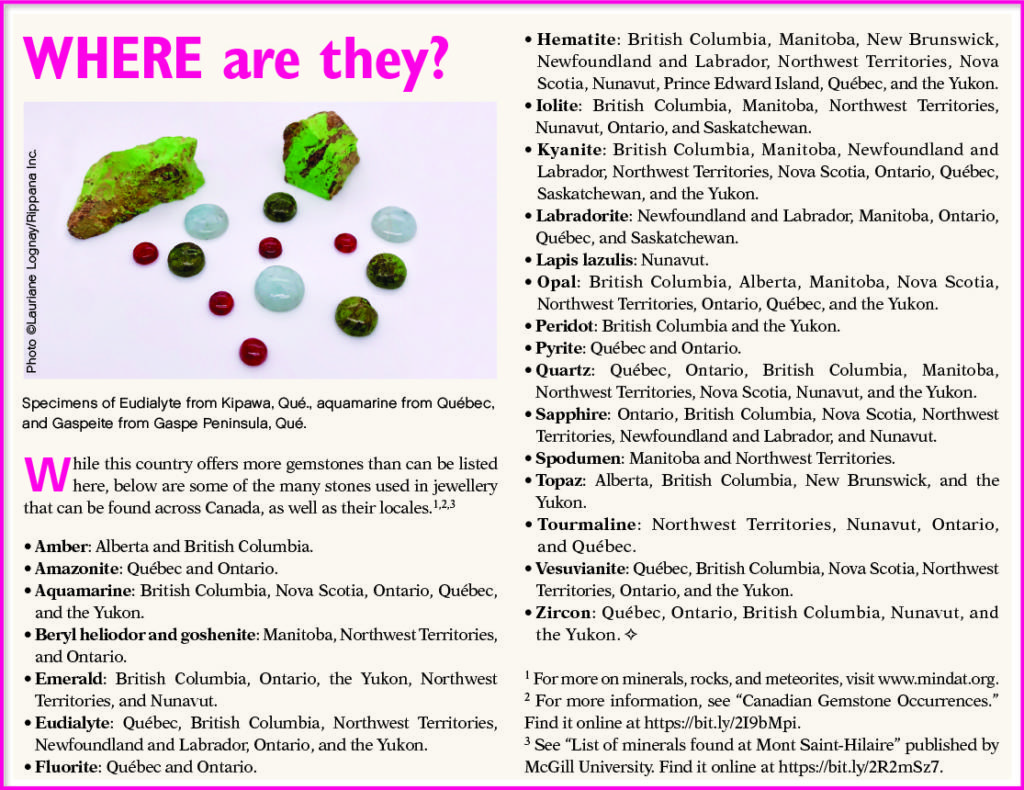 Hidden treasures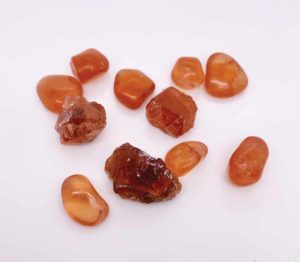 All in all, Canada has no reason to envy the numerous other gemstone-producing countries around the world. Our nation has significant choice in colour, quantity, and quality to suit the needs of anyone and everyone looking for that special gemstone. While some gems are a bit harder to find than others, this is a worthwhile challenge, as it encourages our economy and demonstrates that we are not just a diamond-producing country. Clients looking for locally and ethically sourced gems, complete with origin stories, can find happiness in Canadian resources.
A worthy mention as an end note: a few months ago, blue cobalt spinels were discovered on Baffin Island in Nunavut. This find proves, once again, that Canada has a vast variety of gems. While the source is still new and unstudied, it will be interesting to follow this development.[15]
For now, all we can do is wonder: what's the next gem from Canada that will make it big in the world?
[16]Lauriane Lognay is a fellow of the Gemmological Association of Great Britain (FGA), and has won several awards. She is a gemstone dealer working with jewellers to help them decide on the best stones for their designs. Lognay is the owner of Rippana Inc., a Montréal-based company working internationally in coloured gemstone, lapidary, and jewellery services. She can be reached via e-mail by contacting rippanainfo@gmail.com[17].
Endnotes:
[Image]: https://www.jewellerybusiness.com/wp-content/uploads/2019/08/OpenerLabradorite-specimens.jpg
[Image]: https://www.jewellerybusiness.com/wp-content/uploads/2019/08/Ammolite-specimen-From-Calgary-Canada.-Lauriane-Lognay-Rippana-inc.-copy.jpg
taking in a booming $97 billion in gross domestic product (GDP) in 2017.: https://mining.ca/fr/ressources/a-propos-de-lindustrie-miniere
having the safest practices in the industry: https://bit.ly/2ZnAAj7
as well as some of the most durable techniques: https://bit.ly/2I6mxII
largest sources for different minerals in Canada.: https://bit.ly/2R2mSz7
[Image]: https://www.jewellerybusiness.com/wp-content/uploads/2019/08/Amazonite-specimens-from-Peribonka-Quebec.-Lauriane-Lognay-Rippana-inc.jpg
the area and finding new hessonite garnet or: https://mining.ca/fr/ressources/a-propos-de-lindustrie-miniere
have also been identified: https://mining.ca/fr/ressources/a-propos-de-lindustrie-miniere
[Image]: https://www.jewellerybusiness.com/wp-content/uploads/2019/08/Labradorite-from-Labradore-being-cut-into-a-cabochon.-Lauriane-Lognay-Rippana-inc..jpg
will continue to grow on the market.: https://bit.ly/2IKG80r
giant jade Buddha has travelled the world.: https://bit.ly/2MF6E0b
[Image]: https://www.jewellerybusiness.com/wp-content/uploads/2019/08/yooJB_Aug2019_HR-14.jpg
[Image]: https://www.jewellerybusiness.com/wp-content/uploads/2019/08/Hessonite-Garnet-cristals-and-tumbled-from-Jeffrey-mine-Asbestos-Quebec.-Lauriane-Lognay-Rippana-inc..jpg
it will be interesting to follow this development.: https://bit.ly/2K8G1hY
[Image]: https://www.jewellerybusiness.com/wp-content/uploads/2018/05/headshot.jpg
rippanainfo@gmail.com: mailto:rippanainfo@gmail.com
Source URL: https://www.jewellerybusiness.com/features/the-wonders-of-canada/
---