Time for a change
February 1, 2016
The watch industry looks for a brighter future
By Jacquie De Almeida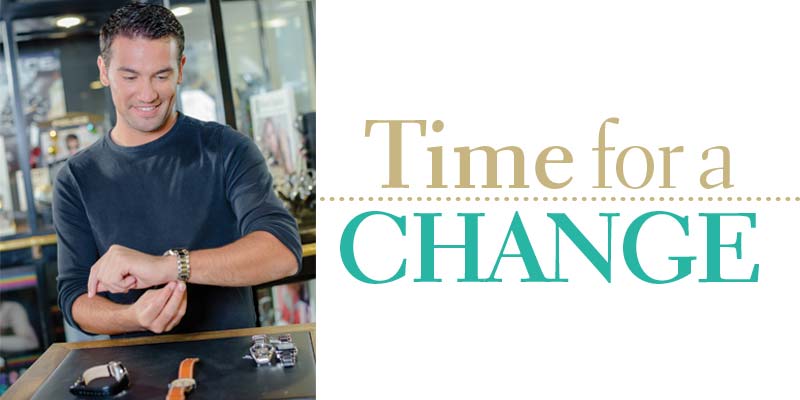 [1]David Barthau is big on personal history.
As head of Barthau Jewellers in Stouffville, Ont., he's proud of his family's 47 years in the business, which is partly why he decided to create a signature watch line.
"It's great to have brand-name watches, but our business is a brand in itself," says Barthau, a trained watchmaker. "We've been around for almost 50 years, so if I'm going to put my name on something, I'm going to stand behind it."
Ranging from $100 for a basic watch to $5000 for a diamond-set timepiece, the signature series features Swiss quartz and mechanical movements, their dials engraved with 'Barthau.' While the line doesn't compete in function or style with the brand names he carries, his reason for creating it is rooted to a degree in competition.
"Jewellers have to be unique, especially with the Internet," he explains. "I have had some lines where people plug in a model number and they see where they can get it for the least amount of money online."
By the numbers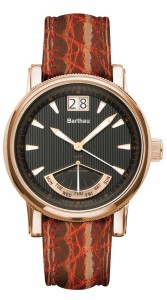 Competition on the Internet is just one of the reasons why the watch industry—Swiss and non-Swiss—is struggling to maintain the record highs of previous years. According to the Federation of the Swiss Watch Industry (FH), watch exports declined in October by 12.3 per cent compared to October 2014. "While an unfavourable base effect and one fewer working day may have played a part in this development, the poor result stems primarily from an acute contraction of the main markets of Asia and the United States," said FH in its October 2015 report, the most recent figures available at this article's writing.
The numbers are worrying. Export value fell by 12.7 per cent, while volume tumbled 8.7 per cent; steel pieces were hardest hit, recording a decline of 14.3 per cent in volume.
In terms of export price, watches in the 200 CHF to 500 CHF ($270 to $680 Cdn) category plummeted by 13.2 per cent. Watches costing more than 500 CHF recorded a decline of 7.1 per cent and 8.2 per cent in volume and value, respectively. The 3000 CHF and above ($3900-plus Cdn) category saw downturns in excess of 13 per cent. In specific markets, Hong Kong and the United States decreased the most at 38.5 per cent and 12.2 per cent, respectively.
Professional services firm Deloitte has been studying the watch industry since 2012. In its 2015 survey, it found the strong Swiss franc had a significant effect on sales, coupled with weaker foreign demand in Hong Kong and China. Its online survey of 51 watch executives revealed the most troublesome information: 41 per cent of them said they were pessimistic about the economic outlook for the Swiss watch industry, while only 14 per cent were optimistic. Deloitte says these are the worst results since it created the survey.
The numbers for lower price points are equally disturbing. According to NPD Group, U.S. retailers sold $375 million in watches in June, a decline of 11 per cent over June 2014. The biggest drop, however, is in the lower end. NPD says watch sales in the $100 to $149.99 range fell 24 per cent.
Time marches on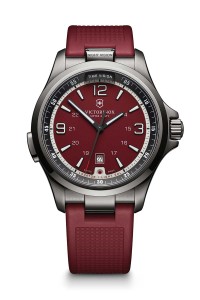 Rich Rosenfeld, vice-president of sales for Victorinox Swiss Army, sees 2015 as a transitional year for the watch industry.
"Every industry goes through periods of adjustment," he says. "While it can be tough for some to manage through these times, companies willing to challenge the norm will strengthen. These forward-thinking companies often bring the creativity of new technologies, new methods of production, stronger communication to the consumer, strategic market growth, etc. The best news for the watch industry is that smartwatch technology has brought an entirely new wave of consumers to our business. Our consumer base is being reborn."
Many Swiss brands have developed their own smartwatches, Movado and TAG Heuer being two of the latest to launch a wearable. However, the full extent of the effect the Apple Watch is having on traditional watch sales is still up for debate. The tech company says it isn't providing any sales figures for competitive reasons, although consumer and trade publications have reported the watch to be both a hit and a flop depending on whether you ask techies or non-techies.
The hype around technology may be inadvertently creating a focus on traditional watches, Rosenfeld says. "With the advent of smartwatches, people are becoming more comfortable wearing watches as an accessory," he explains. "Anything that brings more attention to the wrist and gets people wearing watches is good for the industry."
Sian Williams, president of Bulova Corp., says Apple is "invading our space" with its line of wearables. "But it's also introducing watches to a whole new generation," she notes. "What this means is the pie is getting bigger and I think that can be a positive."
With all this attention on smartwatches, some consumers may be looking to the past as a way to stand out. Jay Cameron, vice-president of sales and marketing for Montreal-based Fiori Canada, says he's seen more interest in pocket watches in the last year or so. Popular as gifts for groomsmen, a pocket watch worn with a fob that attaches to a belt loop is a growing trend, he explains.
"I don't know if there's resurgence in pocket watches per se, but availability is definitely a factor," says Cameron. "A lot of watch companies have abandoned them entirely, so that is created a bit of a niche market. So for companies that do have them, they sell a lot more because people are looking for them."
For your information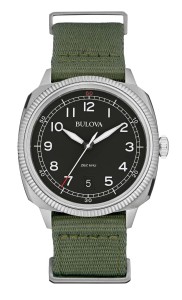 Williams says analytics play a big part in a brand's success at the counter, particularly when it comes to keeping track of a retailer's sell-through. "If you're only looking at sell-in, you're being short-sighted. Sell-through is key to everything. If you get sell-through right, sell-in naturally flows."
While it's true a retailer can track which models sell through the most among its customer base, Williams says working with a brand that provides details about the top-selling SKUs within a collection goes a long way to helping a store owner get a better grasp of what they should be carrying. Although brands may report different levels of success, the overall impression is Canada is not immune to the challenges the watch industry is facing. In fact, the weak Canadian dollar is likely adding further strain.
"Canada is faring much the same as the industry as a whole," Rosenfeld says. "However, every market has its own unique opportunities for growth. As an example, we are starting to see men in Canada embrace more colour in their watch dials and watch straps than we've seen in years past. This is an emerging trend we look forward to watching evolve in 2016."
The outlook for the year will be challenging, he adds, but there is hope for positive results. "The first half of 2016 will continue to be a bumpy ride for much of the industry and brands will need to make adjustments," Rosenfeld explains. "Retailers will do their spring cleaning to weed out brands that have stopped evolving. Based on production lead times, etc., many brands will catch up to the consumer's needs in the second half of 2016. So we expect some industry growth to finish out the year."
All eyes will be on Baselworld next month, as the watch industry makes its yearly pilgrimage to the land of Swiss watches. Stay tuned for our report on need-to-know trends and show highlights.
Endnotes:
[Image]: http://www.jewellerybusiness.com/wp-content/uploads/2016/01/bigstock-Man-shopping-for-a-watch-95330177_opener.jpg
[Image]: http://www.jewellerybusiness.com/wp-content/uploads/2016/01/barthau-511-00109.jpg
[Image]: http://www.jewellerybusiness.com/wp-content/uploads/2016/01/TIM_241717__000_S1.jpg
[Image]: http://www.jewellerybusiness.com/wp-content/uploads/2016/01/96B229.jpg
Source URL: https://www.jewellerybusiness.com/features/time-for-a-change/
---