Unbridled passion: Designing for the happy couple
by emily_smibert | May 25, 2017 1:29 pm
By Kate Hubley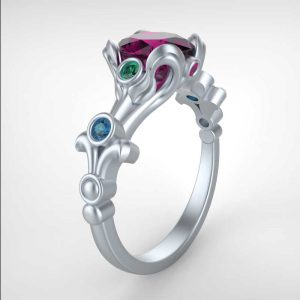 Barely a year into my jewellery-making classes, friends started to ask me to make their wedding rings. I had no idea how to design for stones, except for a typical chalcedony cab. Yet, I would always agree and spend the next three months in the throes of panic, completely out of my depth. I would head to the bench and make the same wonky ring five times. Invariably, I'd end up at the door of my first wax teacher, Paulo Vena, with a sheepish, anguished grimace on my face as I looked up at the security camera in Montreal's Cathcart building, praying he would buzz me in. Being the kind soul he is, he'd always help me with whatever problem I'd have, be it a thin shank or crooked prong, and save the day.
Of course, I still drop by to see Paulo today, but it's more for the fancy espresso and peppy conversations about our families and pets—it's safe to say I've figured a few things out while at the bench over the years, especially when it comes to bridal design.
Bridal design is a ménage à trois
I love the idea of designing and creating wedding rings. Bridal is in a category unto itself, where the bride or groom always comes first. The experience is incredibly meaningful for all three of us—for the happy couple celebrating their love, and for me, someone they've invited to be part of the milestone. In most cases, he comes to me—the co-conspirator—to create the ultimate surprise for her.
Undertaking the tremendous responsibility of getting a ring just right, nay, absolutely perfect, can prove quite the challenge. The engagement ring is probably the most scrutinized piece of jewellery a person can own. It is a piece he or she wears every day and rarely takes off, and symbolizes a treasured gift of love and commitment. More importantly, the engagement ring is also a piece to show off and have others gush over. Thus, the pressure is on.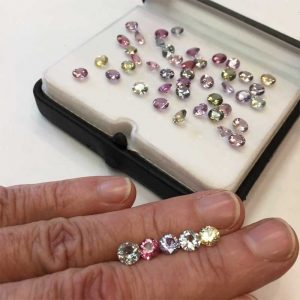 Creating a love connection with clients
When a couple comes to me, they tend to correspond with one of three archetypes. Being able to understand who they are and their design goals help me decide if I am the right match for them.
The lovely jewel: This couple has a reasonable but not open-ended budget. They are in love with the idea of having a unique ring created for them and are over the moon with the royal treatment provided. They don't necessarily know you, but you've created a relationship of trust with them. You often have to put in extra design time—I usually offer three sketches as a starting point—and you feel like you have become friends by the time the rings are completed.
The rare gem: They love your esthetic and want you, and only you, to create their one-of-a-kind piece. The couple is excited about being part of the design process and are willing to pay for finer materials and more exquisite stones. They are looking for a special experience and a truly unique ring. You feel like you are friends before you even get started.
The diamond in the rough: You're contacted and asked upfront "how much?" to make a ring similar to one they saw online. They are shopping for price and are not as concerned with a custom design or client experience.
Many jewellers, integrity intact, are proud to oblige clients for whom price is the first concern. There are others who 'die a little inside' when they are not creating from a blank slate. However, if you flip your mindset and look at these scenarios as an opportunity to bring the client into your 'world,' you can add a unique design feature, making their ring a true original. A happy client experience can also lead to more sales with wedding bands and referrals. Plus, you can talk about it on your blog and social media.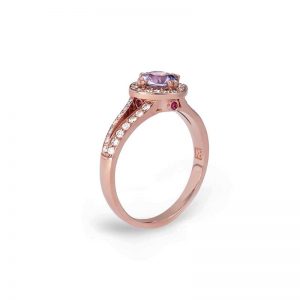 Saying "I do" to creating your own
bridal collection
The sheer bliss of designing for a happy couple is enough to make you start thinking about developing your own bridal collection. And let's be honest, it can be a lucrative segment of the jewellery industry, as couples are often willing to invest in this monumental milestone.
However, it's very competitive out there. Other designers and jewellers, local jewellery stores, chains, big box stores with jewellery and bridal counters, online retailers and sales platforms are sending a litany of messages to anyone with nuptials in their future. Finding your voice in the chatter and creating an enduring, distinctive collection, one that whispers into the hearts of soon-to-be-weds, is quite the challenge.
Avoid rushing into things
One of the key steps in the process of designing a bridal collection is to take a step back and determine your demographic.
What does your client's dream wedding look like? What kind of reception will be held: fancy hotel or country garden?  Will a cluster of meadow flowers or a sculptural bouquet be carried? What sort of attire will the client wear? Are there colours or textures to play off of such as vintage lace or crimson taffeta, silk, polyester, linen or velvet? What about the couple's budget?
When you spend time devising a clear picture of your future bride's and/or grooms desire's, you will be able to make clever decisions that marry your design esthetic with their personalities.
The best way to do this is to create a mood board representing everything about the happy couple and their big day. Pinterest is a great way to do this!
When I went through this exercise, it became very clear that I design for the free-spirited bride and groom. Whether they are millennials or tying the knot for a second time, my clients tend to unapologetically love what they love and choose style over fashion trends. This profile, combined with the fact I am a gemmologist, led me to my Vive Bridal collection, which I like to say is a "colourful twist on the traditional engagement ring," as it features coloured gemstones.
Will it be an endless love?
As you develop a bridal collection, you may face a common conundrum and be torn between your own esthetic and that of the bridal world. Do your designs break the mould or stay within classic conventions?
Whatever your answer, you have to keep in mind the longevity of this ring.
Branching out
After you've travelled down the bridal path, reflect on whether or not you can expand your collection. Will you be able to create new designs with a similar essence or is that awesome ring a one-hit wonder? Have you thought about wedding bands and creating matching designs for the groom?  What about hers and hers, or his and his?  Ultimately, as a designer you need to determine how lucrative this venture will be for your business or if it is overly ambitious.
Thriving on the business of love
Couples will come to you armed with questions because a custom ring design is a big investment for them, not just monetarily, but emotionally, too. Remember, this venture is not solely creative, but a business transaction, as well.
It's important to know the cost of all your materials, and the approximate weights in all metals of all sizes. By making charts to refer to with itemized costs and profit margins before you quote a price, you can save yourself
a lot of hassle this way as miscalculations do happen.
Product knowledge is one way you can help ease your clients' minds. In being fully versed in the materials you are using—stones, metals, and alternative mediums—you can be prepared for any questions or concerns they may have.
Finally, having clearly written terms of payment, return policies, contractual agreements, and warranties printed out for clients eliminates confusion, and keeps both you and your customers accountable.
Surround yourself with the best team
I don't work in a bubble: I rely on seasoned experts to help me create rings I'm proud to present to my clients. Here's my recipe for a winning design team:
Reputable diamond and gem dealers who I personally know and trust.
CAD designer: about 80 per cent of my bridal pieces are designed on CAD. Designers must understand my esthetic and know the various constraints of fabrication, so the piece can be finished to perfection. Some CAD designers don't have bench experience, and may thus overlook some important fabrication details.
Stone-setter: I would love to take a year off and do an intensive stone-setting course, but that just isn't in the cards. So, I work with a few amazing micro-setters—sometimes before I start the work to make sure I have factored in all considerations. Plus, I like working with setters who have a clean bench and organized orders. This allows me to feel confident other clients' stones aren't getting mixed in with mine!
Master jewellers, colleagues and teachers who I can turn to for advice because this is an industry where you never stop learning.
The power of love
Whatever your reasons for designing bridal—for the love of design, for the emotional rush of knowing you created something that's meant to last forever, or for profitability—you always have to keep in mind the importance of the ring in a couple's life while staying true to the passion that drives you to create. 
Kate Hubley is owner of Montreal design house, K8 Jewelry Concepts Bijoux. She is also a Fellow of the Gemmological Association of Great Britain (FGA) and a 2015 Saul Bell Award recipient. Hubley can be reached at kate@k8jewelry.com.
Endnotes:
[Image]: https://www.jewellerybusiness.com/wp-content/uploads/2017/05/K8-Jewelry_CAD-rendering_work-in-progress.jpg
[Image]: https://www.jewellerybusiness.com/wp-content/uploads/2017/05/Kate-Hubley_selecting-stones.jpg
[Image]: https://www.jewellerybusiness.com/wp-content/uploads/2017/05/Kate-Hubley_K8-Jewelry-Bijoux_Vive-Bridal_Mariage_Montreal-Designer.jpg
[Image]: https://www.jewellerybusiness.com/wp-content/uploads/2017/05/K8-Jewelry-3D-Design.jpg
Source URL: https://www.jewellerybusiness.com/features/unbridled-passion-designing-for-the-happy-couple/
---