VicenzaOro: The jewellery revolution
November 30, 2018
By Carly Midgley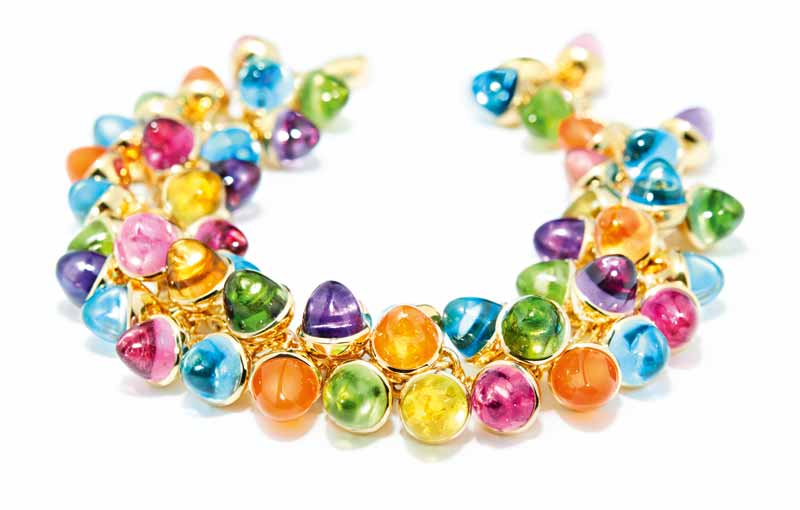 It's not every day you get to marvel at monuments that have been standing since the 16th century—unless, of course, you happen to live in Vicenza, Italy.
Termed "the capital of jewellery" by The New York Times, the city plays host to the international jewellery fair, VicenzaOro September, each year. Like much of Italy, it boasts a rich history that inspires its many designers and artisans.
"Italians have developed design in everything—fashion, cars, jewellery. We have a culture for beauty," says Bernardo Bongini, president of Fani Gioielli, from his booth at VicenzaOro. "We also have a lot of history, and from the beginning, it has influenced us."
Bongini isn't alone in this belief. Roman designer Alessio Boschi, in the Visio.Next: Trends presentation on the show's opening day, said Italian culture and history take centre stage in everything he creates.
"I think designers don't integrate enough history. Everything should be as unique as our past," he explains, adding Italy's well-established reputation for jewellery excellence plays a major role in his business. "The past generation has helped us to have an open door just by saying we're Italian, which is not fair for everyone, but I use that. I use my accent, I use my personality, everything—especially when I design something."
Italy's jewellery industry certainly does seem to have a certain allure, with VicenzaOro September 2018 drawing more than 20,000 visitors from 117 countries. Running from September 22 to 26, the event saw an uptick in visitors from both the United States and China (increasing by 23 and 73 per cent, respectively) and attracted 1500 buyers and 140 journalists. Its organizer, the Italian Exhibition Group (IEG), identifies adaptability as a major contributor to this success.
"The most important thing we do here is provide all our operators and buyers with inspiration for their shops," said IEG's jewellery and fashion division director, Marco Carniello. "We think it is the mission of every trade fair operator at every show to support the industry in its evolution."
IEG is now implementing a number of strategies to help accomplish that. This year, it began marketing VicenzaOro as a 'show' instead of a 'fair,' with organizers describing 'shows' as warmer events with a greater focus on community, sustainability, and a positive experience. Carniello also stresses the importance of the annual TrendVision presentation delivered by industry analyst Paola de Luca, which gives attendees an inside look at where the market might go in the next two years.
However, de Luca points out accurate long-term analysis depends on looking beyond what's hot now to examine broad social movements. The question is not which styles or materials people like, but which emotions and strategies inform their style choices.
"Jewellery translates society's changes. It's really a reflection of history," she says. "Ten or 20 years from now, a jewel will reflect this particular time in history, our emotional values, our lifestyle, and who we are."
As the world moves through a period of disruptive social change, de Luca says we can expect to see darker, edgier, and more unconventional styles. She uses the popular bug motif as an example, pointing out how designers have moved away from 'nicer' insects like butterflies.
"Now the bugs are less pretty. They are dangerous. They are a little weird," she says. "The new bug has an edge. The new bug is not cute."
Echoes of this could already be seen throughout the show floor. Eugenia Shekhtman, creator of Italian luxury brand Anapsara, drew on the concept of a unique bug in her 'Dragonfly' collection. She is one of many VicenzaOro exhibitors to bring a spiritual element into her designs.
"The dragonfly is a very spiritual and mysterious insect because it means transformation, rebirth, freedom, and understanding the deeper meaning of life and yourself," she said. "I was inspired by the beauty of it and the intense meaning it carries."
Unconventional choices also held strong in the realm of gemstones. Pearls could be found throughout the exhibit hall, as could a variety of semiprecious stones. High-end brand Picchiotti, for example, recently launched a collection combining frosted rock crystal with precious gems. Despite its departure from tradition, the collection is taking off, says the brand's president, Umberto Picchiotti.
"We are definitely very happy with it because we didn't expect such a quick reaction," he tells Jewellery Business. "It's quite interesting."
The jewellery is not the only thing undergoing a change, Picchiotti adds. The show itself is also transforming.
"I think it's becoming more exclusive. They've created this beautiful pavilion for high-end jewellery," he says. "VicenzaOro is little by little becoming the most important jewellery show for fine jewellery in Europe. Hopefully, in the future, we'll get more attention from other parts of the world."
This sense of growth and shifting ground was pervasive. For example, Aaron Shum (president of Aaron Shum Jewellery) unveiled two pieces set with Guinness World Record-breaking amounts of diamonds on opening day. A cell phone case featured 6576 diamonds (18.95 ctw) and a lipstick case was set with 2216 (18.6 ctw). Why go to the trouble? To keep the industry moving, Shum explains.
"Three thousand years ago, our ancestors made circles, put them on their fingers, and called them rings. They put decorations on their ears and called them earrings. After 3000 years, we're still doing the same thing. Isn't it boring?" he said at the unveiling. "We need to do something interesting to attract young people and keep their interest in fine jewellery."
Millennials and generation Z were a major topic of discussion, due perhaps to De Beers Group's recently released Diamond Insight Report 2018, which indicated the two groups will be the world's most powerful spenders within two years. Jamie Freed, global vice-president of luxury site Farfetch, says a shift in the average age of luxury consumers isn't far off. As buying power shifts to consumers who have never known a world without cell phones, online shopping will only grow in importance.
"I think if you spoke to someone in the industry five years ago, no one would believe a customer would place an order for a €20,000 pair of earrings online, but they do," Freed says. "When you have your items on a multi-brand e-commerce platform, what it does is it really opens you and your brand to the world."
Eleonora Gori, executive vice-president of Graziella Group, says the Internet has even dramatically changed the experience of attending a trade show.
"The sense of being present at the show is much different even from five to six years ago," she says. "Everyone uses computers. Everything has become digital. You don't need to sit down with buyers to show them your pieces anymore, because your catalogue can reach everywhere."
While the advent of the Internet can be unnerving for many in an industry steeped in tradition, it is difficult to deny its power as a marketing tool. Beyond the direct revenue offered through e-commerce, the digital world also serves as a helpful platform for connecting with customers.
"Start looking at social media not in a passive way, but an active way," de Luca advises. "You want to know what people want? Go on socials. You want to know what people's values are? Check out the hashtags."
The sense of accessibility and interconnectivity the Internet brings is seemingly being echoed in the world of design. While fine jewellery was far from absent on the show floor, this year's VicenzaOro was also characterized by a strong showing of affordable fashion jewellery.
Graziella, for example, has traditionally worked in gold, but as it nears the end of its 60th-anniversary year, it has launched a line of silver jewellery to complement the leather bags made by its new acquisition, Braccialini. Gori says this brings in a crucial element of flexibility.
"When you think of buying gold jewellery, you think of buying something forever," she points out. "We decided to introduce fashion jewellery because the world is changing. Everything is becoming quicker."
To keep up with this rapid pace, brands like Brosway have also introduced customizable collections, playing into customers' preference for asymmetrical, mix-and-match styles.
"Jewellery is not a status symbol anymore," says Laura Vallesi of the brand's export department. "You wear fashion accessories based on your mood. You say, 'Today, I'm wearing a white skirt; why not a golden accessory?' Or, 'I don't have this diamond for life. Just for a day.'"
Similarly, Silvia Damiani says the latest collections from her family's brand reflect the modern woman's flexibility.
"Our 'D.Icon' collection is a celebration of contemporary women, who want to be glamourous and play with colours," she says. "We can decide if we want to wear one ring or two and how we mix them with outfits."
However, designers also made it clear the older generation and its values have not been forgotten. An increasing number of brands are introducing lines that target women in their 40s and 50s. Vallesi, for one, says having a flexible age target is the strongest point in Brosway's collection.
"Before, it was more dedicated to young women, but now we have more elegant and refined jewellery that targets adult, mature women," she says. "For us, it's important to embrace all kinds of women—and men."
With so many paradigm shifts in the wind, it's difficult to tell what the jewellery market and its consumers might look like in the coming years. What is certain, however, is the trade is in the midst of an evolution—and its members are eager to adapt and thrive.
VicenzaOro's next edition will run from January 19 to 23, 2019.
Endnotes:
[Image]: https://www.jewellerybusiness.com/wp-content/uploads/2018/11/GB_15_095_D.jpg
[Image]: https://www.jewellerybusiness.com/wp-content/uploads/2018/11/RA76_ZAFF.jpg
[Image]: https://www.jewellerybusiness.com/wp-content/uploads/2018/11/2.jpg
[Image]: https://www.jewellerybusiness.com/wp-content/uploads/2018/11/ANAPSARA_01.jpg
[Image]: https://www.jewellerybusiness.com/wp-content/uploads/2018/11/DHF01AN_RRAIDI_HD.jpg
[Image]: https://www.jewellerybusiness.com/wp-content/uploads/2018/11/39BR02DB-18x7-300dpi.jpg
[Image]: https://www.jewellerybusiness.com/wp-content/uploads/2018/11/D.ICON-Rosa-Confetto-1.jpg
[Image]: https://www.jewellerybusiness.com/wp-content/uploads/2018/11/Doges-Palace-Necklace-all.jpg
[Image]: https://www.jewellerybusiness.com/wp-content/uploads/2018/11/BOI22.jpg
[Image]: https://www.jewellerybusiness.com/wp-content/uploads/2018/11/spider.jpg
[Image]: https://www.jewellerybusiness.com/wp-content/uploads/2018/11/WDNAO107.jpg
[Image]: https://www.jewellerybusiness.com/wp-content/uploads/2018/11/20081165.jpg
[Image]: https://www.jewellerybusiness.com/wp-content/uploads/2018/11/ANELLI-FASCIA-4.jpg
[Image]: https://www.jewellerybusiness.com/wp-content/uploads/2018/11/yasmeen-anello.jpg
Source URL: https://www.jewellerybusiness.com/features/vicenzaoro-the-jewellery-revolution/
---