By Larry Spicer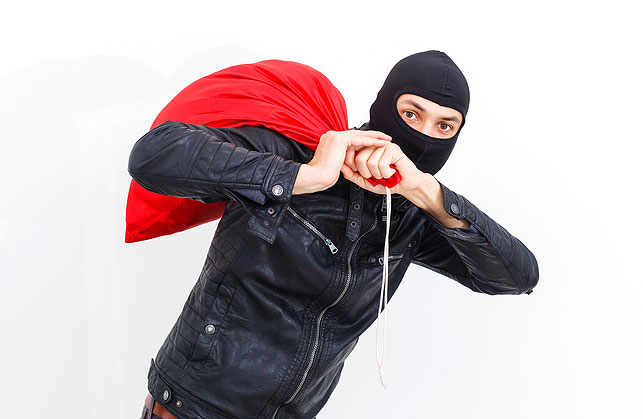 With the holiday season underway, it is more important than ever to put 'double-check safety and security' at the very top of every jewellery retailer's 'to-do' list.
After all, neglecting to ensure adequate security measures are in place is a surefire way to leave your business exposed during a period when crimes against jewellers tend to escalate. What's more, the longer you're out of the habit of enforcing security practices, the more difficult this will be to change as the year progresses.
Jewellery is in high demand during the gift-giving season, which means the risk of loss increases as well. Although there is plenty of preparation that goes into completing another successful year, taking the time to review jewellery store security is essential. Here are a few things you can do to get started.
The ABCs of security
Whether you have new employees joining your business for the holidays or a crew of seasoned veterans on your staff, a complete review of your security procedures is essential this time of the year.
There are a lot of techniques that make a good salesperson, and secure selling procedures is certainly among the most important. After all, huge sales could easily be wiped away if the simple act of forgetting to lock a showcase display is neglected or other jewellery store security features are forgotten.
All members of your staff should be knowledgeable on basic security practices, including:
various ways to prevent different types of thefts (e.g. 'grab-and-runs');
what to do when they notice something suspicious;
how to properly respond during a robbery;
proper store opening and closing protocols; and
how to safely show a customer a high-value item.
One easy way to ensure your team is familiar with these best practices is to enrol all employees in an online refresher course. Once completed, this should be followed up with an in-person meeting to address any questions specific to your store. This also provides an excellent opportunity to practice proper store opening and closing procedures, as these are the most common times that crimes take place—especially during the holiday rush.
Hire additional security
In addition to having a well-educated crew of sales associates, security guards are a wise resource to call upon when customer traffic accelerates.
Indeed, there are multiple benefits of having a security guard onsite during your busiest days, such as:
Having someone on staff to focus solely on protecting your business allows associates to keep their attention on sales and customer service.
The presence of a guard is sometimes enough to discourage thieves from even considering your business as a target.
If a theft is attempted, a trained guard will be able to handle an emergency situation in a more effective manner than sales associates alone.
Take daily inventory
While doing a complete reconciliation of your entire inventory isn't particularly feasible during busy periods, daily case counts are essential for controlling loss during the holiday shopping season.
The faster you notice merchandise is missing, the more likely an investigation into the loss will be successful. Plus, if you need to submit a claim, you'll make the process smoother by doing it earlier. (Bonus tip: maintaining good records year-round makes this even easier!)
When conducting case counts:
do so at a different time each day;
have more than one person responsible for taking the tally to minimize instances of internal theft;
if it's not possible to monitor every display every day, rotate which ones are observed; and
review surveillance footage on a regular basis to make sure the counts are completed and nothing is missed.
Be familiar with common types of theft
When most people think of jewellery store theft, they likely envision 'sneak thefts' or 'grab-and runs.' While these are two of the most common types of thefts facing jewellers, criminals don't stop there.
Some thefts are accompanied by an element of distraction, where a co-ordinated group works together to draw attention away from merchandise being stolen.
While less common, these other types of jewellery store theft must also be taken seriously:
internal theft (i.e. theft committed by a staff member);
switch theft (i.e. swapping real items with fakes);
credit card fraud; and
cyber theft.
Retailers can add an extra layer of defence against theft by placing jewellery store security materials around showcases to let potential thieves know you will only show one item at a time and require ID beforehand.
Additionally, as more consumers do their holiday shopping online, smart retailers are capitalizing on e-commerce opportunity; this, unfortunately, introduces the threat of stolen data and 'spear phishing' attacks. As such, more and more jewellers are protecting their businesses with cyber liability insurance.
Know what to do in the event of a burglary
The sad reality is that crime events occasionally happen. When faced with an emergency event such as this, the personal safety of your customers, co-workers, family members, and yourself is always of the utmost importance.
Robbers are dangerous; by being prepared, you can respond in a manner that minimizes the risk of injury. Robbers are likely to use surprise and extreme show of force to get victims to comply with their demands.
If a robbery occurs in your store:
Do not resist—stay calm and focus on surviving.
Co-operate and obey the assailant's orders.
Remain still. If you must move, tell the robber what you are going to do and why. If you are warned not to move, don't.
Do not reach for a hold-up button or phone while the robber is present.
Avoid eye contact; however, if possible, glance at the robber and try to remember specific things such as gender, age, hair colour, tattoos, shape and colour of eyes, scars or marks, speech patterns, and clothing.
Expect to be threatened. Assume the robber will harm you if you resist.
Once you are certain the robber has left the premises, do the following:
Lock all doors. This is always the first step to ensuring the robbers cannot return, protecting injured persons, and to preserving evidence for the police.
Call the police.
Care for any injured customers and/or staff.
Try to preserve any potential evidence, including fingerprints.
Call your insurance agent or company to report the loss.
Write down the specifics of the robbery and the robbers.
Likewise, it is important to treat psychological trauma the robbery may have imposed on you, your employees, or family members. If left untreated, this type of trauma can have serious adverse effects.
Larry Spicer is vice-president of loss prevention and risk management at Jewelers Mutual Insurance Group in the United States. He has more than 20 years' experience as a security professional. Comments and questions can be sent to lossprevention@jminsure.com.
For resources regarding safety and security when carrying or working with jewellery, visit JewelersMutual.com. For more information on reliable burglar alarm systems, subscribe to the Jewelers Mutual Clarity blog at jewelersmutual.com/clarity-blog. Jewelers Mutual Insurance Group is the only company specializing exclusively in jewellery insurance in Canada and the United States. It is licensed in Canada and all 50 states.