What colour is your portfolio? Inside the not-so-secret world of coloured diamond investing
February 21, 2017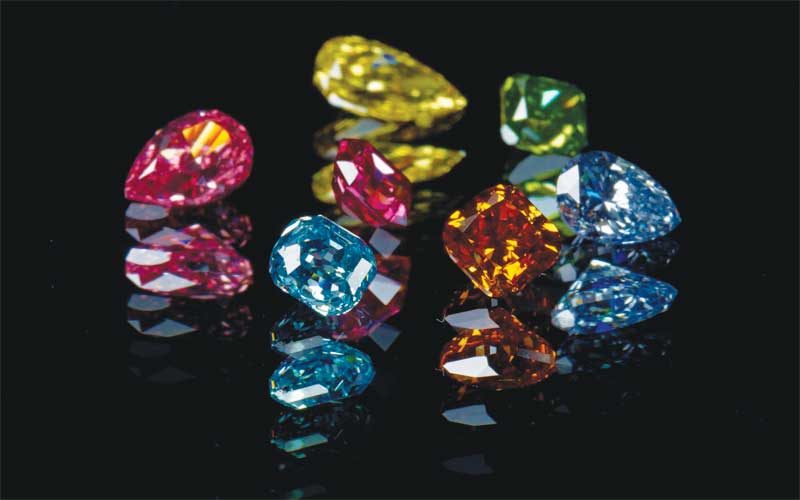 By Karen Simmons
It's no surprise, coloured diamonds produce record-breaking sales at Christie's and Sotheby's auctions around the world year after year. However, even Warren Buffett's venture into retail diamonds wasn't triggered by coloured diamonds when he first entered the industry in the '90s, but his sense for stability and profitability clearly proved to be right on target.
Who's buying?
Today, high net worth individuals (HNWIs) are buying investment-grade diamonds, both colourless and coloured. Passion may be in play, but the rising tide of big profit sales has trickled down to smaller-carat deals in local markets both in white and coloured diamonds.
Since coloured diamonds have a greater rarity and increased value, it's no wonder they're a hot commodity. Take the Hong Kong real estate tycoon, Joseph Lau, who bought nearly $77 million worth of diamonds within two days in November 2015. He first purchased a vivid pink diamond named Sweet Josephine weighing just over 16 carats for nearly $28.5 million at Christie's "Magnificent Jewels" auction in Geneva.
On day two, this time at Sotheby's, Lau set an all-time record for a single piece sale— a very rare fancy vivid blue diamond, 12.03 carats to be exact, dubbed the Blue Moon. Despite already having a collection of fine wines, art, and other jewellery, billionaire Lau saw fit to expand his alternative investment portfolio in the most scintillating manner.
Knight Frank Luxury Investment Index's (KFLII) annual report for 2015 revealed tangible assets, such as gemstones, beat the average seven per cent growth rate when compared to 10 other asset classes.

Multi-faceted value
The 4Cs—carat, cut, colour, and clarity—though a general rule of thumb and famous for simplifying diamonds for consumers, might not be as savvy a tool for  investors interested in coloured diamonds. Remember, coloured diamonds are a different stone altogether. Not long ago, yellow tinted stones were considered unappealing at the retail level and virtually absent from the auction block!
The once-coveted clarity grade, important to colourless stones, is not a major assessment factor concerning rare coloured diamonds. Would you be surprised to learn a five-carat VVS2 yellow stone falls flat in value when compared to a three-carat vivid blue diamond? Indeed, coloured diamonds are not just another sparkly stone.
Esthetics rule and earn price premiums when grading a coloured diamond. Colour saturation and dispersion is critical. High levels of dispersion increase value, especially when colourless frames, or patchy appearances, are absent.
Unlike colourless stones, shallow coloured diamonds earn a premium, too. When a coloured diamond is cut free-style, it lacks detailed symmetry, increasing its value.Facet alignment trumps symmetry in that it can enhance the colour intensity of coloured stones.
Even shape can influence value more than you might expect. Once again, the factor of rarity enters the equation. Yellow diamonds in the fancy colour category are oval shaped only about eight per cent of the time. At that, only one to five actually reaches the market in a given year.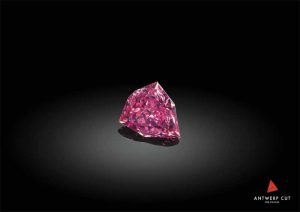 The carat club
My years of personal experience helping wealthy diamond investors find profitable investments have revealed portability, concentrations of wealth, and above average returns, encourage straying from more traditional investments.
In fact, Wealth Insights, a magazine providing invaluable data research into HNWIs, identifies jewellery as a coveted treasure in all 17 high net worth locales worldwide. When targeted subscribers were queried about timing of when and what to buy, 70 per cent declared alternative investments of jewellery to be 'own now' assets, while only 30 per cent choose precious metals. This is most likely due to the intense beauty, rarity, portability, and potential for appreciation if purchased wisely and holding for a few years.  It's a great way for individuals to leave a legacy to heirs or make donations.
Knight Frank Research put out The Wealth Report (2016) revealing 56 per cent of ultra high net worth individuals (UHNWIs) in the Middle East and 58 per cent in North America utilize luxury assets for further diversification. In addition, coloured diamonds' five-year percentage value gain, which ended in 2015, beat all other 10 asset classes with the exception of the separate jewellery category. Per The Wealth Report, top asset class sales levels placed the 12-carat Blue Moon in second place—one spot behind Picasso's Women of Algiers painting. Coming in at a distant third place was a Jaguar C-Type sports car at $13.2 million.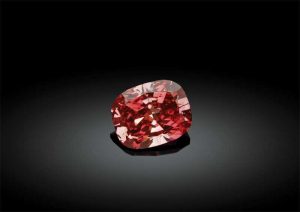 Clearly, it's easier to hold billions worth of coloured diamonds in your pocket, transporting them easily without having to pay shipping, and damage insurance like you would with other assets.
Carats: concentrated wealth
As with life itself, the world and everything in it is transforming; it's important to keep a visionary eye gazing towards the future in anticipation of what new possibilities await.  By reflecting on past trends while contemplating global situations, one can speculate future outcomes and weigh personal risk versus gain. While it's critical to respect a client's financial goals, one must respect that natural diamonds offer tremendous opportunity, pleasure, and profit as a unique tangible investment. Being diamond-wise is essential to avoiding pitfalls in order to prosper financially.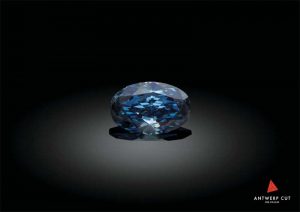 Those close to the diamond trade community know only one in about 10,000 carats of diamonds are fancy coloured diamonds rated gem quality. When counselled by a competent Gemological Institute of America (GIA) gemmologist with years of trade savvy, one would actually have to work hard at losing money with investment-grade gems. Investors love the fact that, at bare minimum, diamonds are a safe haven from instability and unpredictable market gyrations that traditional investments suffer from.
Going once, going twice…
Christie's wrapped up their 250th The Magnificent Jewels sale in Geneva which set a new diamond sales record. At $2 million per carat, a pink pear-shaped, 9.14-carat fancy vivid diamond drew in more than $18.1 million, achieving the second highest price on record for that shape. 
Coloured diamonds continue to dazzle in the auction ring. In 2010, the Graff Pink Diamond took the world by storm when the 24.78-carat fancy intense pink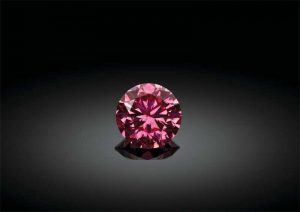 beauty sold for $45.6 million at Christie's. Further, a perfectly symmetrical blue heart-shaped diamond weighing over 50 carats sold for $12 million at Christie's in 2011.
Remember to sparkle
Diamonds have proven to be an investor's best friend. There is no doubt investment-grade coloured diamonds build tremendous wealth for their lucky owners.
Blues remain a top lot at record-breaking auctions worldwide. Pinks, reds, and purples have also become the standard in top performing portfolios. With an eye for excellence, it is possible to richly reward any portfolio with the splendor and beauty of natural coloured diamonds if you remember to S.P.A.R.K.L.E.: Safe; Portable; Appreciates; Rare; King of Gems; Legitimate; and most importantly, exquisitely beautiful! 
Earning a reputation as the trusted advisor to gem investors around the world, Karen Simmons, is a Gemological Institute of America (GIA) graduate. In addition to being the proprietor of The Gem Gallerie[9], Simmons frequently travels overseas with clients for onsite mine visits and helps diamond investors fully realize the immense potential of fine gems as a solid alternative to traditional investments. In her 10th book, Perfectly Clear, Buying Diamonds for Pleasure & Profit[10], Simmons accurately describes how to add S.P.A.R.K.L.E.  to your portfolio. She can be reached via e-mail at ks@karensimmons.com[11].
Endnotes:
[Image]: https://www.jewellerybusiness.com/wp-content/uploads/2017/02/10007.jpg
[Image]: https://www.jewellerybusiness.com/wp-content/uploads/2017/02/United-Colors-of-Kunming.jpg
[Image]: http://www.jewellerybusiness.com/wp-content/uploads/2017/02/Argyle-Pink-Collection.jpg
[Image]: https://www.jewellerybusiness.com/wp-content/uploads/2017/02/hearts.jpg
[Image]: http://www.jewellerybusiness.com/wp-content/uploads/2017/02/Fancy-Vivid-Purplish-Pink-Argyle-Kite.jpg
[Image]: http://www.jewellerybusiness.com/wp-content/uploads/2017/02/Fancy-Red-Cushion.jpg
[Image]: http://www.jewellerybusiness.com/wp-content/uploads/2017/02/Fancy-Deep-Blue-Oval.jpg
[Image]: http://www.jewellerybusiness.com/wp-content/uploads/2017/02/Fancy-Vivid-Purplisk-Pink-Round-Brilliant.jpg
The Gem Gallerie: http://www.gemgallerie.com
Perfectly Clear, Buying Diamonds for Pleasure & Profit: http://www.perfectlyclear.diamonds/
ks@karensimmons.com: mailto:ks@karensimmons.com
Source URL: https://www.jewellerybusiness.com/features/what-colour-is-your-portfolio-inside-the-not-so-secret-world-of-coloured-diamond-investing/
---