New way to rock: Designing with alternative diamonds
August 10, 2017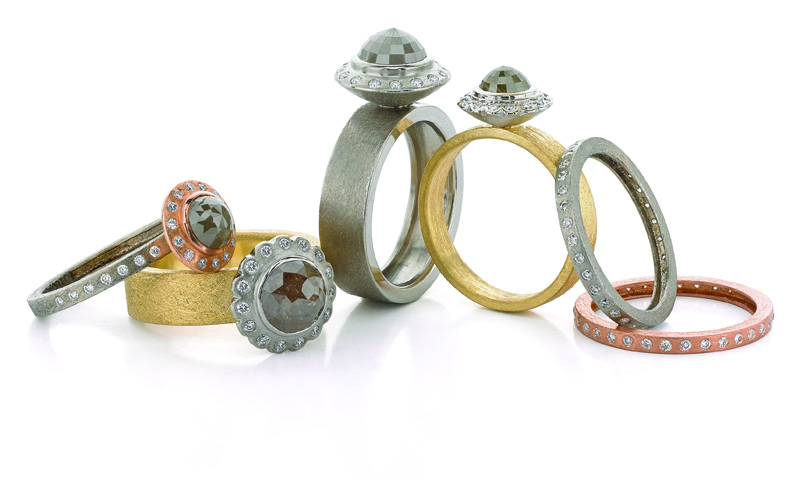 By Llyn L. Strelau
When I first started designing jewellery, I thought diamonds were overrated. They were expensive, white, and boring. As my knowledge and finances grew, I realized working with them had many advantages: durability, life, and brilliance. Soon, I discovered natural fancy coloured stones which opened a world of possibilities.
In recent years, there has been a piqued interest in alternative diamonds i.e. rose cuts, slices, natural crystals, and opaque black stones thanks to the preferences of millennials. Previously, these materials would have been relegated to the industrial grit department, but are now re-invented as fine jewellery to meet an increasing demand for non-traditional diamonds. Clever marketing by suppliers and designers have created a booming market for what otherwise would have been turned into abrasives.
Natural diamond crystals
Natural diamond crystals have been used for a long time in jewellery design, but are now found in engagement and wedding rings, too. Typically, they are available as octahedrons or cubes.
I recently purchased two irregular, 21-ctw diamond crystals. They would perhaps more properly be called bort, as they are dark, imperfectly formed crystallized diamonds of varying levels of opacity. This pair is roughly the same size and shape; one is greyish-white and the other is honey brown. I set them as cufflinks, captured in cages in the form of octahedrons as a reference to a more perfect crystal form. The brown stones have been set in white gold and are accented with white melee diamonds, and the whitish stones have been set in rose gold with copper-coloured natural fancy diamonds.
I found another mismatched pair of well-formed, but heavily-included diamond crystals for a client who is a retired geologist. One is a single octahedron, the other is two octahedrons which grew as Siamese twins. They were set as asymmetrical earrings, one in a diamond-shaped frame, the other in a circular frame clamped between tubes set with round black diamonds on both ends. They are not flashy, but they are perfect for showing off their natural structure.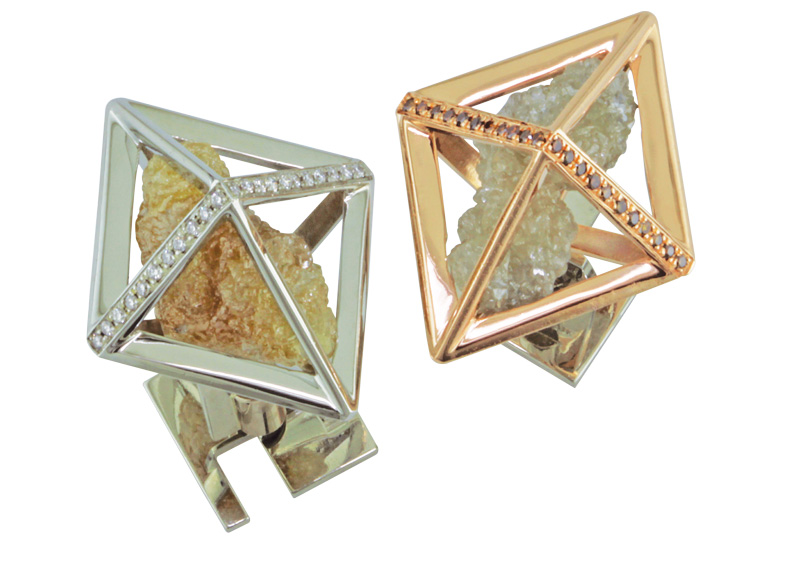 [2]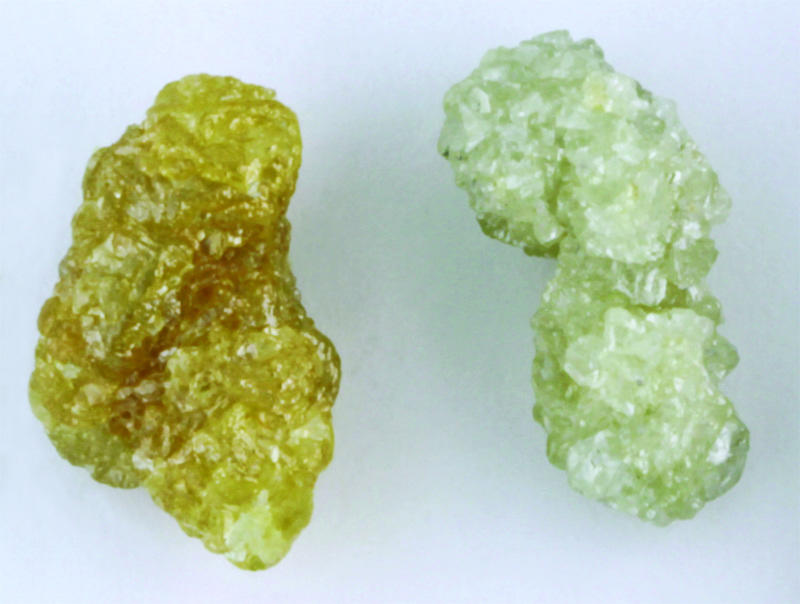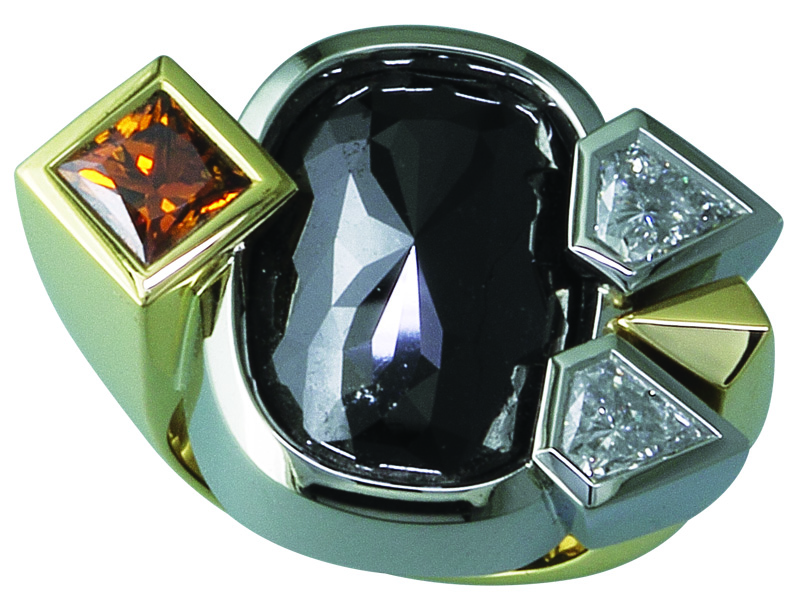 This year at American Gem Trade Association's (AGTA) GemFair Tucson, I found two interesting diamond crystals. The first is an octahedron with terminations looking like they have been dipped in melted diamond. The other, at first glance, looked like it had been faceted to this shape, but it is natural with 19 faces.
A few years ago, a client came in with a diamond octahedron crystal he had purchased on eBay. The crystal shapes were symmetrical and there were obvious trigons, or naturally formed concentric triangular growth lines, on several of the surfaces. The interior of the crystal was heavily included, and it was not a candidate for faceting. My client wished to have the stone cut into two pieces: the larger pyramidal stone was to be set in an engagement ring for his fiancé, while the remaining smaller pyramid would be set in his wedding band. This seemed simple at first, but when I sent the crystal to a Canadian diamond cutter, he declined the job because he was afraid the stone would self-destruct from the internal stress combined with the vibration of the saw. Finally, I was able to have the stone sent to Antwerp and cut there. The project was a success, but importing it back into Canada proved problematic as the original crystal had a Kimberley Process (KP) certificate. Once it was cut in two pieces, its certificate was no longer valid. We had to get a new one before it could be returned.
Black diamonds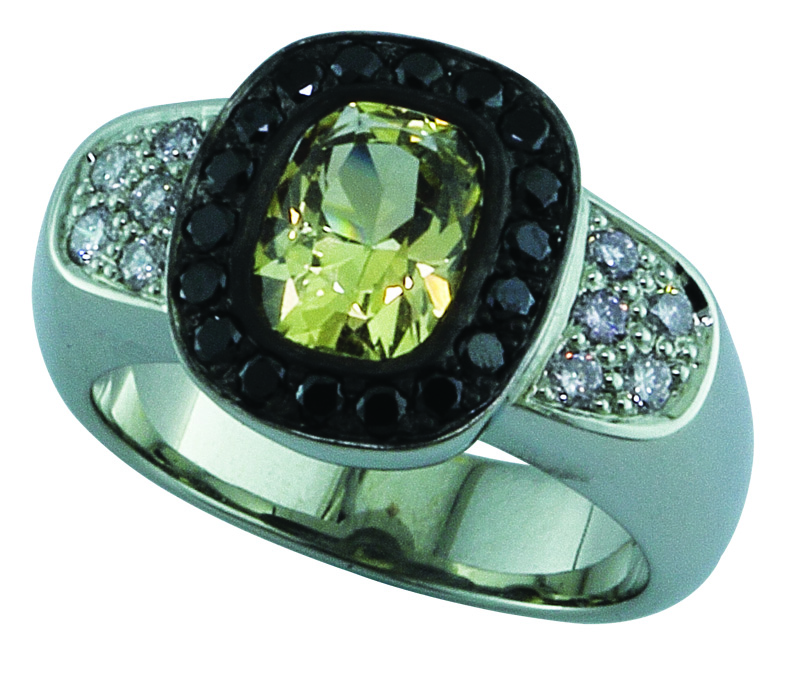 Black diamonds are popular now and can be had in many shapes, sizes, and facet styles. They can be used as centre stones in non-traditional engagement rings and combined with white diamonds for a sophisticated black and white pallet. Natural colour black diamonds are very rare, therefore most of the black diamonds I see have been treated with radiation, high temperature and high pressure, or a combination of these. Lab-created black stones are in the marketplace, too. Treated black stones typically start out as heavily included white diamonds that would otherwise be relegated to the industrial market.
You need to be careful when purchasing them and examine their surfaces for pits and other anomalies reducing their attractiveness. Melee black diamonds are usually brilliant cut which makes them easy to use for pave and claw setting. Larger stones can be full-cut as well, but here you end up paying for weight that does nothing to enhance the beauty of the stone since there is no chance of any light being returned from the pavilion. I prefer to use rose-cut black diamonds in a larger size, as there is more value for its weight. Plus, the fully faceted crown gives maximum glitter.
The ring illustrated has a large rectangular cushion-cut black diamond which I accented with a natural fancy brown princess-cut diamond and a pair of very white kite-shaped diamonds. The client was recently divorced and this was her anti-wedding ring.
Another client's husband had gifted her with a pale yellow sapphire and equally pale pink round melee diamonds. She wanted them set in a ring, but also wanted a ring of some substance. Surrounding the yellow sapphire with a dramatic halo of black diamonds (with black rhodium plating for consistent blackness), enabled both the soft yellow and pink stones to have a dramatic effect.
Taking alternative diamonds to the extreme, a geologist client came to me with three pieces of an industrial diamond drill bit. She had been working on this particular well when the drill bit got stuck in the hole and had to be blasted out. As a souvenir, she requested that we set the three pieces in a necklace. I designed one of my trademarked interCHANGE clasps which she wears on a stainless steel chain and accented the elements with round black diamonds.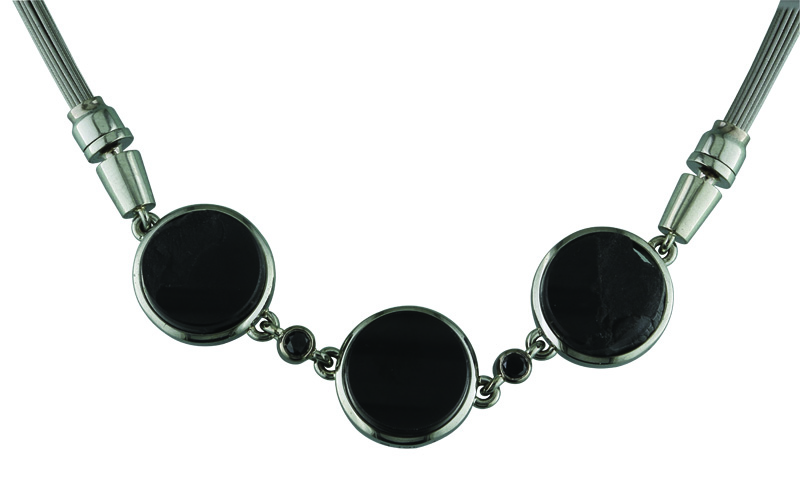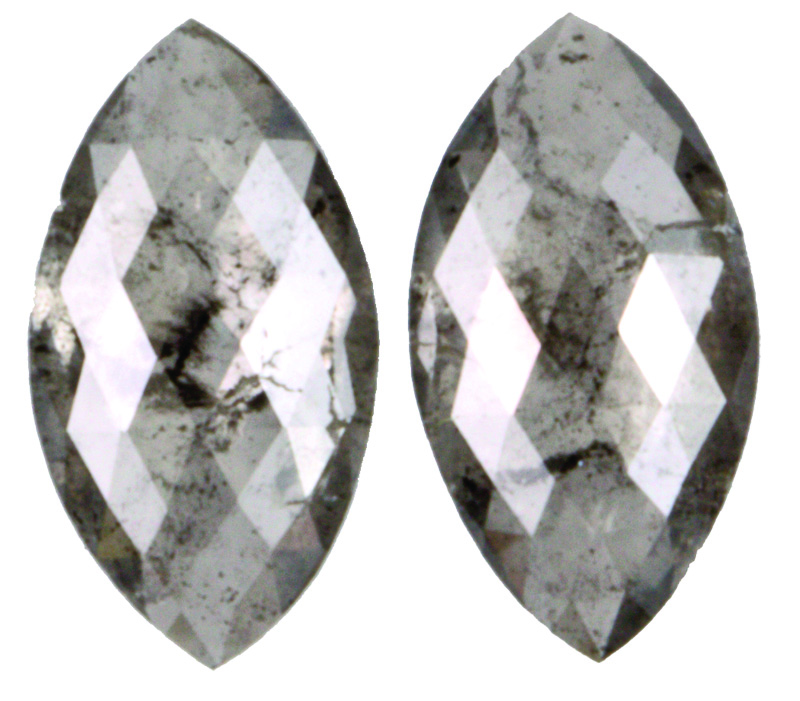 Rose cuts
Rose cuts have been around for years, as they are one of the earliest forms of diamond cutting. Only faceted on the top, generally with a flat back, transparent rose cuts benefit from some form of reflective backing. For centuries, they've typically been in gold-backed silver settings with metal foil behind each stone to provide brilliance. Modern designers have re-discovered rose cuts and they are now available in both classic high-clarity white form and a wide range of fancy colours, especially champagne and earth tones.
They provide a subtle glitter that has great appeal to some wearers. Because there is no pavilion, the weight is concentrated in the crown and you get a big look for the weight compared to a regular brilliant-cut stone.
This cut is particularly suited to black diamonds and those that are nearly opaque and/or heavily included stones. They would not refract light anyway, but rely on the surface reflection to give life instead.
If the stone has good clarity, I prefer to set them with a polished white gold surface behind them to add glitter. This isn't necessary with more opaque stones.
One thing I look for in rose cuts are stones that have an attractive pattern to the facets. Some stones, like the pair of black cushion diamonds illustrated, have the final row of facets in the centre meeting at a point. This results in long triangular facets that create a circular bulls-eye effect in the centre. I find this distracting, especially in contrast to their cushion outline. The round black rose cuts, on the other hand, have a more consistent pattern of triangular facets distributing the reflections evenly across the stones.
A pair of marquise-shaped rose cuts (6.77 ctw) have silver-grey inclusions giving an overall frosty appearance to the stones. They also show a beautiful consistency of the facet pattern. They would be striking combined with either high-colour white diamonds or small black diamonds in a pair of earrings or cufflinks.
A smaller suite of hexagonal rose cuts have an art deco look. At almost 5.5 ctw, the larger pair is 9 mm (0.36 in.) across while the others are only 4 mm (0.16 in.). I can see these stones surrounded by white diamond pave, or even better, six baguettes matching the length of the flat sides to enhance the deco feel.
My friend and colleague, Alishan Halebian from Southern California, has a successful wholesale line. For both his bridal and fashion collections, rose-cut diamonds have given him the opportunity to provide his clients with great looks and significant stone size and weight, plus they help keep costs reasonable. Simple solitaire rings are accented with brilliant-cut melee for contrast. He contrasts and complements the natural colours of the rose cuts with grey, pink, yellow, and green-golds. Using sterling silver, often beautifully oxidized, he can use gold or palladium to set and accent coloured diamonds.
Diamond slices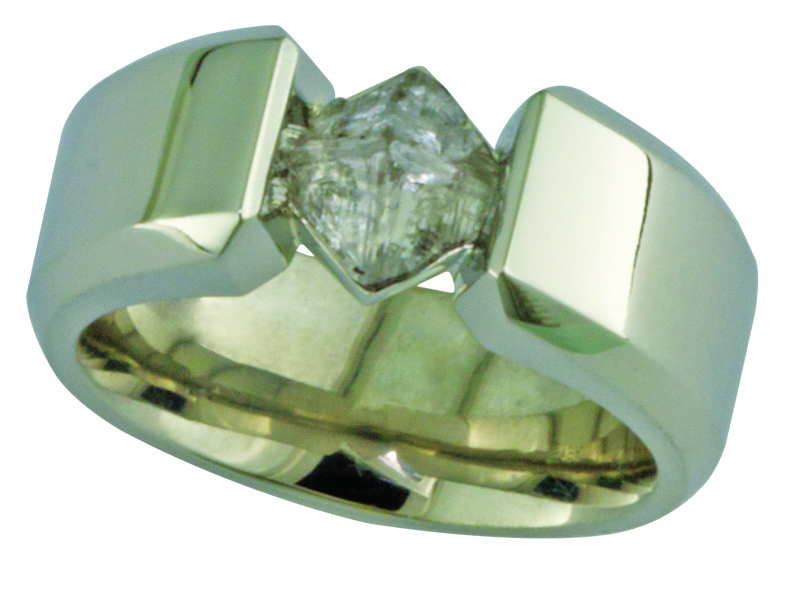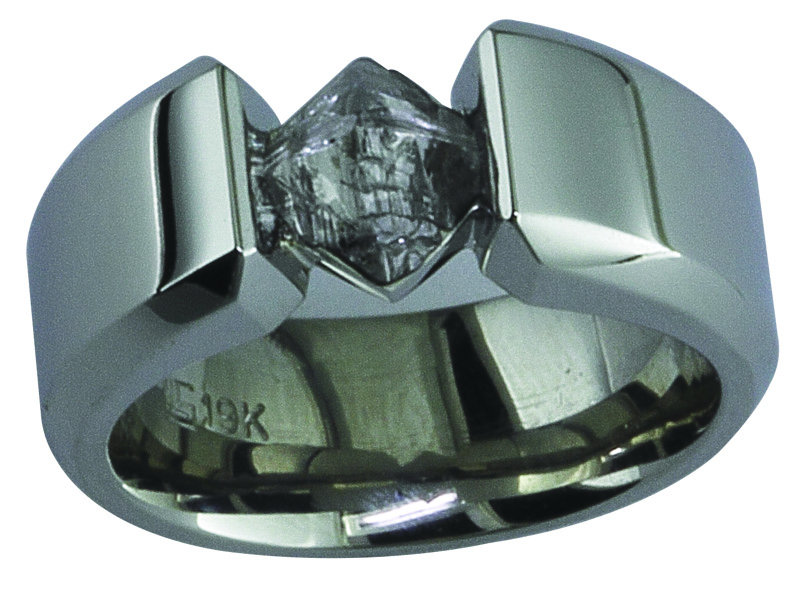 [8]Creative diamond cutters have recently been showing diamond slices. These stones are very thin, sometimes only 2 to 4 mm (0.08 to 0.16 in.) in height, yet have large asymmetrical and very shallow facets. I am amazed they are able to get such good polish on these stones.
Another mismatched pair I found at the show in Tucson are illustrated here. You can see the dentritic moss or fern-like inclusions; one is silver-grey and the other is reddish-brown. The compatible shapes are thin, but measure approximately 24 x 14 mm (0.96 x 0.56 in.). This is a lot of diamond for just over 8.5 ctw.
I turned these slices into cufflinks as well, as the subtle glitter would suit formal or business wear. The diamonds were faceted on both sides, which made it impossible to rest them directly on polished white gold back plates. Therefore, I floated them on an interior bearing around the edge and laser-welded the back plates on, so I did not have to apply any pressure that might damage the fragile stones. The bezels were pave set with white and natural fancy brown melee to accent the inclusions in the diamond slices.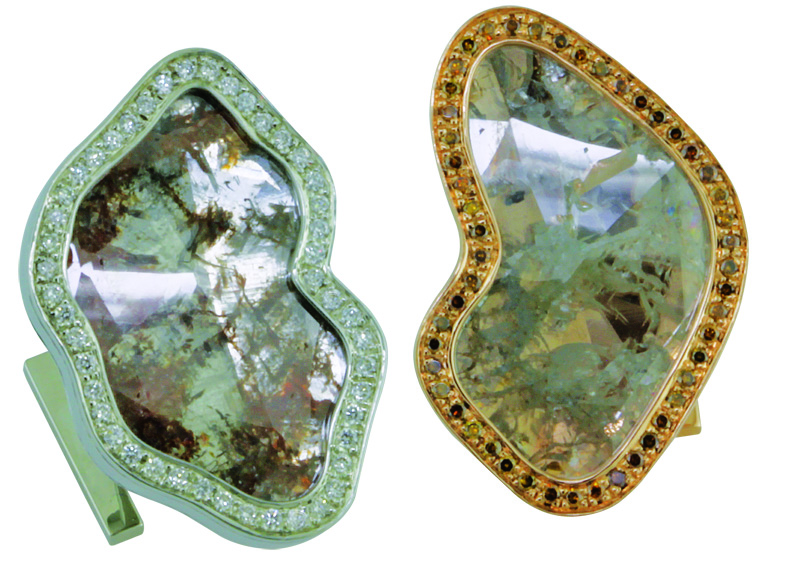 Alternative diamonds are fun to design with. They offer a tremendous scope of creativity while keeping costs reasonable. Unlike their white counterparts, unless the stone is heavily included, alternative diamonds can be used in many applications where other, less durable gemstones are not suitable.
It took me a while to decide industrial stones could be considered gems, but the response and demand from clients, and successful marketing by diamond suppliers, has made alternative diamonds a great addition to my design arsenal.
Llyn L. Strelau is the owner of Jewels by Design in Calgary. Established in 1984, his by-appointment atelier specializes in custom jewellery design for local and international clientele. Strelau has received numerous design awards, including the American Gem Trade Association's (AGTA's) Spectrum Awards and De Beers' Beyond Tradition—A Celebration of Canadian Craft. His work has also been published in Masters: Gemstones, Major Works by Leading Jewelers. Strelau can be reached via e-mail at designer@jewelsbydesign.com.
Endnotes:
[Image]: https://www.jewellerybusiness.com/wp-content/uploads/2017/08/Alishan-Ring-Group_Final.jpg
[Image]: https://www.jewellerybusiness.com/wp-content/uploads/2017/08/JBD2049.jpg
[Image]: https://www.jewellerybusiness.com/wp-content/uploads/2017/08/alternative-diamonds-black-rose-cut-cushion-with-natural-fancy-brown-princess-cut-and-two-fancy-cut-kite-white-diamonds.jpg
[Image]: https://www.jewellerybusiness.com/wp-content/uploads/2017/08/ring-yellow-sapphire-black-and-pale-pink-dia.jpg
[Image]: https://www.jewellerybusiness.com/wp-content/uploads/2017/08/Slotsve-sarah-drill-bit-interCHANGE-2.jpg
[Image]: https://www.jewellerybusiness.com/wp-content/uploads/2017/08/Alternative-diamonds-6_77-ct-tw-marquisr-rose-cut.jpg
[Image]: https://www.jewellerybusiness.com/wp-content/uploads/2017/08/rough-diamond-octahedron-top-two-thirds-ladies-eng-ring.jpg
[Image]: https://www.jewellerybusiness.com/wp-content/uploads/2017/08/rough-diamond-octahedron-bottom-one-third-mans-band.jpg
[Image]: https://www.jewellerybusiness.com/wp-content/uploads/2017/08/Adamantium-cufflinks-diamond-slices.jpg
Source URL: https://www.jewellerybusiness.com/general/new-way-to-rock-designing-with-alternative-diamonds/
---