236-carat yellow-brown diamond unearthed in Russia
by Samantha Ashenhurst | August 10, 2020 5:11 pm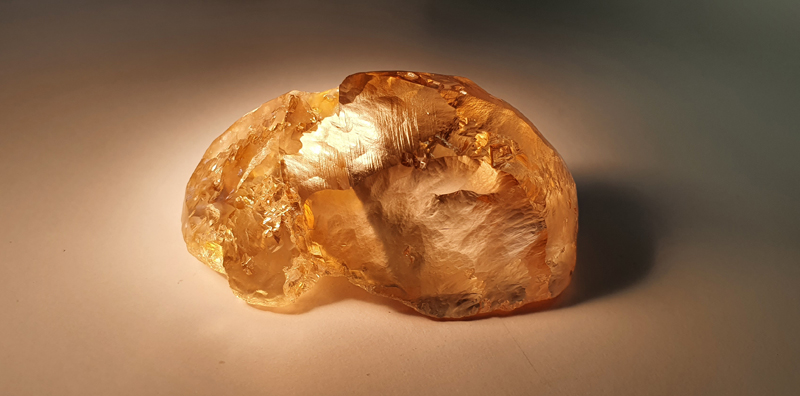 Miners in Russia have discovered a natural colour rough diamond they believe is the largest of its kind ever found in the country.
The 236-carat intense yellow-brown stone was extracted from Yakutia's Ebelyakh mine by Almazy Anabara, a part of Alrosa Group. The diamond, which, according to preliminary estimates, is between 120 million to 230 million years old, measures 47 x 24 x 22 mm (1.85 x 0.94 x 0.86 in.).
"Such a large natural colour rough diamond is a unique discovery," says Pavel Vinikhin, director of Alrosa's cutting and polishing division. "Now, the stone is at Alrosa's United Selling Organization being studied and evaluated by our specialists. After that, we will decide whether to give it to our manufacturers for cutting, or sell it as a rough."
The minding site, the Ebelyakh alluvial diamond deposit, previously delivered several unique finds, including three fancy colour diamonds (intense, pink, and purple-pink), which were unearthed in the summer of 2017.
Endnotes:
[Image]: https://www.jewellerybusiness.com/wp-content/uploads/2020/08/SA_Alrosa.jpg
Source URL: https://www.jewellerybusiness.com/news/236-carat-yellow-brown-diamond-unearthed-in-russia/
---