478-carat rough diamond sells for $18.4 million US
December 15, 2008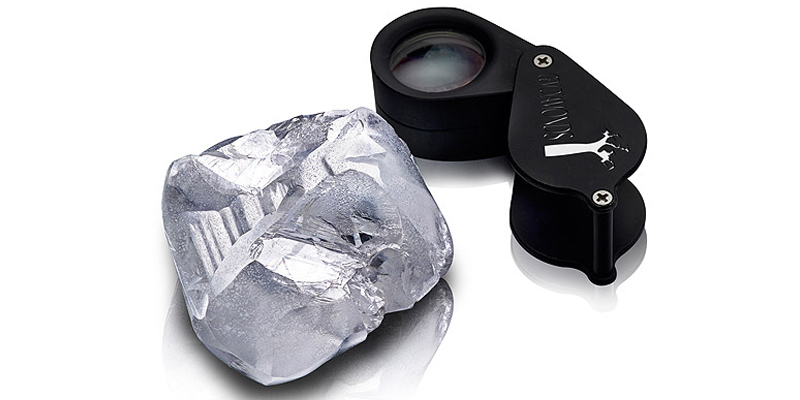 The Light of LetÅ¡eng—a 478-carat rough diamond—has been sold for $18.4 million US, a remarkable $38,400 per carat.
Purchased by Graff Diamonds at a tender in Antwerp, the diamond is the 20th largest rough diamond ever recovered. The company outbid six other diamantaires in the tender. It also owns the 603-carat Lesotho Promise and the 493-carat Letšeng Legacy, purchased in 2006 and 2007, respectively.
This is the third significant diamond to be recovered at the Letšeng le Terai Mine in Lesotho in as many years. It is named the Light of Letšeng, or the Leseli la Letšeng in Lesotho's native language, Sesotho, for its top colour and outstanding clarity.
"To the best of our knowledge this is the most valuable rough diamond ever to be sold," said Graff Diamonds chair Laurence Graff. "We are delighted to be the successful bidder for such an historic stone"¦ With our significant expertise in large diamonds, we expect to produce an exceptionally beautiful polished diamond of at least 200 carats. This investment is indicative of our commitment to the diamond industry and our faith in the long-term value of diamonds."
The mine is controlled by Letseng Diamonds, a joint venture between Gem Diamonds and the government of Lesotho.
"The Leseli la LetÅ¡eng is one of the most significant diamonds to have been recovered in living memory," said Gem Diamonds CEO Clifford Elphick. "Nevertheless, it remains exceptionally pleasing that despite these difficult financial times, this diamond has been recognized for its outstanding quality, and in turn, has achieved significant value. This is testament to the enduring value of the historic diamonds that LetÅ¡eng continues to produce."
Endnotes:
[Image]: http://www.jewellerybusiness.com/wp-content/uploads/2011/04/SB_les_07_l.jpg
Source URL: https://www.jewellerybusiness.com/news/478-carat-rough-diamond-sells-for-184-million-us/
---