95-carat diamond sells for record price
June 28, 2018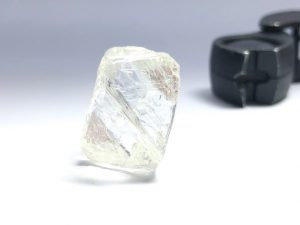 The mood of the market may be turning toward white diamonds. At the close of its fifth tender of the year, which drew $40 million from buyers, Mountain Province Diamonds[2] reported a surge in demand for white stones.
"Customer interest and bidding competition was particularly high for larger white gem lots," said Reid Mackie, the company's vice-president of diamond marketing. "We saw prices for this product category again increase by low single-digit percentages compared with the previous sale."
In part, this increased interest was demonstrated through the sale of a recently discovered 95.31-carat white diamond[3], found in the Northwest Territories' Gahcho Kué[4] mine earlier this year. Although the exact amount the diamond sold for is being kept confidential, Mountain Province has revealed it broke price records for individual stones.
"Customer competition for the 95-carat gem exceeded expectations, with the final result more than doubling the previous highest value achieved for a single diamond," said Mackie.
Endnotes:
[Image]: https://www.jewellerybusiness.com/wp-content/uploads/2018/05/Mountain_Province_Diamonds_Inc__Mountain_Province_Diamonds_Recov.jpg
Mountain Province Diamonds: http://www.mountainprovince.com/
95.31-carat white diamond: https://www.jewellerybusiness.com/news/95-carat-diamond-found-in-canadian-mine/
Gahcho Kué: https://www.debeersgroup.com/canada/en/operations/mining/gahcho-kue-project.html
Source URL: https://www.jewellerybusiness.com/news/95-carat-diamond-sells-for-record-price/
---