A dazzling rendezvous at the world's largest jewellery marketplace
October 17, 2018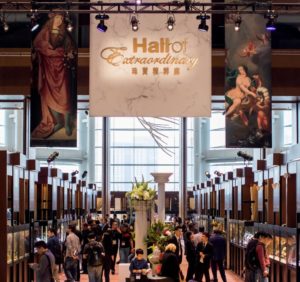 Step into a world-class exhibition of timeless elegance as the 36th Hong Kong Trade Development Council (HKTDC) Hong Kong International Jewellery Show and the sixth HKTDC Hong Kong International Diamond, Gem, and Pearl Show return. In 2018, the twin shows attracted more than 4550 global exhibitors and some 87,000 buyers.
As a sparkling showcase of glamour and craftsmanship, this platform is an unmissable opportunity to source spectacular offerings of finished jewellery, raw materials, and precious gems. The shows feature group pavilions and exclusive product zones enabling an efficient sourcing experience, as well as multifaceted events including parades, expert-led seminars, and networking opportunities. They will also play host to the 20th Hong Kong Jewellery Design Competition and the 2019 edition of the biennial International Jewellery Design Excellence (IJDE) Award.
HKTDC offers incentive for first-time overseas buyers. For inquiries, contact Veronique Yeung at (852) 2240-4235 or e-mail hkjewelry.visitor@hktdc.org[2].
To register for your free admission badge, visit hkdgp.hktdc.com/ex/103[3], hkjewelleryshow.hktdc.com/ex/103[4], or scan the QR codes below.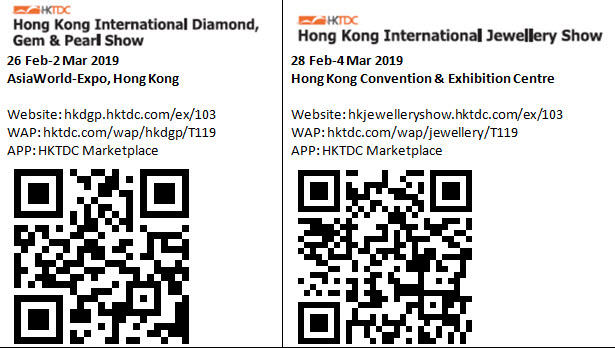 [5]
Endnotes:
[Image]: https://www.jewellerybusiness.com/wp-content/uploads/2018/10/HKTDC_20180301_Jewellery-Show_HKCEC_Final-Edited_064.jpg
hkjewelry.visitor@hktdc.org: mailto:hkjewelry.visitor@hktdc.org
hkdgp.hktdc.com/ex/103: https://event.hktdc.com/fair/hkdgp-en/HKTDC-Hong-Kong-International-Diamond--Gem---Pearl-Show/?DCSext.dept=5&WT.mc_id=1838381
hkjewelleryshow.hktdc.com/ex/103: https://event.hktdc.com/fair/hkjewellery-en/HKTDC-Hong-Kong-International-Jewellery-Show.html?DCSext.dept=5WT.mc_id=1838386
[Image]: https://www.jewellerybusiness.com/wp-content/uploads/2018/10/10-17-2018-2-20-09-PM.jpg
Source URL: https://www.jewellerybusiness.com/news/a-dazzling-rendezvous-at-the-worlds-largest-jewellery-marketplace/
---