Canada's retail sales sink in April
June 25, 2018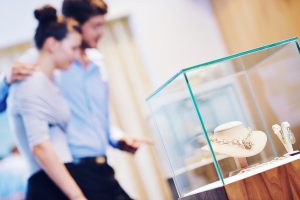 The latest data[2] from Statistics Canada[3] indicates Canadian retail sales fell to $49.5 billion in April, suffering a month-over-month decline of 1.2 per cent. Although this was largely driven by slower business in the motor vehicle market, declines in seven other retail industries (including the jewellery trade[4]) also contributed.
In total, 65 per cent of Canada's retailers experienced lower sales, with much of the slowdown centred in Ontario and Québec. After three straight months of increases, Ontario lost its momentum, with sales dropping 2.3 per cent. Québécois retailers met with similar results, experiencing an overall dip of 2.7 per cent.
Sales also fell in Newfoundland and Labrador, Prince Edward Island, New Brunswick, Manitoba, and Nunavut. However, there were some provincial increases, with British Columbia and Saskatchewan performing particularly well. British Columbia's sales increased for the third month running with a boost of 1.1 per cent, and Saskatchewan broke a streak of declines it has been struggling with since October, rising 2.2 per cent.
E-commerce was also assessed. Online shopping now comprises 2.7 per cent of Canada's retail market, with sales equalling $1.3 billion in April (an increase of 8.8 per cent over last year).
Statistics Canada obtained these numbers via its Monthly Retail Trade Survey, which is used to gather data on sales (both physical and digital) from a sample of retailers.
Endnotes:
[Image]: https://www.jewellerybusiness.com/wp-content/uploads/2018/06/bigstock-happy-young-romantic-couple-in-234428239.jpg
latest data: https://www150.statcan.gc.ca/n1/daily-quotidien/180622/dq180622b-eng.htm
Statistics Canada: https://www.statcan.gc.ca/eng/start
jewellery trade: https://www150.statcan.gc.ca/t1/tbl1/en/tv.action?pid=2010000802
Source URL: https://www.jewellerybusiness.com/news/canadas-retail-sales-sink-in-april/
---