Canadian mines drive De Beers financial results
February 23, 2018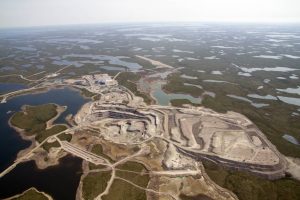 De Beers Group[2] has released its preliminary financial results for 2017, with a number of changes attributed to developments in its Canadian mines—in particular, Gahcho Kué[3].
The company cites "a strong contribution from Canada" as one of the reasons behind a two per cent increase in earnings before interest, taxes, depreciation, and amortization (EBITDA), along with factors such as lower unit costs. More specifically, it states the increase was supported by the ramp-up of the Gahcho Kué mine and the closure of Snap Lake[4], both in the Northwest Territories.
Gahcho Kué, which entered production in March of last year, is also noted as one of the driving factors behind a significant decrease in the company's capital expenditure. De Beers saw a 48 per cent drop in this category in 2017, and attributes it to the completion of major projects including Gahcho Kué and Debmarine Namibia's new exploration vessel[5].
The mine also contributed to substantial increases in rough diamond production, both for Canada and for De Beers Group as a whole. With the mine's opening combined with strong trading conditions, De Beers Canada's production increased from 1 million carats to 3.8 million, while the company's overall production went up by 22 per cent (from 27.3 million carats to 33.5 million).
De Beers expects diamond production to continue to increase in the coming year, naming an anticipated range of 34 to 36 million carats for 2018.
Endnotes:
[Image]: https://www.jewellerybusiness.com/wp-content/uploads/2018/02/GK-Aerial.jpg
De Beers Group: http://www.debeersgroup.com/canada/en/index.html
Gahcho Kué: http://www.debeersgroup.com/canada/en/operations/mining/gahcho-kue-project.html
Snap Lake: http://www.debeersgroup.com/canada/en/operations/mining/snap-lake.html
new exploration vessel: http://www.diamonds.net/News/NewsItem.aspx?ArticleID=59002
Source URL: https://www.jewellerybusiness.com/news/canadian-mines-drive-de-beers-financial-results/
---