CIBJO/IEG dive into sustainability in VicenzaOro seminar
January 10, 2018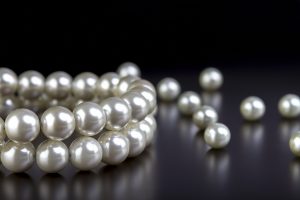 A three-pronged approach to sustainability will be the focus of a session at VicenzaOro January[2] this year. "Green and Blue Jewellery: Environmentally Sustainable Luxury" will be presented from 10:30 a.m. to 12:30 p.m. on January 22, discussing environmental, social, and economic responsibility in the context of the jewellery industry.
The seminar is organized by the Italian Exhibition Group[3] (IEG) and the World Jewellery Confederation[4] (CIBJO), and will discuss the management of natural resources. While environmental sustainability is often considered out of reach for the jewellery trade thanks to its reliance on nonrenewable mined resources, this session takes an in-depth look at two exceptions to this rule: cultured pearls and precious coral.
With responsible management, both pearl farms and precious coral reefs can theoretically be maintained indefinitely. Pearl farms continually regenerate, and reefs can be preserved if their growth and production rates are carefully balanced.
"As the experience of the pearl and precious coral industries shows, we should not only strive to be environmentally and socially responsible corporate citizens from the moral and ethical perspective, but such an approach is also critical if we want to optimize our economic viability over the long term," said Gaetano Cavalieri, CIBJO's president. "Our potential for producing top-quality products is largely dependent on the health of the marine ecosystem, as it is on the commitment by local communities to our industry and our joint business goals."
Sharing more details on these resources will be a panel of experts from countries including Switzerland, Japan, and the Philippines. They are:
Laurent Cartier of SSEF[5], co-founder of the Sustainable Pearls Project[6];
Justin Hunter of J. Hunter Pearls[7], president of the Fiji Pearl Association and a driver of the country's pearl industry development project;
Shigeru Akamatsu of Mikimoto Pearls[8], vice-president of CIBJO's Pearl Commission;
Jacques Christophe Branellec of Jewelmer Joaillerie[9], vice-president of CIBJO's Pearl Commission; and
Rui Galopim de Carvalho, founder of Portugal Gemas Academy[10] and vice-president of CIBJO's Coral Commission.
"What the seminar will underline is there should be no compromises made when it comes to jewellery and environmental and social responsibility," said Corrado Facco, managing director of IEG and vice-president of CIBJO. "Our goal should be that when consumers purchase an item of jewellery, they are inspired to do so not only because it is valuable, beautiful, and emotionally significant, but also because it contributes to improving the well-being of ordinary people in developing countries, as well as to the protection of the natural environment."
To register for the show, click here[11].
Endnotes:
[Image]: https://www.jewellerybusiness.com/wp-content/uploads/2018/01/bigstock-White-Pearls-Necklace-On-Black-76022912.jpg
VicenzaOro January: https://www.vicenzaoro.com/it/january
Italian Exhibition Group: https://www.iegexpo.it/
World Jewellery Confederation: http://www.cibjo.org/
SSEF: http://www.ssef.ch/home/
Sustainable Pearls Project: http://www.sustainablepearls.org/
J. Hunter Pearls: https://www.fijipearls.com/
Mikimoto Pearls: https://www.mikimotoamerica.com/
Jewelmer Joaillerie: https://jewelmer.com/
Portugal Gemas Academy: https://portugalgemas.com/
here: https://visita.vicenzaoro.com/
Source URL: https://www.jewellerybusiness.com/news/cibjo-ieg-dive-sustainability-vicenzaoro-seminar/
---