Contest aims to educate millennials about diamonds' impact
November 1, 2018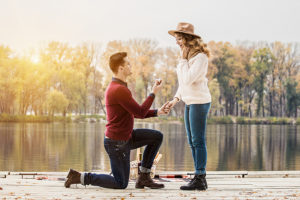 The Diamond Empowerment Fund[2] (DEF) has launched a new contest with the goal of improving millennial engagement with the diamond industry. The competition invites engaged couples whose proposals involved a diamond ring to create 60-second videos sharing their proposal stories and what the diamond means to them.
A trio of social media influencers (@thediamondsgirl[3], @greenweddingshoes[4], and @roamaroo[5]) will judge the videos and select the winning couple. The winners will receive a trip to Botswana, one of the world's largest diamond-producing countries, to gain personal insight into diamonds' impact on the country and to share the experience on social media.
"Educating the younger generation on the good diamonds do and inviting them to engage in this narrative will help boost consumer confidence and ultimately demand for diamonds," said Anna Martin, senior vice-president of the Gemological Institute of America[6] (GIA).
The contest will be promoted by DEF as well as various brands and retailers via social media. The fund is also asking those involved in the industry to share the contest details[7] with their customers to further build engagement.
Endnotes:
[Image]: https://www.jewellerybusiness.com/wp-content/uploads/2018/11/bigstock-Marry-Me-Engagement-Of-Young-212640643.jpg
Diamond Empowerment Fund: https://www.diamondsdogood.com/#anchor-header
@thediamondsgirl: https://www.instagram.com/thediamondsgirl/
@greenweddingshoes: https://www.instagram.com/greenweddingshoes/
@roamaroo: https://www.instagram.com/roamaroo/
Gemological Institute of America: https://www.gia.edu/
contest details: https://www.diamondsdogood.com/myproposalcontest/
Source URL: https://www.jewellerybusiness.com/news/contest-aims-to-educate-millennials-about-diamonds-impact/
---