De Beers introduces ethical sourcing program
April 23, 2018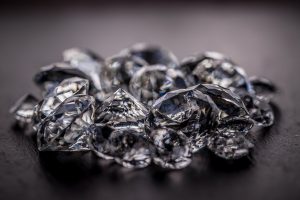 De Beers Group[2] has launched a new ethical sourcing initiative for artisanal and small-scale mined (ASM) diamonds, to be piloted in Sierra Leone. Called 'GemFair,' the program is intended to ensure rough diamonds are purchased from mines employing ethical practices, in turn supporting improved conditions for diamond mine workers.
"The ASM sector represents a critical income source for many poverty-affected communities. However, due to parts of the sector being largely informal and unregulated, it lacks access to established international markets and the ability to derive fair value for participants," said Bruce Cleaver, CEO of De Beers. "By providing a secure route to market, offering fair prices, and helping to raise standards, we hope to play a role in enhancing the prospects for those working in the sector, while also potentially opening up a new source of supply for De Beers over the long term."
Supported by a partnership with the Ottawa-based Diamond Development Initiative[3] (DDI), the program involves providing miners with technology that digitally tracks ASM diamonds throughout the supply chain. To participate, miners must first be certified by DDI under both its Maendeleo Diamond Standards[4] and the additional rules of GemFair.
Once certification is completed and the required technology is confirmed to be functional, GemFair will begin to buy diamonds from the approved miners.
While the pilot currently carries no specific timeframe, the first purchase under GemFair is expected to occur later this year.
Endnotes:
[Image]: https://www.jewellerybusiness.com/wp-content/uploads/2018/04/bigstock-Heap-Of-Diamonds-109589636.jpg
De Beers Group: https://www.debeersgroup.com/en/index.html
Diamond Development Initiative: http://www.ddiglobal.org/
Maendeleo Diamond Standards: https://www.jewellerybusiness.com/news/ul-partners-ddi-responsible-sourcing-standards/
Source URL: https://www.jewellerybusiness.com/news/de-beers-introduces-ethical-sourcing-program/
---