Deepak International buys NWT diamond plants
June 23, 2014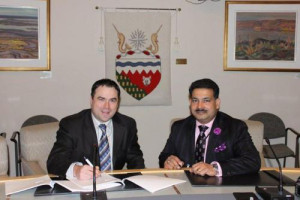 The deal to acquire two facilities on Yellowknife's Diamond Row that will see Polar Bear diamonds back in stores is done.
The news comes about a year and a half after the Government of the Northwest Territories (GNWT) announced it had awarded the Polar Bear licence to Edmonton-based Deepak International Ltd. (DIL).
When asked when production would start and when Polar Bear diamonds would become available, company president and chief executive officer (CEO) Deepak Kumar said, "We are working to get things done as quickly as we can, and once we have an opening date, you will be the very first one to receive an invitation," he told Jewellery Business in an e-mail.
"This has been an exciting journey and too many moving parts were required to be put together, which takes time," Kumar added. "Now, we are very excited and the entire team is working to get the rest of the work done so we can start operations."
In January 2013, the Ministry of Industry, Tourism and Investment (ITI) announced it had granted the company exclusive use of the Polar Bear design trademark, as well as Approved NWT Diamond Manufacturer (ANDM) status. As an ANDM, DIL would be allowed to purchase a portion of the 10 per cent of rough diamonds produced by NWT producers, fully manufacture it locally, and market the stones as Government Certified Canadian Diamonds.
According to a CBC article, the NWT Department of Public Works and Services confirmed the sale to Deepak International.
Located at 106 and 108 Archibald Street, the buildings each had a list price of $950,000. One of the buildings previously housed Arslanian Cutting Works, which produced Polar Bear diamonds before the company operating it went into receivership in 2010. Laurelton Diamonds, a subsidiary of Tiffany & Co., worked out of the other building.
The purchase of the buildings is the first major development to bring Polar Bear diamonds back to market and comes after several revised opening dates. Kumar has previously cited paperwork and legal formalities as the reasons for the delays.
Endnotes:
[Image]: http://www.jewellerybusiness.com/wp-content/uploads/2014/06/SB_on_20th_of_Dec_2012_Sign.jpg
Source URL: https://www.jewellerybusiness.com/news/deepak-international-buys-nwt-diamond-plants/
---