Diamond and gem pieces lead summer jewellery auctions
June 6, 2018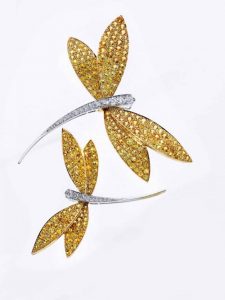 Sotheby's[2] is kicking off the summer months with a trio of fine jewellery auctions. The first of these, London's[3] Fine Jewels sale, was held today in the United Kingdom and was led by a Cartier[4] necklace featuring a 20.30-carat diamond.
Up next is the Fine Jewels sale in Geneva[5], bound for Switzerland on June 14. This auction brings with it a range of valuable diamond and gemstone pieces, including a pair of yellow sapphire dragonfly brooches expected to sell for up to $19,800. The sale will also feature gold and pearl earrings by Chaumet[6] and a Burmese ruby and diamond ring, with anticipated prices ranging up to $5900 and $120,100, respectively.
Concurrent with these sales runs the Jewels Online[7] auction. Interested parties may bid digitally between June 5 and 15 on items including an art deco diamond brooch from the 1920s and cufflinks in both sapphire and lapis lazuli.
Endnotes:
[Image]: https://www.jewellerybusiness.com/wp-content/uploads/2018/06/pic.jpg
Sotheby's: http://www.sothebys.com/en.html
London's: http://www.sothebys.com/en/auctions/2018/fine-jewels-l18051.html
Cartier: http://www.cartier.com/
Geneva: http://www.sothebys.com/en/auctions/2018/fine-jewels-ge1812.html
Chaumet: https://www.chaumet.com/
Jewels Online: http://timed.sothebys.com/auction-catalog/Jewels-Online_J9N1IXP6Q2/
Source URL: https://www.jewellerybusiness.com/news/diamond-and-gem-pieces-lead-summer-jewellery-auctions/
---