Diamond prices on the rise despite month-to-month decline
August 2, 2018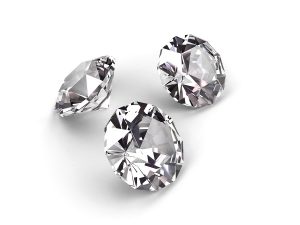 Seasonal slowdowns caused diamond prices to fall marginally in July, across a number of size categories. However, as Rapaport[2] indicates in its monthly diamond index, the outlook for the year remains positive.
For July, the index revealed the following price fluctuations:
a decline of 1.2 per cent for 0.30-carat diamonds;
a decline of 0.3 per cent for 0.50-carat diamonds;
a decline of 0.4 per cent for one-carat diamonds; and
a decline of 1.2 per cent for three-carat diamonds.
Rapaport suggests the drops could have numerous causes, including lower pressure to make sales (thanks to strong results in the first six months of the year) and summer vacation-related closures.
That said, from both year-to-year and year-to-date perspectives, diamond prices are primarily up. Since the beginning of the year, 0.30-carat, 0.50-carat, and one-carat stones have all spiked in price, rising 8.4 per cent, 5.8 per cent, and three per cent respectively. Only three-carat diamond prices have declined, falling by 0.3 per cent.
Three-carat gems fared better in the year-over-year assessment, increasing by one per cent compared to July 2017. Diamonds weighing 0.30 carats and one carat also saw respective price improvements of 6.2 and 0.8 per cent, with their 0.50-carat counterparts dropping by 0.2 per cent.
The company says polished prices are being held relatively stable by considerations such as higher rough prices and lower supply of both polished and rough diamonds. In the United States and China, demand is steady for 0.50-carat, D to G, VS to SI diamonds, with 0.70-carat, G to J, VS to SI diamonds on the rise.
Endnotes:
[Image]: https://www.jewellerybusiness.com/wp-content/uploads/2018/08/bigstock-Three-Diamonds-2497714.jpg
Rapaport: https://www.diamonds.net/
Source URL: https://www.jewellerybusiness.com/news/diamond-prices-on-the-rise-despite-month-to-month-decline/
---