Diamond tracing strengthened with new tech
by Samantha Ashenhurst | July 12, 2021 4:26 pm
Ensuring the traceability of its diamonds from mine to market is the goal of Alrosa's newly launched 'nanomarking' technology.
The mining company is set to add non-invasive markings its rough and polished diamonds. The laser markings, which cannot be destroyed or polished off, are intended to distinguish Alrosa's precious stones from others and provide accurate information about the diamonds' origins.
"Guided by growing market demand, we are focusing our efforts on tracing and guaranteeing the origin of our diamonds," says CEO, Sergey Ivanov. "With access to the full cycle of manufacturing, we have all the necessary information about our polished diamonds and the rough diamonds from which they were cut. The laser nanomark technology we have created allows these guarantees to be extended to the diamonds sold by our partners."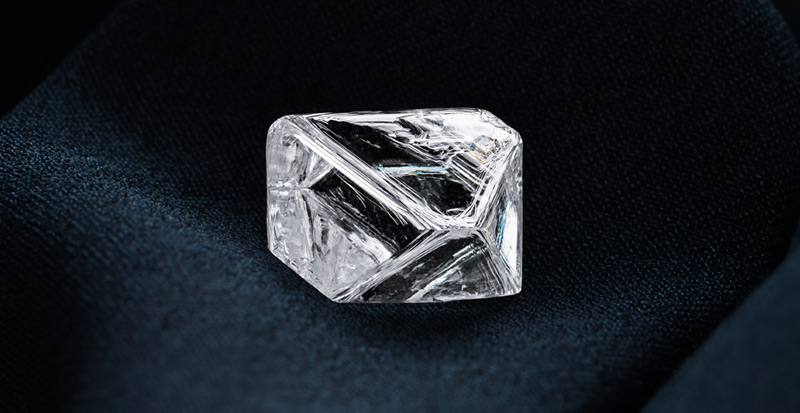 Developed with the help of scientists from the Russian Academy of Sciences, as well as the company's Research Geological Enterprise (NIGP) and the Yakutniproalmaz Institute, the nanomarking allows precious stones to be identified with 100 per cent accuracy. Additionally, because the mark is imprinted inside the crystal lattice and across the atomic structure of the entire diamond, it is invisible without a scanner, Alrosa reports.
"A nanomark is applied using a laser pulse of a certain wavelength, intensity, and duration," says Oleg Kovalchuk, PhD, project supervisor at the Yakutniproalmaz Institute. "This causes nanoregions to form across the entire crystal, which can only be viewed with a scanner created specifically for reading the marks. As such, we have now developed standardized procedures for embedding information and marking a rough diamond with a distributed mark to identify it."
Consumer surveys of diamond markets in the United States and China indicate tracing is an important factor when making purchases, the company reports. This involves registering all stages of a diamond's life (from the mine to the jewellery store) to guarantee its origin.
Alrosa is offering its partners marked diamonds and the equipment to read them. Scanning the code takes less than a minute and will eventually be optimized to ensure even greater efficiency, the company says.
Endnotes:
[Image]: https://www.jewellerybusiness.com/wp-content/uploads/2021/07/SA_Alrosa.jpg
[Image]: https://www.jewellerybusiness.com/wp-content/uploads/2021/07/SA_Alrosa2.jpg
Source URL: https://www.jewellerybusiness.com/news/diamond-tracing-strengthened-with-new-tech/
---