Fancy colour diamond prices buoyed by blues
May 15, 2018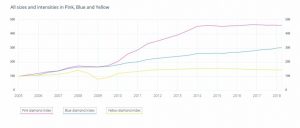 Blue diamonds are continuing to lead the pack when it comes to fancy colour diamond prices, according to the latest Fancy Color Diamond Index (FCDI). Produced by the Fancy Color Research Foundation[2] (FCRF), the index considers pricing data for yellow, pink, and blue diamonds traded in Hong Kong, New York, and Tel Aviv.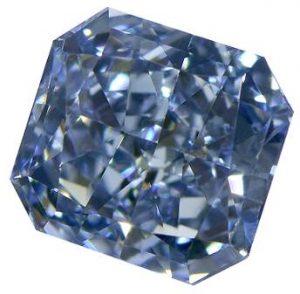 Fancy colour diamonds in all three hues experienced a cumulative price increase of 0.1 per cent over last year, although yellow and pink diamond prices fell by 1.7 and 0.6 per cent, respectively. Only blues evaded any decline—led by fancy intense and vivid variations, blue diamond prices have increased by five per cent year-over-year and by one per cent since the last quarter of 2017.
Diamonds of this colour also saw price improvements in the fourth quarter of 2017[4], trailed by slightly smaller increases in the yellow and pink categories. However, it seems colour is not the only factor that matters.
"In the past 12 months or so, prices of rare fancy colour diamonds of between 0.30 and 0.70 carats have increased much more than those of large fancy colour diamonds, due to the relatively smaller total amount per stone," said Ishaia Gol, FCRF advisory board member.
Two-carat pink and blue diamonds saw the strongest appreciation rate in the first quarter of the year.
Endnotes:
[Image]: https://www.jewellerybusiness.com/wp-content/uploads/2018/05/2018-APR-INDEX-UPDATE.jpg
Fancy Color Research Foundation: https://www.fcresearch.org/
[Image]: https://www.jewellerybusiness.com/wp-content/uploads/2018/05/Fancy-vivid-blue.jpg
price improvements in the fourth quarter of 2017: https://www.jewellerybusiness.com/news/fancy-colour-diamond-prices-show-gradual-improvement/
Source URL: https://www.jewellerybusiness.com/news/fancy-colour-diamond-prices-buoyed-by-blues/
---