Grading, valuation courses coming to Toronto and Vancouver
January 10, 2019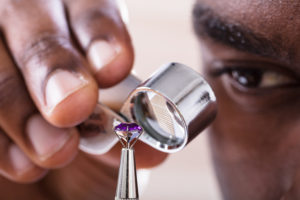 Canadians will have the opportunity to polish their grading and valuation skills with the Canadian Gemmological Association[2] (CGA) this year.
The Canadian Diamond Grading Course[3] will kick off in Toronto next month and in Vancouver in May. It offers practical strategies for grading colourless, round, brilliant-cut diamonds, but does not discuss the identification of diamonds and their simulants.
Each edition of the course accommodates up to eight students, with no prerequisites required. However, some knowledge of diamonds and diamond imitations is recommended. The program focuses on diamonds' formation, grading instrumentation, handling, and the influence of the four Cs on pricing, among other factors.
CGA will also offer an Accelerated Master Valuer Jewellery Appraisal Course[4] in both Toronto and Vancouver in 2019. The Vancouver edition kicks off first, running May 21 to June 5, followed by the Toronto version from July 22 to August 9.
This class provides 90 hours of education on professional insurance, estate, donation, and probate appraisal techniques. Participants must either be current gemmology students or possess a recognized industry credential.
The accelerated version of the program runs for three weeks, although a full-length course will also run in Toronto from January 26 to late April. More condensed three-day courses are also planned for both cities, with the Toronto edition running January 29 to 31.
Participants who successfully complete the course and are members of the Canadian Jewellers Association[5] (CJA) will also be granted CJA's accredited appraiser (AAP) designation.
For more on CGA's upcoming courses, click here[6].
Endnotes:
[Image]: https://www.jewellerybusiness.com/wp-content/uploads/2019/01/bigstock-Close-up-Of-Jeweler-Examining-252980434.jpg
Canadian Gemmological Association: https://canadiangemmological.com/
Canadian Diamond Grading Course: https://canadiangemmological.com/education/advanced-courses/#diamond-grading
Accelerated Master Valuer Jewellery Appraisal Course: https://www.vcc.ca/programscourses/courses/mastervaluer-appraisal-program-gemm-3101/
Canadian Jewellers Association: https://www.canadianjewellers.com/
here: https://canadiangemmological.com/education/advanced-courses/#diamond-grading
Source URL: https://www.jewellerybusiness.com/news/grading-valuation-courses-coming-to-toronto-and-vancouver/
---