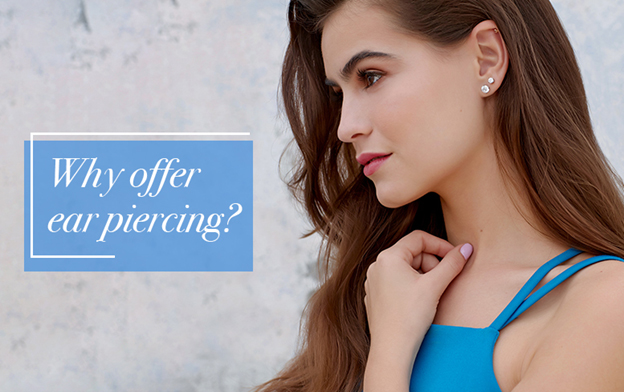 Inverness SafePierce, Inc., is dedicated to being the industry standard for piercing. We provide a high level of training and offer products that are safer and more technologically advanced than what is currently on the market.
Inverness Ear Piercing System is designed to safely pierce ear lobes and outer ear cartilage. Our fully enclosed earring cartridges eliminate risk of cross contamination. Further, the patented 'Safety Back' shields the sharp piercing post and prevents the earring from being over tightened. This provides optimal air flow helping promote healing.02
All earrings are manufactured in the United States and are crafted with compliance to FDA guidelines. Inverness follows strict sterilization protocols which allow for the written guarantee on every earring cassette. Our piercing instrument delivers a gentle and accurate piercing. The unique design ensures only the disposable earring cartridge touches the ear.
We are offering free training for all your store associates when you purchase any piercing system. Request a catalogue today at info@safepierce.com or call 877-212-9322.
All information listed in this section was submitted by Inverness Canada.
Kenilworth Media Inc. cannot assume responsibility for errors of relevance,
fact or omission. The publisher does not endorse any products featured in this article.